Zakira Khatija Bai Muhsin Datoo
Birth & Death
Birth Date: In The Year 1936
Death Date: July 20, 2006
Brief Profile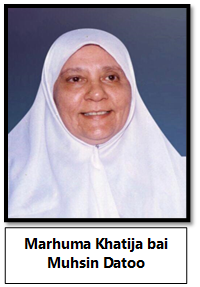 Marhuma Khatija bai was born to Mohamed Fazal Jaffer (BAHOSH) and Laila Dhalla Suleman in 1936 in Zanzibar. In 1955, she got married to Muhsin Abdulrasul Datoo who had migrated to Dar es Salaam from Zanzibar in 1953. They were blessed with five children - Shiraz, Abdulrasul, Latifa, Munir and Azra.
Community Services
Marhuma Khatija bai started reciting munajaat, marsiya and majalis in the 60's. She was invited by Kampala and Mwanza Jamaats to recite for ladies in Ashra-e-Muharram in the late 60's. From then on she recited Majalis in almost all the cities and towns in Tanzania. She also recited Majalis in Madagascar, Re-Union, Toronto, Vancouver, Sweden, and New York. In 1990 when she was in New York, she was given the honor of opening the Zareeh Room in the Husaini Centre. Marhuma was an active community worker, though she never held any official positions, except for once in Mehfil-e-Abbas. Her love for Azadari made her give great respect to her contemporary Zakiras. She took many of them as her mentors and learned a lot from them.
The family recalls her first majalis that she recited at Mehfil-e-Abbas (a.s.). It was a challenge which she took that she would one day recite majalis. On the day, as was expected, anxious and nervous, she asked her zakira friend and mentor, LailaBai Chagani (Bajario) to be present at the gathering as it would boost her confidence. And Alhamdulillah she soared with the blessings of Imam Hussain (a.s.) and Bibi Zainab (s.a.). Marhuma Khatija bai was never shy to share her knowledge, majalis notes, marsiyas and nawhas with anyone who wanted to. She was known to encourage many ladies and train young girls to recite. Alhamdulillah, we see in Dar es Salaam and elsewhere a few of these young zakiras who had been encouraged by her, one of them being our Administrative Secretary for Archives Section of Africa Federation Zaheera bai Alishan Raza who was personally trained and encouraged by Marhuma.
Love for Majalis
The family migrated to Karachi, Pakistan in 1971. Marhuma was reciting majalis in Urdu, as was the norm in East Africa, a language that she couldn't read or write. Hence the material was extracted from Gujarati books and also notes from Mulla Ahmed Abdulrasul Datoo. Due to her love of acquiring knowledge and get information from the right resources, she would sit along with her children to learn Urdu from their tuition teachers. Her dedication to better her majlis recitation enabled her to learn a new language very rapidly. Her persistence, perseverance and love for Azadari made her one of the prominent zakiras in Karachi, the city that is still a hub for Azadari.
When Marhuma's family moved to Karachi, it was the time many families from Tanzania had also migrated. And later the Ugandans even came to Karachi. It was a new place, a new culture and a new language for all. Absence of Imambara or Mehfil in the area was being missed by all the immigrants in the neighborhood of the area called Nazimabad. Majlis for ladies was being held at the residence of an earlier migrant to Karachi, Marhuma Sakinabai and Raza Habib Kassam Manji for ladies on the first Thursdays of the month (Nauchandi Jumeraat). Some families from East Africa (prominent amongst them were Marhum Gulamali Jadavji Dhanji and Noormohamed Jadavji Dhanji of Songea), decided to open a mehfil in the area and organize the programs of majlis and namaaz, as they used to have back home. A 3-bedroom house was taken on rent and Mehfil-e-Aza Khana-e-Zainab was established in 1971/72, that is still running till date. On request from the management of the mehfil, the Manji family shifted their majlis to the Mehfil as gesture of unity and respect for the newly establishing community.
Dedication towards Mehfil
Let us also record here the generosity of the Marhum Habib Kassam Manji. The family donated a commercial property in Nazimabad for the mehfil. This property was sold and an appropriate 2 storey building was purchased for the mehfil. It was renovated to give a look of a mehfil and was inaugurated in 1978/79. Marhuma Khatija bai and her family put their heart and soul for running the mehfil. The mehfil was conducted in East African style so all the migrants comfortably felt at home. Participation and support from the neighboring Shia community was overwhelming. Being operated like a small town mehfil, a family atmosphere was created and that helped establish a united and coordinated community. Mehfil-e-Zainab is still a bonding source for all those who were part of the mehfil. Those who have migrated to other places, still identify themselves as Zainabiya wherever they meet.
In Karachi, Khatijabai was the lead recitor to conduct the special weekly A'amaals of Imam Musa al Kadhim, Babul Hawaij (a.s.) at a mehfil in the name of the 7th Imam (a.s.). Marhuma introduced these A'amaals in Dar es Salaam, and Alhamdulillah, they are still being performed regularly. In 1975, she was invited to recite Ashra-e-Muharram in London, being the first zakira ever to go to London for Majlis. At that time, the Jamaat did not have Muharram majalis for ladies in the morning. Inviting Khatija bai and introducing this morning Majlis in London was none other than her friend, Nargisbai Kurji Asaria. Since then, there was not a year that went by that the ladies were deprived of their morning Muharram Majalis. In 1978, Marhuma Khatija bai moved back to Dar es Salaam with her family. She continued her recitations. She also loved going for Umra and Ziarat. Whenever she got the opportunity, she would go for the ziarat of the Masumeen (as).
Marhuma was also an enterprising person. She would encourage ladies to go for small home-based businesses to help in supplementing the family income. She herself would give the merchandise to these ladies on consignment basis and most of the times she would be their first buyer. She was an independent woman. In the year 2000, her husband Muhsin Datoo passed away. She did not want to move to the West to her sons and preferred staying in Dar es Salaam where she would attend majalis almost every day.
Death
Events surrounding her death are also interesting. She passed away during the days of the wiladat of Lady Fatimah (s.a.). As it is known that she was an ardent lover and participant at the Mehfil-e-Bibi Fatimah (s.a.) and would never miss the Tuesday program there. She requested the management to celebrate the Khushali of Bibi a week earlier than scheduled as she told them that she would not be there on that particular Tuesday. Her love for the Ahlulbayt remained with her till the last moment of her life. She breathed her last on July 20th 2006 and was buried just before Friday prayers on July 21st 2006 in Dar es Salaam. May The Almighty Allah (s.w.t) elevate her soul amongst His chosen servants – Ameen.
We request our readers to remember Khatija bai Muhsin Datoo and all the Marhumeen with Sura-e-Fateha.

Sources of Article: Dr. Shiraz Datoo of Toronto, Canada and Azra Sheriff of Arusha
Prepared by: Murtaza Jivraj( Kerbala)
SECRETARIAT
ARCHIVES SECTION OF THE AFRICA FEDERATION
Date: 26th March 2021 / 12th Shaban 1442 A.H'
Reference: https://mcusercontent.com/5496132269473a782cfb7b798/files/50666dc1-e568-4a14-8127-ce4e65371ced/Archives_Bulletin_Zakira_Khatija_Bai_Muhsin_Datoo.pdf