Shaukatali Sultanali Mewawala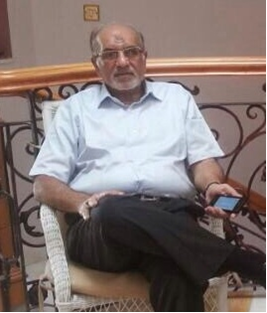 Birth & Death
Birth Date: In The Year 1946
Death Date: Nov 17, 2015 / 04 Safar 1437
Obituaries & Tributes
Obituary by The World Federation of KSIMC
We regret to inform you of the sad demise of Marhum Shaukatali Sultanali Mewawala (of Mumbai, India) who passed away in Tehran, Iran on Tuesday, 17 November 2015, 04 Safar 1437. Burial details will be uploaded when it becomes available (likely to take place in Mumbai). Mumineen are requested to remember the Marhum in their prayers
A man with a Mission - Shaukatali Sultanali Mewawala.A compassionate man, totally focused on the wellbeing of his brethren in faith, Shaukatali Bhai served Sadat and non-Sadat with an equal zeal. Here was a man who balanced an active and successful business in the competitive Bombay metropolis with running an equally successful KSI Medical and Welfare Trust serving thousands of needy Mumineen with school fees, Ramadhan relief and medical aid. His pioneering work predates The World Federation of KSIMC and soon after the establishment of The World Federation championed the cause of The World Federation upon its formation. Particularly so, as Bombay Jamaat had yet to embrace the concept of Federating. For decades under Shaukatali Bhai's leadership, the KSI Medical and Welfare Trust remained the sole agency in Maharashtra that worked with The World Federation. His vision was crystal clear, his focus razor sharp as was his administration structured and record keeping immaculate - a trait hard to find in India in those days. His detailed annual reports are truly legend.
While a very affable person, he never minced his words when it came to principle, which did not always endear him to some leaders. Invariably his analysis, though unpalatable to those of us who did not know the quagmire that India was, turned out to be spot on. The World Federation leadership over the years came to rely on him greatly in assessing it's projects. We fondly remember his hospitality and no Bombay trip for us was complete without a dinner over rumali roti and palak gosht at Delhi Darbar and an earnest earful from Shaukatali Bhai on how The World Federation could better serve India. A tradition that continued until today. Alas for us Bombay will never be the same. At the same time one could not find a better champion when it came to promoting the cause of unity and the value of The World Federation to the people of India.
In this decade as we lose one Community veteran after another, who have collectively made The World Federation what it is today, it behoves us to study the past take lessons from such individuals as Shaukatali Mewawala - a man with a mission to serve his fellow beings without fanfare. In his passing we have lost a dear friend and the Community has lost an accomplished leader who had the foresight to serve our community in India far ahead of his time.
MAY ALLAH BESTOW FORGIVENESS AND MERCY UPON THE MARHOOM AND GIVE HIM A PLACE IN THE PROXIMITY OF MASUMEEN AND BESTOW SABRE JAMEEL UPON HIS FAMILY.
It is with deep sorrow and grief that we received the news of the death of Alhaj Shaukatali Sultanali Mewawala of Mumbai, India. Marhum had travelled to Iran on a spiritual journey of Ziyarat of the Holy Imam Ali ar Redha (AS) and the Holy Lady, Sayyedah Fatemah Masuma-e-Qum (AS). Marhum passed away in Tehran on Tuesday, 17th November 2015 at the age of 69.
Marhum was the founder and chairman of K.S.I. Medical Aid & Welfare Society – a charitable trust registered in Mumbai, India since 1980 whose main objective revolves around supporting the needy and deserving Khojas and Sadát families for medical, education and welfare relief. The administration, accountability and reporting of the affairs of the K.S.I. Medical Aid & Welfare Society has been regular and up to a good standard. Marhum was a successful businessman and an industrialist. He established a company, Expo Gas Containers Ltd., a fully integrated Engineering, Construction and Manufacturing company which was incorporated in 1982 in Maharashtra, India. He was the chairman and managing director of the company. Marhum was a compassionate, modest and sincere person with a strong conviction and dedication towards the development and wellbeing of the less fortunate families in India whose children are in need of education and whose parents/guardians are not affording school fees and other essential requirements of the families, like medical.
Africa Federation has lost a friend and a colleague in India with whom relationship dates back to early 80s. It was a pleasure to work with him for the noble cause of the mission of the Society which he passionately led. We send our heartfelt condolences to family of the Marhum on this very sad occasion. Marhum Shaukatali is survived by his wife, Shahida bai Mewawala, three sons Ali Abbas, Murtaza & Hasanain and a daughter Siddiqa bai Majidi.
May Allah (swt) by His infinite grace and mercy bestow His blessings and grant maghferat upon Marhum and place his soul in the proximity of our Aeema-e-Tahireen (AS). May He give strength and solace to the family to bear this huge loss.
Please let us remember Marhum Shaukatali Mewawala and all Marhumeens with Sura-e-Fateha.
Aunali Khalfan
Hon. Secretary
Africa Federation
Reference: http://www.world-federation.org/nod/marhum-shaukatali-sultanali-mewawala