Ramzanali Mohammed Hussein Nanji
Birth
Birth Date: August 15, 1942
Brief Profile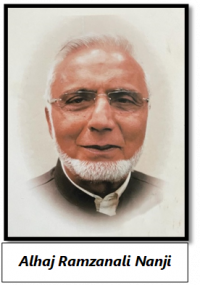 Ramzanali bhai Nanji was born on 15th August 1942 in Mombasa, Kenya to Mohammed Hussein Mulla Nanji and Shireenbai Nanji. He is one among the siblings: Marhuma Fatmabai Karawalli, Marhum Aliasgher Nanji, Marhum Aliraza Nanji, Marhum Pyarali Nanji, Mohammed Jaffer Nanji, Zainabbai Mulji, and Gulamabbas Nanji.
Education & Sportsmanship Skills
He completed his primary education at Ithna Asheri School and secondary school at Kaloleni Secondary School in Mombasa. He was a keen sportsman having played cricket in Mombasa as the opening batsman for Kenya Coast Team as well as United Sports Club in Uganda. He was also very fond of playing tennis in his youth. Through his passion for sports and recreation made him to form and register in the constitution the NJSC – Nairobi Jaffery Sports Club in 1976.
Family
He got married to Zebunnisa Nanji on 2nd August 1964 in Mbale, Uganda and was blessed with 5 children: Sabira, Munira, Sajjad, Mohammed Raza and Shehnaz, 20 grandchildren and 4 great-grandchildren.
Life Journey
Ramzanali bhai worked as a salesman at Cooper Motors in Uganda from 1961 for 15 years and then as a manager for a further 5 years. During this time the coup of 1972 in Uganda transpired and so he fled to Kenya with only GBP 50! He opened Impala Auto Spares and worked for a further 3 years. In 1975, he decided to immigrate to Canada for better prospects. However, after a few months, he along with his wife decided to move back to Nairobi. They worked hard as a family and in 1978 bought their own plot and built Impala House. The year 1993 saw some good news where they opened their own brake pads factory - Zakariya Industries in Kampala, Uganda. In the year 2001, Ramzanali bhai and his sons decided to split from the family business and opened their own Impala Downtown Ltd, a business of Motor Vehicle Spares, which they manage to date.
Community Services
Ramzanali bhai has served in different capacities in our community organizations. In late 80's, he established Bilal Muslim Mission in Nairobi. In 1988, he was actively involved in building the 3rd floor of the Musafir Khana at the Park Road Complex in Nairobi. Between 1985 to 1998, he established 10 centres around Kenya where Tabligh was carried out with a hawza running in one centre and 2 clinics, one in Nairobi and one in Nakuru, for underprivileged people.
Ramzanali bhai set up a school named Madrasatul Rasul ul Akram in 1993 in Nakuru for the orphan and disadvantaged children. With his efforts, he raised some funds from donors to see through the 1st floor of the school building. In the years 1993 – 1997, he established a clinic with Marhum Dr. Rajani, twice a week at the Park Road Complex for community members at no cost. With the passion and love that community members excel in the field of Islamic and Secular education, in 1996, Ramzanali bhai funded the complete building of the madrasah in Nairobi at the Lavington Complex and the following year, in 1997, he initiated the established of the Nairobi Jaffery Academy. The school started off with 17 girls and now grown to 700 students with a waiting list. The benefits of the school to the community are numerous where community members enjoy the provision of high-quality education and affordable fees with a conducive environment. On the other hand, it also acts as a source of revenue to Jamaat, making it self-sufficient.
Ramzanali bhai following his family's tradition of caring hospitality would be seen serving breakfast and dinner to the Musafirs (guests) at the Musafir Khana in his earlier years. In 1997, he initiated lunch after Jumu'ah salaah which is now managed by the Jamaat, and in addition has been sponsoring Friday lunch at the Al-Mahdi Community from 2011, a practice that continues till to date.
Furthermore, he runs a clinic in a slum area providing care and medication for underprivileged members of the local community at a nominal fee and also established An-Nisa Maternity Ward in Nakuru in 2021.
Achievements & Awards
Moving up a notch, Ramzanali bhai held the office of the Trustee for the Africa Federation from 1984 onwards before becoming the Vice Chairman for 3 years in 2001. His second term as Vice Chairman was cut short by the tragic death of the then Africa Federation Chairman Marhum Zulfikar Khimji] while in office consequently taking up the position of the Chairman of the Federation in July 2004. He served as Chairman of Africa Federation for the term 2004-2007 and 2007-2010.
During his tenure, he formed the AYN – Africa Youth Network, BLESS Scheme under Bilal Muslim Mission, established AFTAB (Internal Tabligh Board), supported through funded a school in Bukoba and initiated ZAKMEF (Marhum Zulfikar Khimji Education Fund) amongst others.
Ramzanali bhai is an inspirational personality who is always readily forthcoming to assist the community and the society at large with enthusiasm and humility. He has ardently undertaken some ambitious projects in a spirit that glows with exuberance and success.
We pray to Almighty Allah (SWT) to grant good health to Alhaj Ramzanali bhai with lasting happiness and prosperity and to bless him with increased tawfeeqat to continue serving the community and humanity at large, Ameen.

SECRETARIAT
ARCHIVES SECTION OF THE AFRICA FEDERATION
Date: 21st January 2022 / 18th Jamadi ul Aakhar 1443 A.H
Resource: https://mcusercontent.com/5496132269473a782cfb7b798/files/298eafa2-f0f7-a56f-4389-469bdf42d901/Archives_Bulletin_Alhaj_Ramzanali_Nanji.pdf