Navazaly Rossanaly Molou
Birth
Birth Date: June 18, 1959
Breif Profile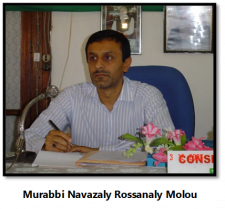 Some individuals dedicate their lives in the service of the society they belong to with uninterrupted consistency that helps to evolve the community to a stature where it stands today and continues to prosper. One such personality is Navazaly Bhai Molou of Tananarive, Madagascar whose services to the community need no enumeration. His keen interest in the wellbeing of the community never seems to diminish and through which the community and humanity continues to thrive. Navazaly Bhai was born on 18th June 1959 in Belo Tsiribihina, Madagascar. He completed his secondary education till Grade 12 and thereafter pursued accounts studies thereby he accomplished a certification in Accounting.
Life Journey
After the completion of high school, he returned to his home town and continued seeking knowledge under the patronage of his father and eldest brother for a few months. He then went back to the capital city and opened his own shop by the name of "Maison Molou" which translates in English as "Molou's House". Today this shop which he opened over 35 years ago has been transformed into a large company and is now among the top 20 importers of Madagascar.
Family
Navazaly Bhai got married to Sabename (Shabnam) Nassor on 21st July 1987 in Morombe, Madagascar and are blessed with two boys – Zishane and Irfane, both are in the family businesses.
Community Services
From a young age, Navazaly Bhai served in different capacities in our Community organizations. He started communal work through Faez-e-Hussain, and then became a Committee Member of the Jamaat. His love for the Community enticed him to serve as the Vice Chairman of Antananarivo Jamaat from 1994 to 1998. Thereafter he stepped up the ladder to take on the challenging post of Chairman of Conseil Regional des Khojas Shia Ithna-Aheri Jamates de L'Océan Indien of Madagascar (CROI) from 2003 to 2006 and again from 2013 to 2016. Simultaneously by virtue of his position in CROI, he was also the Vice Chairman of Africa Federation from Madagascar playing his role in the development of the organization and the community at large.
He also played a significant role in strengthening Tabligh activities within Madagascar with a landmark development of Imam al Redha Mosque Complex at Ivato, which was completed in 2015. The Institutions in Madagascar and in other parts of Africa have greatly benefitted through his and his family's philanthropic contributions towards various projects.
Philanthropic Contribution
He donated 8 warehouses of 500 sq.m each to the Regional Council of the Indian Ocean - CROI to help finance students who aspired to pursue higher education studies abroad. During his two terms at the helm of CROI, many students were able to pursue further studies abroad with scholarships. With the permission of his Eminence's Office, he increased the number of students to 40 and every year about 10 students are sent abroad to pursue higher education. AFED also supported in higher education loan for the students pursuing higher education from Madagascar with financial contributions under the Education Board (HELP) program.
There was a dire need of housing for our brothers who were living in difficult conditions in Madagascar, and thus he decided to build apartments in the cities which include 12 apartments in Antsirabe, 4 shops and 8 apartments in Morondava, 25 apartments and 4 warehouses in Tulear and 1 Musafarkhana & Madressa in Mahajanga and 2 shops and 6 apartments for Local Jamaat income. His foresight and vision played a major role in shaping up some of the Jamaats in Madagascar during his tenure, the examples stand tall till this time when such projects are also emulated by other institutions. These developments were as a result of participation from the families of Molou Ramdjee, Asgaraly Mulla Janmamod Karmaly, Husseinaly Hirdjee, Fidahussen Meraly, Goulamaly Mulla Janmamod Karmaly, Issoufaly Goulamhoussen Alibay, Hassanaly Remtoullah and Husseinaly Remtoullah.
Rewards & Achievements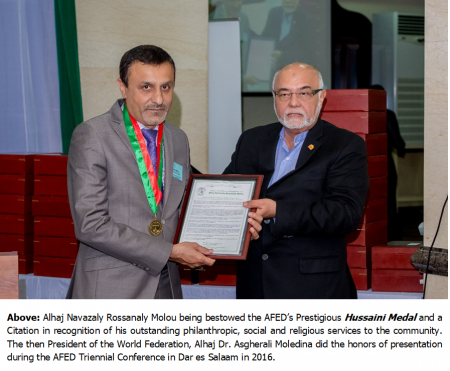 In recognition of his philanthropic and social services to the people of Madagascar, Navazaly Bhai was honored by the President of the Republic of Madagascar with "Chevalier de I'Ordre National Malgache" (Knighthood) of the Malagasy National Order in 2009 which was indeed an outstanding achievement. In 2016, the then Chairman of Africa Federation Alhaj Anwarali Dharamsi presented Navazaly bhai with the "Husseini Medal" in recognition and appreciation of his dedicated and outstanding honorary services to the Community.
Currently Navazaly bhai is serving as a Special Councillor to the Africa Federation in Madagascar and represents the interests of Africa Federation in Madagascar. He was also the AFED Councillor to the World Federation for the term 2017-2020. He is also working with various trusts to dig wells where water is scarce in India and renovating and building homes for the Saadat. He continues his services with Bilal Muslim Mission in Madagascar which now operates several centers.
Other Achievements
Alhaj Navazaly Bhai is an inspiring example, readily forthcoming to assist whenever called upon by any section of society, both within the community as well as outside the community, with eagerness and humility. He has approached the most daunting tasks and the most ambitious of projects in a spirit that glows with effective exuberance at all times, culminating in successful outcomes. One of the several of his social and interfaith services is his close relationships with the local organizations and diplomatic missions stationed in Madagascar, this has earned him prominence in the offices of the Government in Madagascar for his numerous services and contributions for the wellbeing of the local community in Madagascar.
We pray to Almighty Allah (SWT) to grant good health to Alhaj Navazaly Bhai with lasting happiness and prosperity and to bless him with increased tawfeeqat to continue serving the community and humanity at large, Ameen.
Message from Vice Chairman of Africa Federation (Alhaj Aunali Khalfan)
I have known Navazaly Bhai for many years since the time I was the Chairman of the Central Health Board (CHB) of AFED in 1980s attending the AFED Conferences and Supreme Council Sessions. His intellectual thought process, vision and eloquence on many deliberations during the Supreme Council sessions, always in Gujarati language leaves a remarkable and positive impact for others to emulate. He presents his arguments and reasoning in an amiable way thereby derives the end results with a common understanding and appreciation by many in attendance. He has been a good and valuable Advisor to the Chairman of Africa Federation since the time he was the Vice Chairman of AFED from Madagascar and continues currently as the Nominated Councillor representing AFED working closely with organizations in Madagascar and elsewhere for the common interest of our community in Africa. My prayers and duas to Allah (SWT) for his and his family's good health, long life, safety with greater success in their endeavors, Ameen.

SECRETARIAT
ARCHIVES SECTION OF THE AFRICA FEDERATION
11th June 2021 / 29th Shawwal 1442 A.H
Resource: https://mcusercontent.com/5496132269473a782cfb7b798/files/4784087a-e2b6-76e0-9cd9-cae5e91ac9bb/AFED_Archives_Bulletin_Alhaj_Navazaly_R._Molou_A_humble_and_dedicated_servant_of_the_community_Final_.pdf