Murrabbi Alhaj Habib Bhai Gulamhussein Virjee
Birth & Death
Birth Date: June 29, 1929
Death Date: June 01, 2019
Brief Profile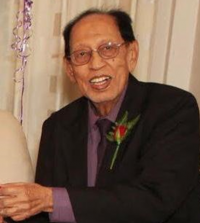 If you ever had the pleasure of seeing him, in his office, at the mosque or at home, you would be moved by his pleasant demeanor, unassuming countenance and soft voice.Ma rhum Habib bhai was of those who were seen but not heard yet when he did speak, his words were gentle, full of wisdom from experience, he would answer to the point never going into vain matters or use superfluous words. Born on 29th June 1929 and brought up in Mombasa his birth place, Marhum's ties through marriage were strong with Dar-es-Salaam which at one point became his second home. A short stint in Uganda and then his final years in Mombasa, Marhum was always concerned about the community wellbeing and affairs but never sought position to serve the community rather preferring to guide from the wings and give advice on the quiet.
In his youth, Marhum was a keen sportsman having played a number of sports both in Dar es Salaam as well as Mombasa. Marhum was also known to recite marthiyas in the early days of Marhum Mohammed bhai Bishon's and whose efforts to create a group which today has morphed into the Anjuman-e-Sakina group in Mombasa. As the fourth Imam (AS) eloquently said, if you see any good in yourself know it is from your father as he is your root. In this light, Marhum is best symbolized by his son Riyaz who plays very active roles in the community affairs from the school, club, madrassa to the religious affairs of the community all under the encouragement of his late father. To add to this, the grand children of Marhum also have moved on to assume important roles in furthering the religion as taught by Ahlulbayt (AS) having settled far from home in Australia.
Leadership Skills
Marhum was courteous and received with respect all, young and old, lent a kind ear and never judged anyone as many are want to do. His wish to stay fit saw Marhum take to walking at the Mombasa Jaffery Sports Club which in turn encouraged others who had retired or were advancing in age to emulate him and from this singular act, a regular group formed which today is known as the senior citizens of Mombasa. This group has gone further to arranging outings, social events and remembering key figures and events and hosting various dignitaries and religious figures over the years at Jaffery Islamic Centre (JIC - previously Jaffery Sports Club).
From a simple intent which was pure and to encourage good health in old age, Marhum has left a legacy which is a global inspiration and where he will forever be remembered for his regular participation and arranging of snacks and speakers on a weekly basis. Indeed the group was looking forward to his recovery to celebrate his 90th birthday on 29th June this year but the Almighty wanted to celebrate his life with HIM and called him back to HIS abode.It i s not wealth or boisterous behavior that brings lasting change or encourages good, it is the silent guidance born of wisdom with action and less words that ultimately has a lasting effect.
Such was Marhum and thus will he be remembered. Let me end this short Obituary with a quote:' - "Live amongst people in such a manner that if you die they weep over you, and if you are alive they crave your company." Imam Ali ibn Abi Talib (a.s.)
(Obituary by:) Alhaj Mohamedali Hassanali Merali of Mombasa
Death
Marhum passed away in Mombasa on Saturday; 1st June 2019 (26th Ramadhan 1440 A.H.) and was buried same day. It is a great loss not only to his family but to the community at large. His colleagues at Jaffery Walking Club where he was the Chairman for many years will miss him a lot.
A condolence message from the Chairman of Africa Federation, Alhaj Shabir Najafi to Marhum's son, Riyaz bhai Virjee expressed profound sadness on the passing away of Murrabbi Habib bhai. He requested to convey on behalf of Africa Federation heartfelt condolences to all the family members and to Mombasa Senior's Group.
We pray to Allah (SWT) to grant Marhum maghferat and place his soul amongst the blessed ones in the vicinity of Chaharada Masumeen (AS) and who continuously receive mercy and grace of Allah (SWT) - Ameen. A request for Sura-e-Fateha for him and all Marhumeen.

AFED SECRETARIAT
Some Memorable Photographs from AFED Archives of Marhum during the visit by AFED Office Bearers and the World Federation President to Mombasa in April 2019