Mumtazali Bhai Kassam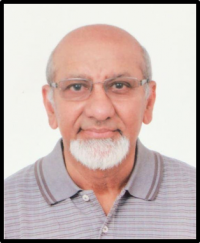 Migration Life from Mombasa to Nakuru
At the age of 30, Mumtazali bhai Kassam, with his very young family, was inspired to migrate from Mombasa to Nakuru for greener pastures in January of 1980 being among the first arrivals in alien place. However, within days, Nakuru Jamaat was formed from the four families existing at the time and Mumtazbhai was elected as its first ever Chairman to lead the community. Thankfully the Jamaat received encouraging guidance and support from Murrabbi Alhaj Hussein Bhai Alimohamed Jaffer who had already settled down in Nakuru. This was of significant importance, and equally was the assistance rendered by the pioneer members of the Datoo family. Nakuru town is located 160 km North west of Nairobi and is the fourth largest urban centre in Kenya after Nairobi, Mombasa and Kisumu. It is situated at an altitude of 1859m above the sea level and it is within the region of the Great Rift Valley whose formation gave rise to a unique natural structure.
All religious functions were held at Alhaj Datoo's residence. A faraway derelict Railway Mosque of the colonial times, was cleaned and set up for Fajr and Maghribain prayers. The members felt that there was a need to encourage more families from Nairobi and Mombasa to settle in Nakuru for various business opportunities and thus a mission started. Surely it wasn't easy to convince and uproot already settled families to take up fresh challenges. Alhamdullilah, through determination, a total of seventeen families migrated to Nakuru within a span of two years. The task of locating shop outlets and residences for the arriving families was not a simple one. Mumtazali bhai and Hussein bhai, through their rapport within the local Community, managed to overcome these hurdles and got everybody going. Alhamdullilah, majority of the families prospered through their hard work and determination in a new environment where businesses were also attractive.Due to greater numbers of community members, the Jamaat saw a need of a Zakir for Muharram and Safar majlises. Africa Federation were very supportive and Maulana Mirza Taki Haider from India was posted to Nakuru as its first Zakir. Mirza Saheb fell in love with Nakuru so convincing him to return back home was difficult!!
Migration to UK
At the end of a five-year period, the Nakuru community became well known Jamaat amongst the Jamaats in Africa as they had interacted effectively well at different levels. Sadly, but for all intents and purposes, few of the families decided to leave Nakuru and move on in life. The mantle of keeping the community going was taken up by some new arrivals. Mumtazali bhai also decided to settle with his family in the United Kingdom in 1984. After his migration to UK, he settled in South London and got involved in Hyderi Imambargha as a committee member and Head of Literary Section.
Mumtazali bhai is happily settled with six grandchildren in London. He is ever thankful to Allah (SWT) for all the guidance and confidence towards the Nakuru venture, a stepping stone in the African continent, now spending retired life in United Kingdom. Presently, there are handful Khoja families in Nakuru, and the Mosque and Imambargha is well looked after and being maintained with the income deriving from the rent of the four flats of the Jamaat. There is a large number local Shia Ithna-Asheri community in Nakuru presently and it is growing, Alhamdullilah. The efforts the seeds sowed by the late Mulla Nanji family of Nairobi, Kenya are bearing fruits in the external Tabligh activities in Nakuru.
May Allah (SWT) increase in their Tawfeeqat and to continue with this noble work – Ameen.

Source: Alhaj Mumtazali bhai Kassam of London UK.
SECRETARIAT
AFRICA FEDERATION ARCHIVES SECTION
3rd August 2018 (20th Zilkaad 1439 AH)
Reference: https://gallery.mailchimp.com/5496132269473a782cfb7b798/files/9bb209f0-bf74-477c-a60b-6c74ff2f0f6e/Archives_Bulletin_Mumtazali_bhai_Kassam_Nakuru_Jamaat_Jul_2018.pdf