Mohamedraza Dungersi
Birth
Birth Date: January 16, 1946
Brief Profile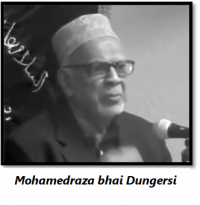 The story of Mohamedraza bhai's life revolves on three cities: Zanzibar, Dar es Salaam, and New York. He was born in Zanzibar to Mohamedhusein Ali Dungersi and Fatma bai Ali Gulamhusein on 16th of January 1946. He was one before the last among seven siblings: Marhum Gulamali, Marhuma Kaniz bai Musa, Marhuma Rubab bai Champsi, Marhum Muslim, Ahmad, Gulshan bai Hassan and Batul bai Dewji. Mohamedraza bhai spent his childhood and teen years in Zanzibar.
Educational Journey
As a child, Mohamedraza bhai attended Qur'an classes at a community-run Madrasah, till the age of seven. Then he was enrolled for his primary education at the Euan Smith Madrassa Primary School (E.S.M) in 1952. This school was run by teachers recruited from India. In the afternoon and evening, he attended the religious education center. Besides the core religious studies, he learnt basics of the Urdu, Farsi, and Arabic languages.
Mohamedraza bhai completed his secondary education at King George VI Secondary School in 1964 in Zanzibar. This was a rare opportunity for at that time, only a selected few with outstanding academic achievements would be enrolled in this institute of learning. As part of the National Service Program, he went to teach at the Kikwajuni Primary School in Zanzibar for about one year and then left for Dar-es-salaam for his undergraduate studies at the University of East Africa in 1965. In the second year at this Institute, under the Student Interchange Program, he was selected to go to the University of York in U.K. for an intensive study of English Literature, for a period of three months. In 1968, he was finally awarded a B.A. Hon. Degree in Education. During this time, Mohamedraza bhai had also enrolled as an external student with the University of London from where he graduated with B.A. Hon. Degree in Geography in 1969.
Life Journey
Upon completion of his Bachelor's Degree, he was hired as a High School teacher in Azania Secondary School from 1968 to 1971 and later transferred to Jangwani Girls Secondary school in Dar es Salaam from 1971 to 1973. During that period, he was also a part-time tutor in English at the Institute of Education in the University of Dar es Salaam from 1969 to 1974. At the same time, he also continued his studies with the Chartered Institute of Secretaries and Administrators - U.K and acquired certification of A.C.I.S (Associate of Chartered Secretaries and Administrators). Together with this, he was registered as an Approved Accountant in 1976 with the National Board of Accountants and Auditors in Tanzania. At about this time, in 1973, he changed his career and joined the transportation parastatal organization – UDA, and later, KAMATA as the accountant and was then transferred to another parastatal organization - The State Motor Corporation (S.M.C), as the Chief Accountant in 1975.
He married Fizabai Ashrafali Satchu in Dar es Salaam on August 10, 1974 and is blessed with three daughters, Fatima, Mubina and Muhaddisa, and two sons, Fayyaz Mohamed and Mujahid Husein, and eleven grandchildren.
In 1982, he was given the opportunity to travel to Boston, USA to pursue an MBM Degree and later PhD in Management. Other than secular certifications, Mohamedraza bhai also holds a Master's degree in Islamic studies from Islamic Research Institution, USA. On returning to Tanzania, in 1986, having completed his commitment with the parastatals, he joined his family run private businesses till late 1988 when he left Tanzania to settle permanently in New York, USA. In New York, he worked as a Senior Internal Auditor at St. Luke's - Roosevelt Hospital for a period of over six years. He then went to work in the private sector. Later in the day, he also worked on a part-time basis, with Darul Tabligh, an affiliate of the World Federation for three years from 2002 to 2005. Currently, he is semi-retired and works on part-time basis as a Cultural Consultant.
Community Services
Mohamedraza bhai's services to the community started essentially in Dar es Salaam after his graduation in 1968. He was actively involved with Huseini Madrassa, teaching Islamic History to the senior boys from 1970 till 1982. He was also the Secretary of Tabligh Sub Committee from 1980-82 under the guidance of Marhum Habib bhai Mulji, who was then the Chairman of the Tabligh Sub Committee. Furthermore he served as the General Secretary of Ithnasheri Union in 1981 and Vice Chairman in 1982 before leaving for USA for a sabbatical. Moreover, for a short period of time, he was Chairman of the Khoja Ithnasheri Territorial Council in 1982. During this time with the help of Alhaj Shokat Jaffer, they were able to secure their properties that previously had been nationalized.
In 1986, Mohamedraza bhai was appointed as the Chairman of the Board of Governors of the Al Muntazir Seminary. He was the first person to function in that capacity and continued servicing as such for the period of 1986-1988, with the founding members: Mohamedraza Gulamhussein, Marhum Muhsin Alidina and Mohsin Nathani with full cooperation from the then Chairman of the Dar es Salaam Jamaat Alhaj Aliraza Rajani and his management.
With the request from Marhum Maulana Syed Saeed Akhtar Rizvi and Marhum Fidahussein Hameer, Mohamedraza bhai was privileged to serve as the General Secretary of the Bilal Muslim Mission Tanzania from 1986 to 1988 and he claims it was a unique experience to work under such illustrious personalities. Over and above the daily management activities, he was assigned to produce a written course work in Islamic History for participants of the Distant Learning Correspondence Course run by The Bilal Muslim Mission Tanzania. The result was the production of 13 Units on the lives of Bibi Fatima (a') and the Twelve Imams. Unit One on the Life of the Prophet (SAWW) was prepared by Maulana himself. Recently, the Dar es Salaam Madressah put together all the 14 Units under a single book cover - HISTORY OF FOURTEEN INFALLIBLES.
At the time when Mohamedraza bhai was in USA for his studies, he was actively involved with two Madaris: Al Khoie Foundation of New York and Shia Ithnasheri Jamaat of New York, both as a teacher and as a Zakir, besides penning the Islamic History Syllabus and Teachers' Training Program. He continued rendering these services upon permanently settling in New York in 1988. In 1996, he was employed as the Resident Zakir/Aalim at Shia Ithnasheri Jamaat of New York (SIJNY). Presently, he continues serving SIJNY as a scholar resident.
Over and above conducting majalis, during the course of time, he has also invariably served as a:
1. Madressah Teacher and Editor of the Madrassa Magazine - QUIBLA
2. Member of Islamic Education Board
3. Member of Matrimonial Sub Committee
4. Member of Constitution Sub committee
Mohamedraza bhai worked with Darul Tabligh, an affiliate of the World Federation New York, on a part-time basis from 2002 to 2005, conducting various Tabligh activities associated mostly with youths of the community, both males and females.
Mohamedraza bhai has also been blessed with the opportunity to travel to various centers in the USA, UK, Canada and Tanzania, Dubai and New Zealand, during the months of Mahe Ramadhan and Muharram, to deliver majaalis, for the last thirty years. Based on this experience, he has been able to author a few books and translate some from Swahili into English.
Among his printed publications are:
1. The Estate of Fadak
2. Lectures on the spiritual journey to Makkah and Madina
3. History of the Fourteen Infallibles
Swahili translation into English:
1. Why do the Shias prostrate on clay tablets? (Swahili translation of Sayyid Muhammad Mehdi Shushtari)
2. Yazid was never Amirul-Muminin (Swahili translation of Abdillahi Nassir)
He was also a regular contributor to the Bilal Muslim Publications – The Light, until it closed down recently. He is also a regular contributor to the UMAA (Universal Muslim Association of American Institution) Annual Convention Publications.
Mohamedraza bhai has been an integral part of the community and his life has been a perfect example of continuous strive and hunger for knowledge, in accordance with the teachings of Ahlulbayt ('a).
May Allah (SWT) in His Mercy bless Mohamedraza bhai with longevity and good health and increase in his tawfeeqaat so that he may continue to provide inspiration to all those who devote their lives to serve in the way of Allah (SWT), Ameen.


The Africa Federation Archives Section had the pleasure of meeting Alhaj Mohamedraza Dungersi from New York on Tuesday 7th June 2022. Dr. Dungersi was received by AFED Vice Chairman, Alhaj Aunali Khalfan to the new AFED office at AFED Towers, later he was given a tour of the new office premises. Africa Federation is thankful to Dr. Mohamedraza Dungersi for the time, wisdom, and insights that he shared with the Archives team.
Written by: Sukaina Samir Habib (daughter of Marhum Murtaza Karbala).
SECRETARIAT
ARCHIVES SECTION OF THE AFRICA FEDERATION
Date: 12th November 2021 / 6th Rabiul Akhar 1443 AH
Resource: https://mcusercontent.com/5496132269473a782cfb7b798/files/84cf0224-fbd9-8321-7fae-eae64799e176/Archives_Bulletin_Mohamedraza_Dungersi.pdf
Date: 9th July 2022 (9th Zilhajj 1443 AH)
Resource: https://mcusercontent.com/5496132269473a782cfb7b798/files/4ca10ceb-822d-8e5d-3c42-18524dc88a87/Archives_Bulletin_Dr._Dungersi_visits_AFED_Archives_Office_in_Dar.pdf