Mohamedbhai Manji Walli of Dodoma Jamaat
Birth & Death
Birth Date: In The Year 1910
Death Date: May 31, 1983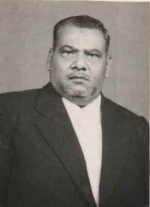 Brief Profile
Haji Mohamedbhai Manji Walli was born in 1910 in Kutch, Mundra in India. Mohamedbhai came to East Africa in 1928. He first landed in Tanga and worked for Suleiman Khimji. In 1933 he migrated to Dodoma. In Dodoma he worked for Remtulla Pirbhai. While in Dodoma, he served Dodoma Jamaat as its Chairman, Secretary, Treasurer and Mukhi. He also looked after the Supreme Council properties in Dodoma and Kondoa.
Community Service
In order to enliven and continue the mission of Imam Hussein (AS) in the town of Dodoma, Mohamedbhai initiated the construction of Dodoma Imambargha. He sacrificed his time to supervise the project and worked heartily in collaboration with Haji Gulamabbas Pirbhai of Arusha and Haji Abdulrasul bhai Molu Chatoo of Dar es Salaam to collect funds from Dar es Salaam, Arusha, Moshi, Singida, Bukoba and Kigoma. The Imambargha opening ceremony was held on Saturday 10th June 1961. The opening ceremony was performed by the Haji Muhamadbhai Abdallah Khimji of Dar es Salaam. Besides the members of Dodoma Jamaat and Government officials, the dignitaries from Dar es Salaam Murabbi Haji Abdulrasulbhai Molu Chatoo and the President of Dar es Salaam Jamaat Haji Muhamadbhai Nasser were also present during the opening ceremony.
Life Journey
Mohamedbhai moved to Arusha in 1963. He continued working for Remtulla Pirbhai until 1965 and started his own business in 1966. In Arusha, he served as the Jamaat Chairman from 1965 to 1966. He also served the Jamaat in various capacities as Mukhi, Committee Member and Master of Religious Ceremonies. Mohamedbhai held the position of the Minister of Religion from 1964 to 1977. Mohamedbhai was Zakire Hussein and served as a Zakir both in Dodoma and Arusha in the absence of an Aalim in these Jamaats. Mohamedbhai was bedridden for 7 years before passing away on 31st May 1983 in Arusha. He was survived by four daughters and three sons.
Let us remember Marhum Mohamedbhai Manji Walli and all the Marhumeen who devoted their time, resources in the service of the community, the Madh'ab of Ahlulbayt (AS) and the religion of Islam with Sura-e-Fateha for the maghferat of their souls – Ameen.

Source: Some of the information was extracted from Federation Samachar of August 1961 and some was provided by Marhum Mohamedbhai's grandson, Br. Sajjad Manji of Dar es Salaam.
SECRETARIAT
ARCHIVES SECTION OF THE AFRICA FEDERATION
24th March 2017 (25th Jamadi ul Aakhar 1438 AH)
Resource: http://africafederation.org/oldafrica/publications/archives/1613-africa-federation-archives-haji-mohamedbhai-manji-walli-his-illustrious-work-in-ksi-jamaat-of-dodoma