Mohamedali G R Hansraj of Soroti - Uganda
Birth & Death
Birth Date: June 10, 1923
Death Date: In The Year 2009
(1923-2009)
He had a passion and thrived in the service to Humanity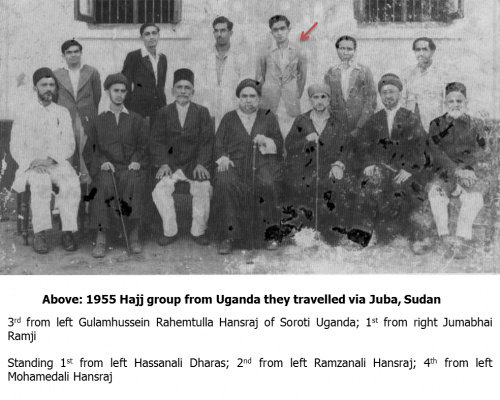 Brief Profile
Mohamedalibhai was born on 10th June 1923 in Soroti, Uganda. After completing his basic education in Soroti he joined in Allidina Visram High School in Mombasa. In 1940 he joined his father's business, married in 1942, and then went to Mbale to open a branch of his father's business. At a young age of 20 he was elected as the Secretary of Indian public school in Soroti. From 1942 to 1945 he was in the committee of Indian Association. He served in Mbale Indian Association committee in 1946-1947 and in Mbale Muslim Association from 1946 to 1960s.
Life Journey
He also served in the Mbale Parents Association Committee. Moreover he was the secretary of East African Muslim Welfare Society from 1955 - 1958 and was later elected as the Vice President. Mohamedalibhai played pivotal role in the town of Mbale. From 1952 to 1956 he was a member of the township authority. In 1959 he was then elected as the first mayor of Mbale town, where he served for a long time. During the establishment of Mbale chamber of commerce in 1952 he served as its first Honorary Secretary, later on in 1956 as Vice President and finally as its elected President from 1957- 1958.
Sports Journey
Mohamedalibhai was quite active in sports as well. From 1941 - 1945 he served as the Secretary of Soroti Indian Sports Club as well as Mbale Indian Gymkhana from 1953 to 1955. Later on in 1957 he became the Vice President and in 1958 he was elected as the President of Gymkhana. He was the founder member of Mbale United Club and Uganda Sports Union.
Community Service
Furthermore he was a member of Mbale Social Centre and King George stadium committee. During 1946 to 1956 he was a member of the managing committee of Mbale KSI Jamaat. In 1958 he was elected the President of the Jamaat. He started serving in Africa Federation Supreme Council from 1956 and from 1959 he joined the Education Board of the Africa Federation Supreme Council. Mohamedalibhai died in Karachi in 2009.
Let us remember and pray for the maghferat of Marhum Mohamedalibhai Hansraj and all the dedicated past leaders and the volunteers who served in different capacities and at different times in our Community, and all the Marhumeens with Sura Fateha.

Extracted from AFED Trade Directory – 1960
SECRETARIAT
ARCHIVES SECTION OF THE AFRICA FEDERATION
28 July 2017 (4th Zilkaad, 1438 A.H.)
Resource: http://africafederation.org/oldafrica/publications/archives/1679-africa-federation-archives-mohamedali-g-r-hansraj-of-soroti-uganda-1923-2009