Liyakat Khimji
Birth & Death
Birth Date: November 07, 1947
Death Date: June 22, 2015 (5th Ramadhan 1437)
Brief Profile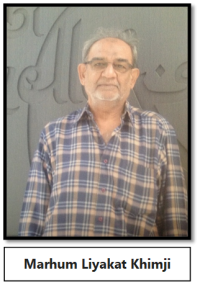 Liyakat Khimji, is a name still ever present in conversations about sports, the old fairy tales of how Union Sports Club became a powerhouse in Cricket would never end without mentioning his eye-catching scintillating batting show against Coast Gymkhana in the 1980's.Chikita was a name many referred to him; a name resounding to a tribal chief, known for his leadership and generosity - and Liyakat's personality was a perfect match. A man who would always be at the forefront when it was crux time for his team, carrying weight of men around him just to get across the finish line - be it in volleyball, cricket or football.
Liyakat bhai was born on 7th November 1947 in Lushoto. He was the son of Akber Suleiman Khimji and Maryam bai Khimji who were blessed with eight children namely: Abbas, Husein, Raza, Mahmood, Sikander, Fatima Datoo and Mohsin.
Life Journey
Marhum Liyakat bhai's family moved to Dar es Salaam in 1952 when he was only five years old. He completed his primary education at Aga Khan Boys School and thereafter in December 1962 moved to India for his secondary education for about two years. He returned and completed the rest of his education at Shaaban Robert Secondary School and achieved his CSEE on 2nd December 1967.
After completing his education, Liyakat bhai joined Mwangaza Stores which was started by his eldest brother Abbas in Kariakoo in 1958. Apart from his passion for sports his dream was to run his own business and he did very well in both. During early 1970s, Abbas migrated and handed over the shop to him as a sole proprietor and he managed and grew the business efficiently as a successful businessman till his last day. In 1971, he married Shehnaz Chatoo and they were blessed with three children – Shelina, Late Zaheer Abbas and Sukaina Khimji.
A Passionate Sportsman
He was a passionate sportsman from his early days in school. His interest was mainly cricket, volleyball and some football. For many years he was a prominent Union Sports A team player both for cricket and volleyball as he was known as an all-rounder sportsman. He held captaincy positions for volleyball and was known for his ace services from a young age. He was regular in practice sessions at Boarding House and participating in cricket leagues on weekends. Marhum Liyakat participated during the A. G. Tarmohammad Cricket Tournament travelling to Malawi, Zambia, Zimbabwe and Kenya. He also travelled to Bombay for a short cricket visit with Union Sports Club in 1992 and to Dubai in 1989. Furthermore, he was a devoted fan of Simba Sports Club. He was a key player in the cricket team during the golden era (between 1972 and 1992) of Union Sports Club in Dar es Salaam where they were runners up in the Sunday League Champions match after 19 years in 1972 and winners in 1973 thereafter maintaining championship position for 16 years from 1977 up to 1992. Amongst the stalwarts of Union Sports Club along with him were also Bashir Tejani, Mohamed Nathoo, Yusuf Kermalli (Kabana), Amir Yusuf, Ebrahim Jivraj, Amir Dedhar, Shakir Sheralli, Sajjad Lakha, Kazim Nasser, Hasnain Tejani, Mahmood Rahim and other younger players who played crucial roles in the Union Sports Club achievements, as the Club grew from strength to strength.
Marhum Liyakat was known for his famous positioning at the service line in volleyball - and it was no surprise that he was part of the 3-a side volleyball team that went undefeated for four years in 1968-1972. He was also a strong contender in the 3-a side volleyball games between Union Sports Club v/s Aga Khan Sports Club (A.K.S.C) where the latter possessed a record as an unbeatable side team (3-a side) for almost five years and in 1968 Union Sports Club beat A.K.S.C. 3 to 2 games and maintained this position upto 1971 whereby traditional volleyball was abolished in Tanzania.
One of his achievements is the way he demonstrated his determination and will power during a Cricket game between Union Sports Club and Coast Gymkhana (now Annadil Burhani) in the 1980s. Coast Gymkhana batted first and put up a reasonable total. Union suffered a collapse and needed a rescue. It was Marhum Liyakat and Amir bhai Yusuf who saw the team win comfortably in the end at a point where it looked bleak, and Coast Gymkhana thought they would easily win but it was not to be so.
They say every generation has an inspirational personality, that leads life through their actions - and for the sports club - this man was the shining star, that appeared in the darkest nights and the sun that would brighten up a dull day. One striking feature of Marhum Liyakat as per his teammates is that he was known as one of the unique Union Sports Club members that would not miss Maghribayn congregational prayers at the mosque.
A Philanthropist
Marhum Liyakat bhai maintained a very low profile when it came to philanthropic and charitable activities and did not prefer any recognition for his contributions to humanitarian support. However, since sports was his passion, he supported the club financially whenever needed. He was instrumental in ensuring the ground maintenance of the Union Boarding House and in an era where there were no lights there, he got the flood lights installed on the grounds.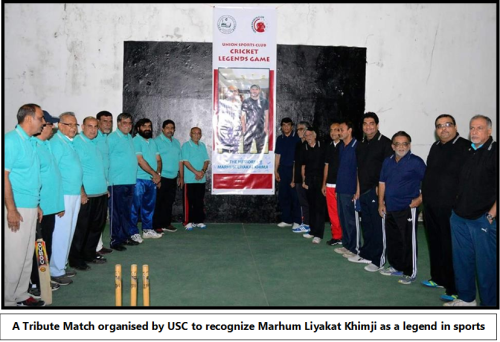 Death
Marhum Liyakat bhai departed from this transient world on 5th Ramadhan 1437 (22nd June 2015). Soon after his demise, Union Sports Club (USC) organized a tribute match to recognize him as a legend in sports, and it was the first match ever held in history as tribute for a sportsman.
His unwavering commitment, passion and contribution to sports shall remain enshrined in the Union Sports Club history. He is missed by all those whose lives he touched.
We pray to Allah (SWT) to amply reward Marhum Liyakat bhai Khimji and all those who brightened our community with their achievements. May the Almighty Allah (SWT) grant them all maghferah and a lofty station in the proximity of Ahlulbayt (AS), Ameen.
A request for Sura-e-Fateha for Marhum Liyakat bhai Khimji and all the Marhumeen.
Source: Shelina Khimji (Daughter of Marhum Liyakat Khimji) & Archives Secretariat
SECRETARIAT
ARCHIVES SECTION OF THE AFRICA FEDERATION
Dated: 17th February 2023 / 26th Rajab 1444 A.H