Jafferbhai & Fatmabai Rashid Alidina
Jafferbhai Rashid Alidina
Birth & Death
Birth Date: June 12, 1924
Death Date: June 23, 2016
Brief Profile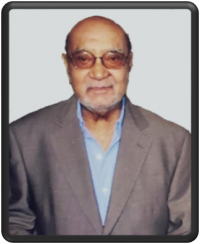 Jafferbhai Rashid Alidina was born on 12th June 1924 in Lindi to Rashidbhai and Sherbanubai Alidina. He was brought up in Lindi and did his schooling there. He was the last born amongst 3 siblings. Jafferbhai began his career as a clerk working for Salehbhai Versi and would commute between Songea and Lindi. Due to his good literacy skills in both Kiswahili and English, he was later engaged as a go-between the local farmers and the British Commissioner in Tanganyika to procure cash crops in bulk for export from Mtwara port.
Community Services
Jafferbhai later moved to Newala and became the chairman of the Jamaat there. He was the backbone financier in engaging the services of an Alim to come to Newala to do Tabligh. In addition, he hired teachers from India to teach at the primary school and supported them financially; his financial generosity was immense.
Life Journey
He moved from the Southern Province of Lindi to Dar es Salaam. He established a business on Morogoro Road of importing and selling shoes in wholesale and retail on Morogoro Road; because of his business he was nicknamed 'Jaffer Boot'.
Family
On 21st October 1948 he married Fatmabai Fazal Dhirani and were blessed with 9 daughters. In a time where having sons was more favourably looked upon, Jafferbhai was delighted at the birth of each of his daughters and thanked Allah (SWT) for his blessing.
Fatmabai Jaffer Rashid Alidina
Birth & Death
Birth Date: September 20, 1932
Death Date: July 6, 2016
Brief Profile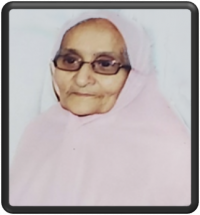 Fatmabai Dhirani was born on 20th September 1932 to Fazalbhai and Mariambai Dhirani in Bukoba. Fatmabai was fourth born of 6 siblings, her family later moved to Dar es Salaam where she continued her schooling at St Joseph School. Fatmabai married Jafferbhai Alidina at the tender age of 15.
Community Services
Fatmabai touched lives; be it at home or out serving the community. She began reciting majalis at a very young age of 18 years and thus began her long and committed journey in communal services. Muliyanis who came to recite majalis were accommodated at her house. She also taught sewing, reading and writing to the indigenous workers. She was an inspiration to those around her to partake and become active members of the community. Raziabai Janmohamed was amongst those who were motivated by her states, "I have worked with Fatmabai for many years and she was the one to build my confidence and encourage me to be a Zakira."
Jafferbhai and Fatmabai's partnership in life benefited the community in serving together. Fatma bai headed the Dar es Salaam Jamaat LMC (Ladies Managing Committee) during the tenure of Marhum Asgerbhai Bharwani in the year 1994. Fatmabai Rajwani recalls: "I worked under Fatmabai's guidance in LMC and I found her to be a dedicated, sincere and capable leader. She was a person to support and uphold the truth regardless of its repercussions. She had good leadership qualities and would consult her team in decision making situations. She was a diligent worker and situations did not make her lose courage. She is always in my Duas for Allah (SWT) to keep her with her loved ones and all those who served in the community who are no longer with us."
Leilabai Pirbhai recollects having met Fatmabai during weekend gatherings at Oysterbay. Later she was approached to take up position of Secretary of LMC when Fatmabai was the Chairlady. Having no prior experience in this field, Fatmabai became a pillar of strength and support, thus began their relation which turned into a strong friendship. Leilabai reminisces, "She was honest, sincere, very understanding and at the same time very firm and straightforward. I consider myself very lucky to have had such a loving and caring friend. She was more like an older sister and treated me like a daughter. She was a remarkable lady I will always be thankful to Allah for having blessed me with such a rare and wonderful friend.
Jafferbhai who was the head of the marital reconciliation board of Dar es Salaam Jamaat was assisted by his wife, Fatmabai in the late 80s. They worked hand in hand in coming up with a plan that would amicably work for the couples and their families and help resolve matrimonial disputes. Pyaralibhai Shivji who was also a member of the reconciliation team says, "We used to sit for hours until midnight to solve issues. He was an expert in his work and would not agree for divorce easily. He and his wife were a good team in running the reconciliation board."
Mohamedbhai Dhirani a good friend of Jafferbhai Alidina reminisces, "During my tenure as President of Dar es Salaam Jamaat, Jafferbhai took a philanthropic action for Sawab e Jaria even after his passing away from this world. He bought a flat on the corner of Mtendeni/Mlima Street and donated it to Dar es Salaam Jamaat to be allocated to an Ithna Asheri doctor working at the Ebrahim Haji Charitable Dispensary, later became a Health Centre. The first doctor to be allocated the flat was Dr. Mohamed Railey and to date it is still being assigned to Community doctors at Ebrahim Haji."
Death
This is but a reflection of their selfless services to the community and true partnership in their journey of life together. Their bond was such that their demise was within a few days of each other in Dar es Salaam. Jafferbhai passed away on 23rd June 2016 while Fatmabai passed away on 6th July 2016. The couple are survived by 9 daughters and 28 grandchildren.
Their death was a big loss to the Community and may Allah (SWT) repose the departed souls in eternal peace amongst His chosen servants – Ameen. Please remember Jafferbhai, Fatmabai and all the Marhumeen with Sura-e-Fateha.

Article Source: Granddaughter of Jaffer & Fatma Alidina of DSM
SECRETARIAT
AFRICA FEDERATION ARCHIVES SECTION
13th November 2020 (27th Rabiul Awwal 1442 A.H.)
Reference: https://mcusercontent.com/5496132269473a782cfb7b798/files/4cae54ad-060d-4ccc-bf59-6ce9e4a96a0b/AFED_Archives_Bulletin_Jafferbhai_Fatmabai_Rashid_Alidina.pdf