History of the early settlement of Khoja Shia Ithna-Asheri in Arusha
Migration to Arusha
Members of our community started arriving in Arusha around 1902 and by 1908 a sizeable community had been established. The pioneer families were: Nanji Damani, Mohamed Damani, Shermohamed Sajan, Esmail Ebrahim, Hasham Ebrahim, Jaffer Pardhan, Sachoo Jivraj, Nasser Lila and Suleman Ramji. There were also 12 members from other Asian communities residing in Arusha at that time. Majalis were initially held at the home of Hasham Ebrahim and later on at Shermohamed Sajan. Arusha was connected with Moshi in commercial activity.
Establishment of Imambargha, Musafirkhana and Madressah
Transportation was mainly on foot and merchandise was transported by porters. The following members moved in after 1909: Bandali Ladak, Ali Damani, Sajan Ladak, Mohamedali Ladak, Hussein Karim, Gulamhussein Moledina, Remtulla Ladak, Alimohamed Pirbhai, Nazarali Karim, Gulamhussein Kanji, Remtulla Pirbhai, among others.
In 1909, the German authorities started the use of bullock carts for transportation. From 1923 motor vehicles came into use and this made trading and moving of goods much easier. There was no established Jamaat yet and majlis and other religious functions were being held at the home of Gulamhussein Kanji. After the start of the railway in 1929, Arusha grew very fast. By 1930 our community had reached 75 members. Due to increase in population, it was found necessary to construct an Imambargha. The community obtained a piece of land measuring 50ft x 100ft on a 33-year lease and an Imambargha was constructed in 1931. On the land opposite the Imambargha, a shop was constructed as an investment so that rent would be used for expenses of Imambargha. Due to Arusha's favourable weather, there was a lot of movement of travellers to Arusha. In view of this, in 1944, the family of Remtulla Pirbhai constructed two rooms above the shop to be used as Musafarkhana (guest-house). With the expansion of the community, the Imambargha and Musafarkhana became inadequate. There was also a need to accommodate children who were also having Qur'an classes conducted by a Maalim and religious classes were conducted by the Aalim.
Considering the increasing needs of the community, the Jamaat built a beautiful mosque and Imambargha, a Musafarkhana and Madressah with adequate facilities. The mosque has been donated by families of Jamal Ramji and Remtulla Pirbhai. The rest of the facilities were constructed from donations by community members. By 1960, Arusha municipality had a population of about 10,000 out of which 233 were members of the Khoja Shia Ithnaasheri community. Suleman Ramji joined in the employment of Shermohamed Sajan in 1904. After working for eight years, he opened his own shop at Mbulu. He operated this shop for 14 years and then moved to Arusha where he started a transport business, which is going on well.
Mohamedbhai Damani
Mohamedbhai Damani used to live at Boma la Ng'ombe, 35 miles from Arusha. In 1904, he moved to Arusha where he constructed his house made of mud and roof from grass thatch. Once Mohamedbhai was seated in his shop, a German official suddenly entered the shop. The German, wielding his authority and power, became angry and hurled abuse on seeing an Indian sitting and not greeting him. Mohamedbhai was not able to accept this humiliation and slapped the officer. A fight started and Mohamedbhai, having a strong body build, was able to beat the officer. He was jailed for two years.
After release from jail, Mohamedbhai started a shop and did some farming. He used to grow onions and garlic which were sent to Moshi for sale. In 1912, the government directed that sturdy houses be built to replace mud houses. Mohamedbhai gave the work of building a house for himself to a German contractor called Till. The house was ready in 1913. In 1914, he applied for a plot for building another house. The government official called Dr Kampf asked him to select a plot. He selected a plot across the road and built a tin house where he opened a shop for his son Gulamhussein. Due to war and decline in the movement of goods, he decided to close the shop across the road and both father and son worked in the main shop.
Cemetery
Our community in Arusha did not have a cemetery. When Nanji Damani passed away in 1913, he was buried in the African cemetery behind Standard Bank. Mohamedbhai Damani made a Will to Juma Lakha requesting him that upon his death, he should be buried at the land behind the tin house where he once had a branch shop. Also, the entire land should be given away as Waqf to the Jamaat for use as a cemetery. He also informed the government about this Will. When he was on his death-bed, he called his brother Alibhai Damani from Meru. Alibhai came to Arusha with his family and was near his brother's death-bed for two days, serving him during his last moments. Dr Kampf was informed of the death of Alibhai and he allowed for the burial according to his Will. The land was then made Waqf as a cemetery for our community.
Alibhai Damani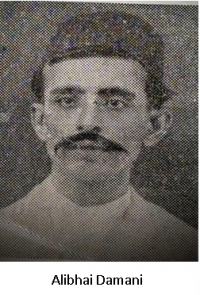 Alibhai Damani lived in Kondoa-Irangi. He came to Arusha in 1912 for five months and went to India to get married. After his marriage, he returned to Kondoa-Irangi in 1913 and stayed with his brother Kanji Damani. Their brother, Mohamed, asked his two brothers to move to Arusha. Initially, Alibhai was working as a tailor and had a small shop near the Meru Malala River. After the death of Mohamedbhai, Alibhai moved to Arusha. In March 1916, the British flag was raised in Tanganyika. In May 1916, Alibhai went to Moshi to make arrangements to travel to India. He then went to Mombasa by train. In Mombasa, he contacted a police officer called Abdulla Budha and with his influence was able to have a temporary passport to travel to India. He travelled to Mumbai by the ship S S Pandova. From Mumbai, he went to his home town of Dhandhuka where he stayed for 18 months. He then went to Ahmedabad where he stayed 20 days, and then to Mumbai. After obtaining a passport, he was able to leave Mumbai for Mombasa on 20 July 1917.
When Alibhai arrived in Mombasa, he was asked by the Immigration officer to pay Shs 200 being a deposit for new arrivals. He paid the amount. On arriving in town, he sent telegrams to Br Juma Ebrahim in Moshi and Br Jaffer Lakha in Arusha about the payment. They both sent a telegram to Mombasa Immigration officials through Major A D Brown that Alibhai was a resident of Arusha and had gone to India for a visit only. Alibhai was thus able to regain his residency rights and went to his small shop at Meru-Malala. After about five months, Alibhai's nephew Gulamhussein, who had taken care of his shop during his absence, left for Arusha and joined in the employment of Ramzanali Manji.
Alibhai has also a small shop at Nduruma. A Hindu man was taking care of the shop. Due to his poor performance, he relieved him and Br Remtulla Ladak was employed to take care of the shop. After 12 months, Remtullabhai Ladak left the job and this was again given to a Hindu guy. Alibhai continued to take care of his shop in Meru. In 1925, Alibhai employed Remtulla Pirbhai to manage his shop. He closed his Meru shop in 1926 and opened a shop in Arusha to be taken care of by Remtullabhai. Alibhai took Remtulla's son Gulamabbas Pirbhai on his trip to India. The shop in Nduruma was also being managed by Remtullabhai. Alibhai returned to Africa while Gulamabbas Pirbhai stayed in India. In 1927, Remtulla Pirbhai left Alibhai's employment and started a shop at USA called "Usa Store". During the same period, Alibhai's Bohora manager of his USA shop, Yusufali Adamjee suffered vision loss. As a result, Alibhai handed over his USA shop to his nephew Gulamhussein to manage. After eight months, Gulamhussein left USA for Arusha and Alibhai sold his USA shop to Gulamhussein Moledina.
Gulamhussein Moledina's business was being managed by Mohamedali Moledina. After recovery from illness Gulamhussein Mohamed Damani went to USA where he constructed a tin house and started a business. He fell sick again, closed his shop in USA and returned to Arusha where he joined in the employment of Gulamhussein Kanji. His job was to drive to the rural areas and buy hides and skins and load them in his lorry. Alibhai Damani closed his Arusha shop in 1927 and went to his original Meru-Malala shop where he stayed for many years. He then moved to Sinana Duluti where he opened a shop. He passed away in January 1950.
Let us pray for the Maghferat of the Marhumeens mentioned herein in the above article and all Marhumeens with Sura-e-Fateha.

Sectional Secretary
Africa Federation Archives Section
18th March 2016 (8th Jamadil Aakhir 1437)
Reference: https://gallery.mailchimp.com/5496132269473a782cfb7b798/files/Archives_Sectin_Article_Ali_Damani_early_settlement_at_Arusha.pdf