Fidahoussen Mamodaly Cassam Chenai
Birth & Death
Birth: In Year 1908
Death: September 12, 1995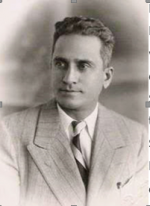 Brief Profile
Fidahoussen was the second son of Marhum Mamodaly Cassam Chenai. He was born in 1908 in Diego Suarez. He obtained his primary education in Diego Suarez and Majunga. In 1924 he joined the family business. In 1928 he married Serbanou daughter of Kassam Virjee of Majunga. They had two sons and three daughters; Goulsanaly, Mazaher (passed away at the age of 6), Jarbanou, Narguisse Khatoun and Parvisebanou. After the passing away of Serbanou, he married Michelle Lapierre in 1958 with whom he had one daughter Yasmina.
Achievements & Awards
He was personally managing the oil and soap factories established by the family. Apart from business, he was an essential part of public service. He was in the Chamber of Commerce for ten continuous years. He was an active participant in Federation Sports. He was honoured for his service and was given a gold award for his service. In 1950, he took his mother to Hajj. He also constructed a new oil and soap factory in 1952.
He has been a member of the town council since 1942. Due to his public service, he was awarded by the French Government a medal Chevalier du Mérite Agricole by Mayor of Paris. He has been to Europe on five business trips to date.
Death & Family
His father was a Jamaat trustee and after his death, Fidahoussen bhai was been appointed as Trustee of the Jamaat. He passed away on 12 Sept 1995 in Nice, France at the age of 87. His wife Sherbanou bai passed away on 4 March 1956 in Antsiranana, Madagascar at the age of 44.
We request you to remember the Marhumeen of Chenai family and all the Marhumeen with Sura-e-Fateha.

Source: AF Trade Directory (1960), Mazhar Meralli Ballou (Reunion)
Prepared by: Mustafa Pirmohamed
SECRETARIAT
AFRICA FEDERATION ARCHIVES SECTION
13th March 2020 (18th Rajab 1441 AH)
Resource:https://mcusercontent.com/5496132269473a782cfb7b798/files/abb44bc0-1050-499d-b823-0f75be3223cf/Mamodaly_Cassam_Chenai_of_Diego_Suarez_Antsiranana_Madagascar_March_2020.pdf