Kassam Virjee - Majunga, Madagascar
Birth & Death
Birth Date: In The Year 1885
Death Date: January 06, 1951
Life Journey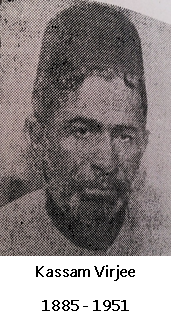 Kassambhai Virjee was born in 1885 at Paneli, Gujarat, India. In 1896, at the age of 11, he sailed to Africa from the port of Porbandar. The dhow anchored at The Comoros from where he travelled by another dhow to Majunga. He then went to Solala and joined in the employment of Kassambhai Kachra. At the end of his employment contract, he moved to Majunga where he started importing glassware from Germany. He sold the glass items in wholesale to Kassambhai Kachra and Hirjibhai Jina.
Family
In 1910, he married daughter of Nathoo Premjee. This was a historical wedding as during this wedding, representatives of community from several towns in Madagascar arrived at Majunga to also discuss about ways to unite members of the community. From this marriage, Kassambhai had two sons and two daughters.
Before the breakout of the First World War (1914-1918), Kassambhai used to export Wattle bark. Wattle grew in the coastal and swampy areas and the bark from the tree was used for tanning hides for leather and also used for dyes.
Pious & Devoted Person
Kassambhai was a very pious person who took great care of the poor. He was remembered for his devout performance of prayers and fasting. He was a very hospitable person and would receive passengers arriving at Majunga port provide them with all facilities. He would give priority to others over himself - working for the benefit of others especially the poor. He had dedicated his whole life to service of the poor. When he was busy carrying out work for the benefit of others, he could not be influenced otherwise even by his dear and near ones. At the end of day, he earned the respect and admiration of the vulnerable of the community.
Death
On 6th January 1951, when retiring home after his regular attendance for Maghrib and Isha prayers, he had a heart attack from which he did not recover. His death was a blow to many and the community was very grief-stricken upon his death.

Source: Trade Directory 1960
SECRETARIAT
AFRICA FEDERATION ARCHIVES SECTION
23rd February 2018 (6th Jamadi ul Aakhar 1439 AH)
Reference: https://gallery.mailchimp.com/5496132269473a782cfb7b798/files/a8666b89-c057-40d7-bf31-8495deb71115/KASSAM_VIRJEE_1885_1951_Majunga_Madagascar_1_.pdf