Mamodaly Cassam Chenai
Birth & Death
Birth: In The Year 1884
Death: September 26, 1949
Brief profile
Alhaj Mamodaly Cassam Chenai was born in Surat, Gujarat, India in 1884. He obtained primary education in India. His elder brother, Fazul Cassam Chenai, asked Mamodaly to join him in Madagascar. He therefore travelled to Madagascar in 1903 at the age of 22. After working one year with his brother, Mamodaly went to India in 1904 to get married. He married Shirin, daughter of Mamodaly Mandjee of Ahmedabad. Following the couple's return to Madagascar, the two brothers joined as equal partners in their business which progressed well. In 1914, Mamodaly went for a holiday to his homeland India.
Life Journey
In 1916, they opened a branch at Majunga. Mamodaly moved to Majunga to manage the branch. In 1922, he opened the first rice mill in town. In 1926 he went on a Ziyarat trip to Iraq and Iran and passed through India during his return. In 1927 he established a seed oil factory and soap factory. In 1929 he went to India for cataract surgery.
Family Legacy
In 1939, all his five sons were compulsorily drafted in the military. In 1940, he bought a 3000-acre land where he grew groundnuts (peanuts), maize (corn) and sisal. He also bought machinery for tapioca (cassava, yuca) and sisal.
A well-built strong mosque and an impressive Imambara in Diego Suarez - these were legacy of the family. The sons donated the Imambara in the memory of their beloved mother. They spent 6.7 million francs. The Imambara had been constructed such that the lower floor could be rented out. It was been rented out at 20,000 francs per month. The family also planned to build a petrol station on the remaining land from which they expect the Jamaat to have an income from it.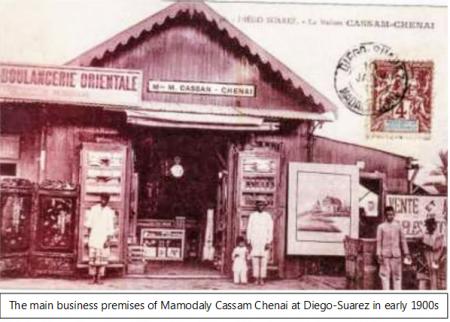 Death & Family
Mamodaly bhai passed away on 26 September 1949 and his wife Shirinbai passed away on 12 December 1959. Both are buried at Diego Suarez, now called Antsiranana, Madagascar. They had nine sons and three daughters namely: Jaffaraly, Fidahoussen, Rochanally, Hassanaly, Hedaraly, Goulamhoussen, Chawkatali, Joharaly, Navrosaly, Fitchabay, Koulsoumbay and Mehirounnisa.
The Jamaat in DIEGO-SUAREZ (ANTSIRANANA) MADAGASCAR
The first ever mosque and Imambara in Diego Suarez was made from wood and was donated by Alhaj Alibhai Thawer of Nosibe. Due to space considerations and the fact that the structure had become very old, Alhaj Mamodaly Cassam Chenai constructed a new mosque made from concrete. He had also intended to construct a spacious and impressive Imambara but he was not able fulfil his life-long wish as he passed away before he could start the project. His wish was fulfilled by his widow Hajiani Shirinbai Mamodaly Chenai who laid the foundation stone for this Imambara. However, as life would have it, she also passed away before the construction was completed. Her children finally completed the project in 1958. The Opening Ceremony for the Imambara was held in 1960. The original cemetery of Diego Suarez was located at the sea shore near the Electricity Company. As the city grew, a road was constructed mid-way through the cemetery and so some graves lie underneath the road. As the cemetery was small, a bigger cemetery plot was obtained elsewhere in town.
We request you to remember the Marhumeen of Chenai family and all the Marhumeen with Sura-e-Fateha.
Source: AF Trade Directory (1960), Mazhar Meralli Ballou (Reunion)
Prepared by: Mustafa Pirmohamed
SECRETARIAT
AFRICA FEDERATION ARCHIVES SECTION
13th March 2020 (18th Rajab 1441 AH)
Reference:https://mcusercontent.com/5496132269473a782cfb7b798/files/abb44bc0-1050-499d-b823-0f75be3223cf/Mamodaly_Cassam_Chenai_of_Diego_Suarez_Antsiranana_Madagascar_March_2020.pdf