Batulbai Jaffer
Birth
Birth Date: October 6, 1946
Brief Profile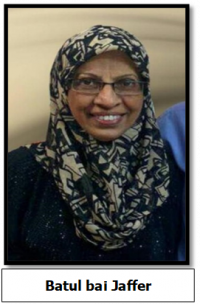 Teaching is a very noble profession that shapes the character, caliber and future of an individual. Teachers are considered to be the light givers to the society. When the teachers render their services with dedication in the making of a nation, it is certain, the younger generation would become better human beings. Moreover, Parents entrust their most precious treasures to teachers who act as second parents to them and this is very true for Batulbai famously and very fondly known to all her students as "Mrs. Jaffer". During her term as the Principal of Union Nursery School in Dar es Salaam, many would recall seeing her in the early mornings outside the gates of the school welcoming the young learners.
Mrs. Jaffer was born on 6th October, 1946 in Zanzibar. She is the daughter of Marhum Yusuf Kassamali Versi and Marhuma Khairoonbai Yusuf Kassamali Versi – the daughter of Marhum Jaffer Hameer.
Educational Qualifications
Mrs. Jaffer acquired her education in Zanzibar at Datoo Hemani Primary School and Ben Bella Girls Secondary School. In addition to excelling academically, Mrs. Jaffer also undertook sporting activities which included playing netball and various other hobbies like Art & Craft, Painting, Stitching, Embroidery and Baking. Furthermore she authored short stories and composed poems. Upon completing her O' Levels, she underwent National Service by teaching in Kajificheni Primary School from 1966 to 1968; this was made compulsory by the Revolutionary Government of Zanzibar after the 1964 Revolution in Zanzibar. Thereafter she proceeded with her higher education in Advanced Teaching Diploma in the British Tutorial College from Nairobi through correspondence.
An Inspiring Educationist and A Devoted Counsellor
She joined as a Teacher at Ngambu Secondary School where she taught from 1969 – 1972. In 1972, she moved to Dar es Salaam and continued with her profession at Bunge Primary School till 1976. She also served at Buguruni Primary School for a few months. In 1976, Mrs. Jaffer got married to Mohammed Rajabali Jaffer in Dar es Salaam and they are blessed with four daughters - Ateqa, Fatemah, Mubaraka and Shabnam.
Mrs. Jaffer was transferred to Olympio Primary School in 1976 where she taught for ten years and thereafter joined Union Nursery School as the Head Teacher from 1986 until her retirement in 2016. She was very passionate about the Montessori method of learning and introduced it to the school in 1987. An impressive 30 years as Head Teacher who also saw the successful transition of Union Nursery School under Ithna-Asheri Union to Al Muntazir Union Nursery School under KSI Jamaat of Dar es Salaam in the 1980s. The present Vice Chairman of Africa Federation, Alhaj Aunali Khalfan who was then the Hon. Secretary of Ithna-Asheri Union recalls the various meetings held between the officials of Ithna-Asheri Union under the Chairmanship of Alhaj Bashir Tejani and KSI Jamaat whose President at the time was Alhaj Aliraza Rajani. Mrs. Jaffer was instrumental in the smooth transfer of the Nursery School to the new management; she played a pivotal role in ensuring seamless transfer of the administration and assets, including accounts etc. The Nursery School still prides itself as one of the renowned schools in Dar es Salaam. The talents, values and commitment of such personalities in our community should be the shining examples to be emulated.
There were coaching classes conducted for students of Grade 1 to 7 every Fridays afternoons and Saturday mornings at the old Husayni Madrasah Campus. This was headed by Keki Bai Mehrali, Hamidabai Manji and Maryambai Tejani. Mrs. Jaffer joined as a Year 7 teacher since its commencement. She was appointed the Principal of the Coaching Classes when Mrs. Tejani left for Karachi.
Community Services
Mrs. Jaffer also volunteered at the Bilal Muslim Mission of Tanzania where she taught English as a subject to the local young ladies. At the time, these classes were held in town at the old Mehfile Ali Asgher premises and she continued her services until it shifted to another premise which then posed difficulty for her due to distance. She also gave her guidance and assistance to several schools in Tanzania and did Voluntary Counseling upon request. Mrs. Jaffer continued inspiring the young children of the community as she began serving at Mehfil-e-Ali Asghar since the Mehfil started at the old premises under the leadership of Fatmabai Rajwani where they encouraged and trained the young girls to recite marsiyas, nawhas and give short talks. Mrs. Jaffer continued her humble services at Mehfil-e-Ali Asghar until 2020.
Her message to the community is, "Always take your education seriously. Be mindful and God conscious. Always strive to progress and help yourself first, and then those around you, especially the community members. Give back to the community and prepare yourselves to assist the Imam of our time, Al Mahdi (a.t.f.s.)".
Awards & Achievements
In 2003, the then Chairman of KSIJ Central Board of Education Alhaj Habib bhai Virani awarded a citation to Mrs. Jaffer in recognition and appreciation of her exemplary services to the Community and humanity at large. On 4th August 2017 Mrs. Batul Jaffer Hall, a Montessori Hall named in her honour, was inaugurated at Al Muntazir Union Nursery School as a tribute to her dedication and commitment of more than 30 years services at the institution.
Mrs. Jaffer has been a diligent and devoted volunteer playing a critical and significant role towards our young generation. She is an inspiration of how individuals can have a lasting impact by dedicating their lives in servitude to the community and promoting our faith.
We pray to The Almighty (SWT) to reward her amply for her efforts and noble services and to grant her long, healthy and successful life to continue serving the community with greater zeal and commitment, Ameen.

SECRETARIAT
ARCHIVES SECTION OF THE AFRICA FEDERATION
9th July 2021 / 28th Zilqaad 1442 A.H
Resource: https://mcusercontent.com/5496132269473a782cfb7b798/files/e3a1e428-f656-6fab-9770-54dd9f352548/Archives_Bulletin_Mrs._Batul_Jaffer.pdf