Ayatollah Sayyid Muhammad Saeed al-Hakim
Birth & Death
Birth Date: February 1, 1936 / 8th Dhil-Q'ada 1354 AH
Death Date: September 3, 2021 / 25th Muharram 1443 A.H.
Obituary & Tribute
Obituary by Africa Federation Secretariat
It is with deep sadness that the Africa Federation Secretariat received the news of the demise of Grand Ayatollah Sayyid Muhammad Saeed al-Hakim who passed away in Najaf al-Ashraf, Iraq on Friday 3rd September 2021 (25th Muharram 1443 A.H.) and was buried there on Saturday 4th September 2021.
Brief Profile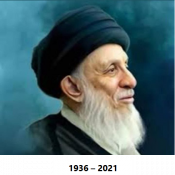 Grand Ayatollah Sayyid Muhammad Saeed al-Hakim was born in Najaf on 1st February 1936 (8th Dhil-Q'ada 1354 AH) and began his seminary education at an early age. He was a student of Sayyid Muhsin al-Hakim, Sheikh Husayn al-Hilli, and Sayyed Abul-Qasim al-Khui.
His Books
He taught jurisprudence and principles of jurisprudence as well as ethics and Quranic exegesis since a young age. He wrote books concerning jurisprudence, principles of jurisprudence, theology, and social issues, some of which have been translated into Persian, Urdu, and English.
Below are few of the books that he authored:
• Almohkem in the fundamentals of the jurisprudence - it is a detailed full course in the fundamentals of the jurisprudence in six volumes.
• Misbahul minhag in the jurisprudence laws derivation - based in details on the book of Minhag al Saliheen. So far he finished 15 volumes.
• Minhag al saliheen - His Risala - practical laws of his verdicts in three volumes.
• Menasik – Pilgrimage and Omra Rituals.
• A message to the people in the west.
• A message to the religions promoters and the hawza students - translated into Persian and Urdu.
• Morshid al Moghtarib - instructions and verdicts related to the people in the west.
• Religious laws of computer and internet - translated into English.
• Human cloning - Translated into English.
• A message to the pilgrims of the holy house of God,
Life Journey
Ayatollah Sayyid Muhammad Saeed Al Hakim was imprisoned for eight years from 1983 to 1991 during the oppressive rule of the Ba'athist regime. Many of the members of al-Hakim family were imprisoned and brutally killed during the reign of dictator Saddam Hussein in Iraq. At the time of his death, he was one of four Ayatollahs of the Hawza, Najaf's Shia Seminary, along with Grand Ayatollah Sayyid Ali al-Hussaini al-Sistani, our Marja-e-Taqleed (May Allah (SWT) prolong his life and grant him good health and safety, Ameen).
He always spoke on the importance of the love towards the Ahlulbayt ('A) in one's life and, despite his advanced age he would participate in the Arba'een procession – a manifestation for his love towards Imam Hussain ('A) and the progeny of the Holy Prophet Muhammad (SAWW). His charitable activities included assisting the needy people of Iraq, reconstruction of various religious sites, supporting tabligh activities in different parts of the world. He always firmly stood in support of the oppressed people in places like Palestine and other countries. The death of an eminent Ayatollah of such a high calibre is a big loss to the Shia Community around the globe.
We pray to Allah (SWT) to raise his status and place him in the closest proximity of Ahlulbayt ('A) where he continuously receives the mercy and grace of Allah (SWT).
On this sad occasion, we extend our heartfelt condolences to our Living Imam, Al-Mahdi (ATFS), the Marja-e-Taqleed, Ulema-e-Deen, his family and the Shia Community globally on this huge and irreplaceable loss of an eminent Ayatollah.
We request for a Sura-Al-Fateha for Ayatollah Sayyid Muhammad Saeed al-Hakim and all the Marhumeen.
SECRETARIAT
AFRICA FEDERATION
Resource: https://mcusercontent.com/5496132269473a782cfb7b798/files/69c78c1a-1d8f-a082-3fc7-f8a1148453e7/Obituary_Ayatullah_Sayyid_Muhammad_Saeed_Al_Hakim_Sept_2021_Muharram_1443_AH_.pdf