Akbarali Gulamhussein Sabur
Birth & Death
Birth Date: July 3, 1921
Death Date: In May 1997
Brief Profile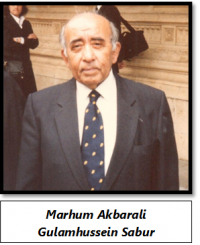 Akbarali Gulamhussein Sabur was the eldest of the nine children (four boys and five girls) of Gulam hussein Sabur who had immigrated to East Africa from India as a teenager. Gulamhussein Sabur was born in Bhandaria in the state of Gujarat. Having settled in East Africa, he only returned to India once to get married. He died in Mbale (Uganda) in July 1948. His wife Sugrabanubai was among the many Asians expelled from Uganda in 1972. She settled in the UK, sadly she died in January 1976 and is buried in Rugby. Akbarali Gulamhussein Sabur was born on 3rd July 1921 in the town of Mbale which is near the border of Kenya. After completing his schooling to the level that was then available in the town, he started working in the family business. He later started working in a dispensary where he learnt a lot about various medicines and maintained a lifelong interest in health-related matters. On 20th July 1945, he married Fizzabai Kassam Mohamed Bharwani of Hoima (Uganda) and they raised a family of six children (two boys and four girls).
Life Journey
He later started working for the Ugandan Civil Service as a clerk in the local court and soon developed an interest in law and the judiciary system and decided to pursue his career in this field. Due to his growing interest in the field of law, in 1955 he went to England and was enrolled as a student in one of the Inns of Court to study law. Unfortunately, due to a number of constraints including financial, having a full time job and a family of six children he wasn't able to complete his studies.
In 1960 he moved to Kampala with his family and initially worked in the District Court and subsequently in the High Court as a Senior Executive Officer. He was subsequently asked if he would be interested in working for the Ministry of Education as he demonstrated a great interest in educational field. Keen to improve conditions for his children and mindful of his own lack of prospect to progress in education, he took the opportunity. Indeed, he was delighted to take this post. As had always been his nature, he began to use his knowledge and the network he had developed in the various fields he had worked in, to assist people. He was known for helping not only the Ithna-Asheri Community but other communities too. His family would recall a steady stream of visitors to their house with queries. He gave a range of assistance from how to access to advice in relation to various legal and health matters or education issues. This selfless spirit and the desire to assist people in whatever way he could was his defining characteristic. He was heavily involved in the affairs of the various Jamaats in which he was a member, from the small Jamaat of Mbale (later Kampala) and eventually the UK Jamaats.
Community Services
Akbarbhai's service to the community was marked by a range of activities. He held various posts in the Executive Committees of the Jamaats. In the Kampala Jamaat, he was instrumental in introducing a wide range of policies and practices which were of significant benefit to the community and ranged from introducing a dispensary to the building of accommodation adjacent to the mosque. As the founder of a new Ithna-Asheri secondary school, he was heavily involved in setting it up and then served as the President of the Parents Teachers Association. Akbar Bhai attended all the East Africa Federation meetings as a delegate from the Kampala Jamaat. He was a founder member of the East Africa Federation and, due to his immense passion for education, he was acknowledged as a visionary: promoting access to higher education, and ensuring that girls had equal opportunities. As part of his work with the East Africa Federation, he introduced the concept of bursaries for students who could not afford to pay their way through higher education and encouraged those students, once qualified, to offer reciprocal support.
In 1972 Ugandan Asians were expelled by dictator Idi Amin who had taken power through a military coup. Akbar bhai then spent time in assisting people to secure their respective nationality documents - be they Ugandan, British, Indian or Pakistani. With the expulsion order from Amin requiring non-Ugandan citizens to leave the country within 90 days, a large number of people found themselves in a situation where their nationality was indeterminate and certainly many didn't have valid travel documents. With his reputation of assisting with such matters, he subsequently helped many families to determine their entitlement, particularly to British nationality and was successful in securing passports for them. Indeed, he remained behind after the deadline, having sent his own family to England, to assist those whose documentation was still not in order. He eventually left Uganda in 1973 to go to Kenya where he also helped several families who had fled Uganda with their travel documents. From Kenya he eventually went to Pakistan via Saudi Arabia for Umra and to Syria, Iran and Iraq for ziyarat. In Pakistan he encountered families that wanted to go to the United Kingdom and he yet again went about securing documentations for them. Akbarbhai finally joined his family in Cardiff in Wales in May 1973. Whilst the eldest son had been given the right to settle in Canada, the rest of the family eventually moved to London in 1976 where they were able to get involved with the community and the Jamaat was strong.
As soon as he arrived in London, he became involved in the newly established Jamaat that was located in Hammersmith. With his experience in the judiciary system, he quickly began formalising the policies and processes by introducing a written constitution for the operation of the Jamaat. To this day, nearly a quarter of a century after his death, he is fondly remembered as the 'Father of the Constitution'. This constitution eventually served the new mosque in Stanmore. He was known as quite an outspoken person who believed in matters being always conducted in a fair and transparent manner. He was a great defender of the constitution and was quick to identify issues that went against its principles. In Stanmore, he was involved at all levels of administration, including being a Trustee. He was a founding member of the Senior Citizens Association and was elected its President. In this capacity, he represented the community interests across a number of London Boroughs. His purpose in starting this Association was to ensure that the seniors of the community continued to have as active an existence as possible. As a result, he organised regular trips to various other Jamaats in England as well as other places of interest. In addition, he offered stimulating programmes, having experts in various fields come to talk to the seniors about different subjects.
A Visionary
Akbarbhai was a visionary and committed person. He was never deterred by what might have seemed impossible objectives to meet. So, for example he started a campaign to secure a prayer room for Muslims in Heathrow Airport. After much negotiation and persuasion, not only did he succeed in securing such a room at Heathrow but, since then, the concept of prayer rooms has been adopted in many international airports in the UK. He also persuaded many hospitals to introduce Halal meals and this has become a fairly standard practice in most hospitals. This concept has also been introduced in schools in all major cities of the UK.
Death
Akbarbhai died in May 1997. His wife Fizzabai also died in October the same year. They are both buried in Watford cemetery where their youngest daughter, Nasrin, is also interred.
May Allah (SWT) grant Marhum Akbarbhai high station in the proximity of Ahlulbayt (AS) where he receives continously Allah's (SWT) bountiful of mercy and grace, Ameen. Let us remember Marhum Akbarbhai and all other Marhumeen with Sura-e-Fateha.

Source: MohammedIqbal Akbarali Gulamhussein Sabur of Wembley, London, UK.
Article prepared by: Murtaza Jivraj (Kerbala)
SECRETARIAT
ARCHIVES SECTION OF THE AFRICA FEDERATION
Date: 2nd April 2021 / 19th Shaban 1442 A.H
Reference: https://mcusercontent.com/5496132269473a782cfb7b798/files/a48c36de-7568-4829-9c2d-7a897e3e5f29/Archives_Bulletin_Akbarali_Sabur.pdf