Abdulrasul Haji Thawer
Birth & Death
Birthdate: In Year 1899
Deathdate: January 22, 1983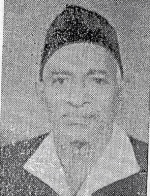 Brief Profile
Abdulrasul Haji Thawer was born in Nosibe in 1899. He was 3 years old when his father Alibhai Thawer passed away.
In 1906, Abdulrasul, his mother, sister and maternal uncle travelled to India where they ultimately stayed for some 16 years. In 1907 the family together with the family of Khamis Sumar Pattni went to Karbala for Ziyarat. On return from Ziyarat they settled at Ranavav, Jamnagar. After three years they decided to move to Lalpar as there was no Ithnaasheri community as Ranavav. At Lalpar, Abdulrasul was able to obtain education upto Grade 7 of Gujarati, Grade 3 of English and religious education. In 1916, he joined high school at Jamnagar and completed Grade 7 of English. He was also able to go to Ziyarat a second time.
Sportsmanship Skills
Apart from school studies, Abdulrasul had a deep interest in sports in which his performance was outstanding. He took part in the 100-yard race, high jump and half mile race at the high school and obtained 9 trophies to his credit. He was also awarded a Silver Award from the school for his outstanding performance in sports. He also worked as a volunteer during the All India Muslim Conference. Due to his personal connection with the Maharaja of Jamnagar, he was able to assist community and non-community members in several issues.
Life Journey
In 1923 he decided to return to Madagascar. In early 1924, he stayed for one month in Zanzibar and then reached Morondava through the port of Majunga in February 1924. He joined in the business owned by his maternal uncle. He later opened his own business. In 1932 he moved to Miandrivazo and closed the business in 1937 and moved to Morondava. In 1934, his mother passed away at Morondava.
In 1937, while in Morondava, he partnered with Kassamali Esmail in the corn business. He broke away from this partnership in 1942 and partnered with his cousin Mohamedhassan. This partnership lasted until 1957. Abdulrasul then ventured into agriculture. He also hired a person to run his shop too. He managed three farms owned by him and two farms owned by others.
Other Achievements
In 1934, a Gujarati medium Primary School was established in Morondava and he became its Secretary for the first four years after which he left Morondava. Upon return to Morondava after a few years, he was elected as President of the school management committee. He continued in this position for 12 years.
When the constitution of the Morondava Jamaat was finally ratified, Abdulrasulbhai was elected as Vice-President for the first four years and President for the next eight years. He was again elected President for another two years in the early 60s. During the visit by the Pakistan High Commissioner to Madagascar, he was chosen to represent Morondava. He was also the Morondava delegate during the visit of the office bearers of the Africa Federation in 1961. As an influential person, Abdulrasul bhai was well known for his readiness to help community members. Abdulrasul bhai passed away at Morondava on 22 January 1983.
Let us remember Marhum Alhaj Alibhai Thawer, Marhum Abdulrasul Haji Thawer and all the Marhumeen with Sura-e-Fateha for the maghferat of their souls.

SECRETARIAT
ARCHIVES SECTION OF AFRICA FEDERATION
17th April 2020 (23rd Shabaan 1441 AH)
Resource: https://mcusercontent.com/5496132269473a782cfb7b798/files/ed5ddb4b-2cee-467b-b343-18d198f5c547/AFED_Archives_News_Bulletin_Alibhai_Thawer_Abdulrasul_Thawer_Morondava.pdf