Zuhair Jaffer


Under the provisions of article 16 (a) of the constitution of the Africa Federation, in my capacity of Chairman of the Africa Federation, I am pleased to appoint Alhaj Zuhair Jaffer to the position of Honorary Secretary of the Africa Federation for the current term 2019-2022, with immediate effect. By virtue of this appointment he becomes an office bearer and a member of the secretariat team of the Africa Federation.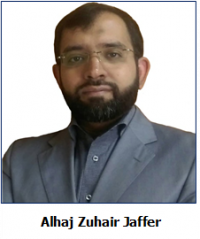 Brief Profile
Zuhair bhai is married with 3 children and lives with his family in Nairobi, Kenya where he was born, educated and brought up. Zuhair bhai holds an Honors Degree in Computer Science and Management Studies from the University of Nottingham and a Masters Degree in Business Administration from Sunderland University, U.K. He has served the community in Nairobi as an assistant secretary of the Jamaat during the term 2012-2014 thereby acquiring wide-ranging of experience in the office administration, personnel management and public relations. During this period, he played pivotal role in the development and initialization of various digitalization projects and to improve on the infrastructure.
Community Service
Zuhair bhai has been an active member of the Nairobi Jamaat since he was a student at the Haydari Madrassah; after completing his studies at the Madrassah he went on to teach and also assisted the Madrassah administration to develop software which has been instrumental in maintaining data of students and other useful information for the management. With his keen interest to pursue religious studies, he travelled to Qom in Iran for Islamic studies in the year 2014 and studied with the Jamiatul Mustafa Hawza for 5 years, during which time he learnt various Islamic sciences such as Arabic Grammar, Logic, Philosophy, History, Aqaid, Fiqh, Usul, Ahkam and Akhlaq. He has over five years of experience working as the R&D Manager at Liquid Telecom, and a further five years of experience running a business of his own in Nairobi. Zuhair Bhai's past experience and the knowledge acquired in the institutions he was involved with for the past several years shall be an added advantage to the position he will assume following this appointment.
On behalf of the Office Bearers, Trustees, the Secretariat staff of the Africa Federation and on my own behalf, I welcome Zuhair bhai Jaffer to the team. We extend our heartiest congratulations to him on his appointment and wish him every success with our prayers and duas in carrying out his responsibilities with high degree of prudence and dedication, Ameen.
Shabir Najafi
Chairman
Resource: https://gallery.mailchimp.com/5496132269473a782cfb7b798/files/a20df5d1-dea5-420e-b43b-67d21e261069/CIRCULAR_Appointment_of_Hon._Secretary_of_AFED_2019_2022.pdf