Yusuf Musa Dhalla
Birth & Death
Birth Date: January 03, 1937
Death Date: November 17, 1999
Brief Profile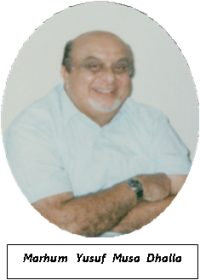 Yusuf Musa Dhalla was born on 3rd January 1937 at his family home in Malindi, Zanzibar. He was a collected, passionate and devoted cricketer and member of the Khoja Shia Ithna' Asheri community in Tanzania. Yusuf was the fifth brother of 11 siblings and was often, in his youth, on the cricket pitch or volunteering at the local community centre in Zanzibar. He completed his secondary level of education at the popular and oversubscribed Sir Euan-Smith School in Zanzibar.
Life Journey
Though Yusuf was born in Zanzibar, the revolution of 1964 led to his family's decision to migrate to Dar es Salaam during the late 1960's. In Dar es Salaam, he continued his professional working career at Leslie Anderson and then Wafkot, a shipping and logistics company, a role that he continued till his retirement. Throughout his working life, Yusuf was able to support his younger siblings' educational endeavours and helped them settle into their working lives. He was later able to support his own children's further education, sending his son to study and settle in the United Kingdom.
In 1967 Yusuf married Masuma Husein Abdulrasul Datoo, a marriage that was arguably monumental in the community given its connection to two different subsets of the Khoja Shia Ithna'Asheri community at the time in Zanzibar. This was unheard of but undoubtedly a positive development as it set the standard for years and generations to come.
A Legendary Cricketer & An Unassuming Volunteer
The Khoja Shia Ithna'Asheri community across East Africa has a strong reputation for their love of sports. Throughout the region, communities have taken part in a range of sports including football, volleyball, tennis, badminton and cricket. The popularity of cricket however cannot go unnoticed, especially in Tanzania. The popularity of the sport and its widespread adoption and growth can be argued to be because of the late Yusuf Musa Dhalla. Upon conversations with his close friends, colleagues, teammates and family members, there is a common consensus that his passion, love and dedication to the sport of cricket within Tanzania was truly unmatched. Yusuf spent many years of his youth playing cricket in Zanzibar. He was a decorated and talented wicketkeeper and represented his community in a number of competitive matches and tournaments with a run of success for his side. However, it is Yusuf's coaching and administrative involvement in the sport that has had the greatest impact in the community and nation.
After the move to Dar es Salaam, Yusuf became heavily involved in the administrative coaching of cricket, not only within the community through his tenure as Chairman of Ithnasheri Union but also during his coaching and captaincy of the Union Sports Club. He is fondly remembered for his work as Chairman of the Ithnasheri Union for the first 10 years of its existence in and then when it became Union Sports Club in 1972. His prolonged involvement at the club was a testament to his love, passion and dedication to the sport of cricket as well as the community as a whole. His dedication and service to Ithnasheri Union was recognized by the club and he was awarded the Gold Medal for Extra Merit by the club, an accolade of the highest stature, behooving the service given by a personality like Yusuf Dhalla.
He is remembered by his peers and players to have a strong and influential involvement, on and off the pitch whether as Captain, Chairman or player, Yusuf would not miss a meeting or tournament. His passion for cricket and his role at Ithnasheri Union grew the cricketing culture in the community and this was seen through the number of national tournaments in Tanzania his team was entered into. Yusuf's involvement in the cricketing world was not limited to his own community, he successfully managed the Tanzanian national team at multiple tournaments including the Tanzania Quadrangular team, which he took to Nairobi in 1979. Yusuf was also amongst the selection committee for the Tanzania national cricket team for a number of years and had a strong involvement in the National side in Tanzania. These roles showcased not only his talent within the sport but his passion and drive to make cricket in Tanzania a success. His love for the community also shone through during his managerial career in the Tanzanian national team as he was able to nurture and advocate for the young talents that he saw in Ithnasheri Union and thus give them a chance to join the National side. Yusuf was known to have a very positive demeanour and welcoming personality on and off the cricket field. Those that played with him and under him recall his firm but fair nature when it came to his management of players and teams. He was known to be steadfast in his management style but never overpowering. He had a way with people and knew how to approach those of different views to his own. His positive character was evident through the considerable time he spent at the top of his post as Manager, Captain and adviser to both the national and community teams.
Community Services
The late Yusuf Dhalla was not only a dedicated sportsman but also a hardworking, involved and selfless member of his local Khoja Shia Ithna Asheri community. His service for his religion and community extended across both Zanzibar and Dar es Salaam. His service for the Ahlulbayt (a.s) cannot go without mention. He was known for his consistent involvement within the community, especially in the month of Muharram. Yusuf would be at the forefront of the organisation when it came to the infamous Ashura day processions in Dar es Salaam. His service in the months of mourning would not stop at just the Ashura day procession, he would also have keen involvement in the reciter's committee and orchestrated the reciters during the months of mourning. Additionally, year-round, he would be amongst the key volunteers in charge of serving food (Niyaz) after each programme and was dearly remembered by peers and family for being amongst the last to eat himself, ensuring all members and volunteers had eaten before he sat for his own meal. His loyalty and devotion to the community went beyond just sports. His love for the Ahlulbayt ('a) was clear through all his actions and decisions, a regular at the mosque with a knack for socializing and Barraza but also the utmost respect for the occasion as he would rarely be seen outside during a majlis or function. Yusuf's regularity at the mosque earned him his own informal spot in the centre, one that he'd often come early to be sat at, particularly on the crowded makhsusi nights. As a man, Yusuf was approachable, likeable and valued in the community, his input was always welcomed, his values were always aligned and his intentions were always sincere. He rarely raised his voice or showed aggression, even amongst his family and closest friends. His volunteer work in the community extended further to the cemetery (Kabrastan) where he'd often look over the tea preparation as the programme would be going on.
The legacy of Yusuf Musa Dhalla is one to be admired. He was an intelligent individual who spoke from his heart and fair with his actions. His passion and dedication for cricket and the community heavily influenced his actions, he left behind a legacy of resilience, courage, steadfastness and loyalty. Admired by the youth and elders alike, Yusuf Dhalla was in more than one way an all-rounder. His people skills were something that many took away from his life, as his brother-in-law put it "I learnt from him how to get on with people, never burn bridges".
Death
Yusuf Musa Dhalla passed away on the 17th of November 1999 in Dar es Salaam at the age of 62. He is survived by his widow, Masuma Dhalla and by 3 children; Nusrat Dhirani, Marhuma Musarrat Suleman (who later tragically passed away in a car accident in Saudi Arabia and was buried at Baqi) and Shabbar Dhalla.
These are the sportsmen who have made our community proud in the sports arena. Our young and upcoming sportsmen should emulate their zeal and accomplishment.
We pray to Allah (SWT) to reward amply Marhum Yusuf Dhalla and all those who contributed to the posterity of the community. May the Allah (SWT) grant them maghferah and a lofty station in the proximity of Ahlulbayt (AS). Ameen.
A request for Sura-e-Fateha for them and all marhumeen.
     


Source: Shabbar Dhalla (son of Marhum Yusuf Dhalla) from U.K. and Asgharali Jaffer
Photographs Courtesy: Mohamed bhai Nathoo of Dar es Salaam
SECRETARIAT
ARCHIVES SECTION OF THE AFRICA FEDERATION
Date: 12th August 2022 / 13th Muharram 1444 A.H