Yemen Jamaat - Aden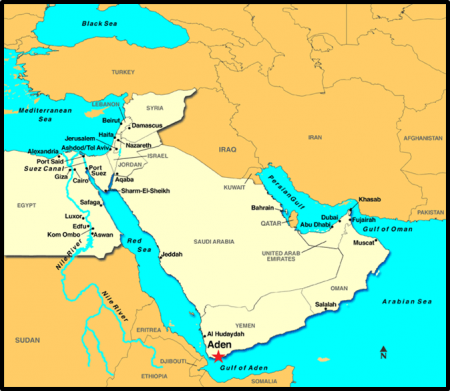 Brief History of Aden Jamaat
Aden Jamaat was an active Jamaat with a population of about 1,000 heads before the crisis erupted. Aden was British Crown Colony from 1937 to 1963, and being an extension of British India, the British Indian rupee was the currency of Aden until shortly after India gained independence in 1947. In 1951, the rupee was replaced by the East African shilling which was at par with the shilling sterling, later in 1965; the East Africa currency was replaced with South Arabian dinar, later became South Yemeni dinar.
About 30 years ago, the Supreme Council Secretariat received a communication from Crater-Aden Jamaat about the various activities of the Jamaat in Aden. The report showed that the Jamaat's Managing Committee consisted of the following:-
President - Haji Roshanali Haji Mohammed
Vice President - Haji Ramzan Haji Mohamed Jaffer
Hon Secretary - Haji Nasser Haji Darwish
Hon Joint Secretary - Haji Gulamabbas Abdullah
Hon Treasurer – Haji Safder Yusuf Jaffer
Committee Member - Haji Hussainali Rashid Visram
Committee Member - Haji Zulfiqukar Haji Anwar
Committee Member - Br. Eqbal Haji Dawood
Committee Member - Br. Barkat Haji Darwish
The following is the rest of the report received at that time:
The Resident Aalim of the Jamaat, Maulana Taqee Haider from India has been recruited through financial assistance by an ex-resident of Aden. About 95% of the members are Government employees and the remaining are businessmen or self-employed persons. Economically and socially all momineen in Crater Aden are well settled and by the mercy of Allah (SWT) and by the Wasila of our Chaharda Masumeen (AS) they live in harmony, unity and happiness. The mosque complex comprises a Masjid for prayers, Imambargha for gents and ladies, Husseini Library, Jafferi Sports Club, Jamaats office and Ghusalkhana. There is also an Ajmi (Iranian) Imambargha nearby managed by Ajmi Shias. A sister institution called Madressa-e-Jaaferi has a separate Managing Committee but functions in cooperation with the Jamaat. The Madressah mainly carries out religious and secular education and welfare activities in the interest of Jamaat members.
Like other Jamaats, Crater-Aden Jamaat activities are centered around normal religious/social programmes like Majlises in the month of Muharram and round the year on special occasions such as Wafat/Khushalis. Quarankhanis in Mahe Mubarak Ramadhan are organized with Examinations of Quran recitation and presentation of prizes to winners and other participants. Volunteers who help in such activities are also given prizes. The resident Aalim also occasionally organizes question answer sessions for adults as well as religion training classes for minors. Jaaferi Sports Club undertakes different sport activities including table tennis and football. The club also holds question answer sessions in order to enhance the religious knowledge and interest of its members. The Husseini Library, sponsored by the Jamaat and Madressa-e-Jaaferi, maintains a good collection of religious books and publications in Arabic, English and Gujarati. The Library also runs a section of audio and video cassettes of majlises and other educational programmes.
Education in Crater-Aden is free and students from our Community study in Government run institutions. Most of them are in primary or secondary schools whilst a few are in medical/ Law College or college of education / technical college. Some of the students have gone for higher education to the USSR, Bulgaria, Hungary etc. Generally, the standard of education is quite good. With the exception of some institutions of higher learning, the medium of instruction is Arabic and our children have a very good command over this language. It is indeed gratifying to note that we have been fortunate to reestablish links and we hope to remain in touch as regularly as possible. (Aden Jamaat was not a constituent Jamaat of the Africa Federation).
History of Khoja Shia Ithna-Asheris in Aden
The Shias first migrated from the Indian Sub-Continent to Eastern Yemen in 1857 and the first Shia mosque was built in Mukallah at the end of the 19th Century. In Aden, the Jamaat started in 1889 and the Mosque was also established then, known simply as 'Khoja Mosque' and later renamed as Al-Hussainy Masjid. A remarkable deed attached to the history of this Mosque is that the philanthropic community members who donated their funds, time and energy towards the construction of this Centre specifically mentioned in their wills that their names should not be disclosed. This is the spirit and legacy of our fore fathers and this is the spirit we need to demonstrate when the need arises.
The Yemeni crisis sparked off following the revolution in 2011-2012 started by fractious political groups and a struggle for power ensued. Since then the people of Yemen have been caught in the crossfire of a shattering and deadly conflict which resulted in injuries, loss of lives, destruction of infrastructure, shortage of basic essentials and the displacement of local residents. About 1,000 Khoja Shia Ithna-Asheris were living in Yemen at that time. Due to the unsafe conditions at the time, World Federation and Africa Federation jointly initiated an action plan resulting into two daring seaborne rescue missions by Alhaj Sajjad Rashid of Mombasa and a team of volunteers to evacuate a total of 464 community members from Yemen to Djibouti between April and May 2015 where a temporary accommodation under the care of the World Federation was provided. Within few months, most of the families were resettled elsewhere in the world while some chose to go back to Yemen. The Khoja Shia Ithna-Asheri mosque in Aden has been a constant target of vandalism and damage, sadly on 16th of July 2015, the 125 years old mosque was destroyed to rubble, by no one else but fellow Muslims, whom you would expect to revere the sanctity of a mosque.
Let us raise our hands in prayer for all our Community members in Yemen, for their safety and well-being as well as of all those living in fear and oppression, Ameen.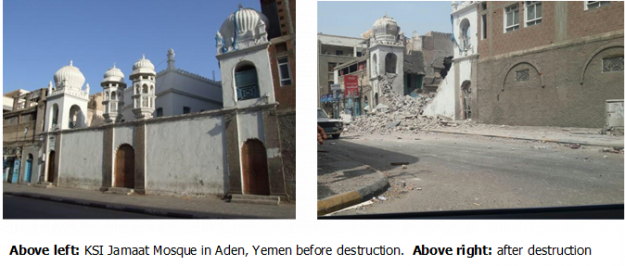 Source: Federation Samachar Vol: 23/4 - Muharram 1409/ August 1988.
SECRETARIAT
AFRICA FEDERATION ARCHIVES SECTION
18th May 2018 (2nd Mahe Ramadhan 1439 AH)
Resource: https://gallery.mailchimp.com/5496132269473a782cfb7b798/files/5e3eb1b9-d3a0-4db0-a23e-ec61a905837f/Archives_Bulletin_Crater_Aden_Yemen.pdf