The Khoja Shia Ithna-Asheries of East Africa - by Dr. Sibtain Panjwani

We wish to inform our community members that the Book authored by Dr. Sibtain Panjwani of U.K and published by Africa Federation – The Khoja Shia Ithna-Asheries of East Africa – Their Quest for a New Socio (1) Religious Identity (1860 – 1960) is available on sale at the AFED Offices located at the AFED Towers 1st Floor on the corner of Mwisho/Jamhuri Streets.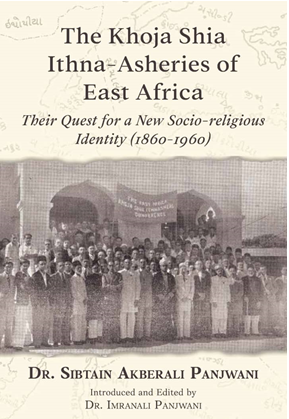 The contents and excerpts provide a flavor from the book which is approximately 450 pages. It explores the historical, religious, social, geographical, and political landscape that Khoja Shia Ithna-Asheries endured and their determination to succeed in the face of adverse circumstances that influenced and shaped their distinct identity.
The Book would be of interest to anyone that seeks to know the struggles of their Khoja Shia Ithna-Asheri ancestors in encountering new lands, cultures, and languages with the zeal to establish a self-governing community based on the values of the Qur'an and Ahlulbayt ('A).
The Book is also available for sale in Nairobi at the Jamaat Office and will soon be available in Jamaats across U.K, Canada, and USA.
The Price of the Book is as follows:
• T.Shs: 45,000 & K.Shs: 2,400
• GBP: 15
• USD: 20
• CAD: 25
Secretariat
ARCHIVES SECTION OF AFRICA FEDERATION
CIRCULAR NO: JMT/004/22
Date: August 12, 2022
RESOURCE: https://mcusercontent.com/5496132269473a782cfb7b798/files/30395139-92de-0625-b11a-7f7426e966db/AFED_Circular_The_Khoja_Shia_Ithna_Asheries_of_East_Africa.pdf