Shaukatali Mohamedhussein Dhirani
Birth & Death
Birth Date: June 7, 1948
Death Date: February 14, 2001
Brief Profile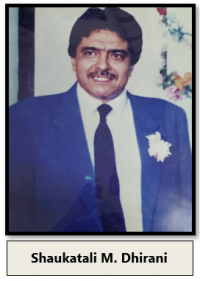 Alhaj Shaukatali Mohamedhussein Dhirani was born on 7th June 1948 at Pangani, Tanga. His parents, Alhaj Mohamedhussein Fazal Dhirani and Fatma bai lived in Pangani and later moved to Tanga. Shaukatali completed his primary and secondary education in Karimjee Primary School and in Karimjee Secondary School in Tanga. He started community services at an early age when he took the first step in serving as a volunteer and Madressa teacher under the leadership of Haiderbhai Rashid. On 29th July 1972, he married Zehrabai Rehmtullah Esmail Rashid in Tanga and was blessed with three sons – Shakir, Shaheen and Salim.
Sportsmanship Skills
His favorite sports were volleyball, badminton, snooker and darts. He won several trophies in volleyball. He was also the Secretary of Jaffery Volleyball Club and a member of GCG (Golden Crescent Group). Volleyball remained a popular game in Tanga Jamaat for many years. The Jamaat team participated in several tournaments organized by Africa Federation Sports Council and also in the Inter-Community tournaments which were held in Tanga and in other towns.
Community Services
Marhum Shaukatali's services to the community encompass several areas - He served Tanga Jamaat in various fields and capacities. He was the Honorary Secretary of the Jaffery Charitable Dispensary for several terms. He was a member and secretary of IVC (Ithna'asheri Volunteer Corp) during 70's and 80's. He also served as a Vice Chairman of the Jamaat. He was also twice appointed as the Chairman of the Caretaker Committee of Tanga Jamaat.
Death
His tragic death on Wednesday 14th February 2001 came as a shock to the community especially the Tanga Jamaat. He was shot by some armed robbers while he was walking to his car from the mosque after prayers. The vacuum he has left behind will be difficult to fill. The community lost one of its dedicated and devoted member whose life was full of desire, aspiration and vision to do much more for the community and to his family. At the time of his death at the age of 53 he was the Secretary of the Jamaat's Marriage Reconciliation Board, a member of the Jamaat's Emergency Unit and the Chairman of the Constitution Committee of Tanga Jamaat.
May Allah (SWT) rest his soul in the proximity of Ahlulbayt (AS) and where he receives Allah's (SWT) continuous grace and mercy. Please recite Sura-e-Fateha for the maghferat of the departed soul and for all the Marhumeen – Al Fateha.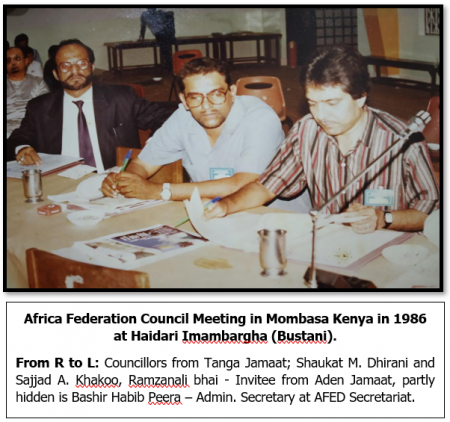 Source: Federation Samachar Muharram, 1422AH/ April 2001 & Shaheen Shaukatali Dhirani
Photograph Courtesy: Shaheen Shaukatali Dhirani
Article prepared by: Murtaza Jivraj (Karbala)
The Archives Section of Africa Federation Secretariat is requesting our community members globally to send articles, especially covering the history of our community, historical events, profiles of our past leaders, volunteers and social workers who served the community in different fields and capacities and historical programs of the past in our Jamaats or Federations with photographs and captions. Please email to: [email protected]
SECRETARIAT
AFRICA FEDERATION ARCHIVES SECTION
1st January 2021 (17th Jamadi ul Awwal 1442 AH)
Reference: https://mcusercontent.com/5496132269473a782cfb7b798/files/07e84609-b139-4499-afae-a3019778b5d8/AFED_Archives_Bulletin_Marhum_Shaukatali_M._Dhirani_of_Tanga.pdf