Shabbirhussein Pyarali Khalfan
Brief Profile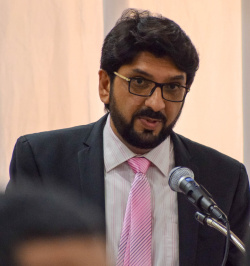 Shabbirhussein Bhai was born and grew up in Bukoba where he attained his primary and secondary school education before pursuing his 'A' levels education at Mazengo in Dodoma. He is a holder of a Bachelor of Science degree in Systems Analysis and Design from the Institute of Data Processing Management U.K.
Community Services
He has served as Head of Capacity Building Board (CBG) since 2013 with great zeal and vigor. He was appointed as the first Chairman of CBG following the adoption of the Resolution making this section a fully-fledged Board of AFED at the 27th Ordinary Conference of 2019.
Shabbirhussein Bhai served Bukoba Jamaat in various capacities and was the Founder Chairman of Jaffery Secondary School - the first collaborative project between Shia Ismailia and Shia Ithna Asheri Jamaat of Bukoba in Tanzania. He has also been actively involved with various charitable organizations over a number of years. His keen interest and passion in the field of education and training gained over the years have not only helped him in his development but also our Institutions. His vast experience as a Master life and relationship coach, Marital mediator, mentor, and facilitator presents an added advantage to his career and also supports the objectives of the CBG.
Personal Development Skills
Shabbirhussein Bhai holds several credentials as a facilitator, psychotherapist, mental health national trainer, mental health first aider, Trainer meditator in personal development fields like mindfulness, confidence, mindset, employee performance, emotional intelligence, carrier, goal success, purpose quest-coach, Cognitive behavioral therapy (CBT,) Dialectical Behaviour Therapy (DBT), Emotional Focus Therapy (EFT), Thought Filed Therapy (TFT), Art Therapy, Neuro Psychology of Learning, Neuro-Linguistic Programming, Mental health First aid and Community Fit Champion Trainer. The latest being the Self-Care Coach.
Chairman of Capacity Building Board (CBG)
AFED has over the years given great importance to training and development, especially those serving and working for our Institutions and the youth of our community to learn newer skills and improve their performances through learning and acquiring knowledge. To this end, CBG has played a major role in advancing the aims and objectives of AFED in this regard. The AFED Secretariat extends its heartiest congratulations to Alhaj Shabbirhussein Khalfan on his appointment and wishes him success in the accomplishment of the Board's goals and objectives set out for the term 2022 – 2025.
AFRICA FEDERATION ARCHIVE SECTION
SECRETARIAT
CIRCULAR NO: AFED/016/22
Date: October 8, 2022
Resource: https://mcusercontent.com/5496132269473a782cfb7b798/files/4205cc24-fe08-b6a2-a9a7-981edc66d7f0/Circular_Appointment_of_the_CBG_Team_2022_2025.pdf