Said Mohamed A.K.A. "Said Nyanya"
Birth
Birth Date: In The Year 1928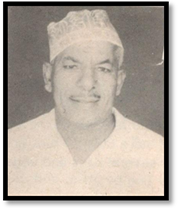 Brief Profile
Said Mohamed, popularly known as Said "Nyanya" is a staunch supporter of Dsm Union Sports Club. The most striking and admirable aspect of Said has been his sincerity and keenness for the prosperity of cricket among our youths. In order to encourage our youths he would go to watch them if other more convenient ground exhibited better and more competitive cricket. Said offering his "Asr prayer" which coincides with tea break is a common sight at any ground. It reflects the pious nature of this humble and friendly soul.
Excerpt of Interview with Said Mohamed
Q: Would you relate your personal background?
A: I was born in 1928 at Hadhramaut in Yemen and landed in Zanzibar at the age of 6 years.
Q: When did you start playing sports?
A: On seeing children play football in the streets of Zanzibar; I got fascinated towards it and would join them. It was football which was my first obsession. I played for "Juvenile" at the age of 12 and represented "Arabs" in the 1st division in 1942. Later we formed "Malindi Club" which came to be one of the most reputed football clubs in Zanzibar. I played for it till 1960. I was "Half Right Back" and had the honour to represent Zanzibar from 1947 when it participated for the first time in Gossage Cup held in Dar es Salaam till 1956. I vividly recall my encounters with such household names like Kalibala, Elijah, Simbwa, William Nassor, Abdul Hamid and others. It was also through football that I visited various East African countries.
Q: How did you get attached to cricket?
A: To be frank initially I did not have much liking for the game. Interestingly once in a while I had been practicing soccer at Mnazi Moja, Ithnasheries were practicing cricket on the other end and as Sheralli Ndege was hitting the ball to all parts of the ground I would safely catch the ball as it landed towards me. Noorali Jessa was impressed by my catches and came to me saying I could become a good cricketer if I played the game. However at that time I did not take to it seriously. It was in 1949 when the "Arab" cricket team was being rebuilt under the patronage of Juma Aley that I got myself involved with cricket. I played for Arabs "A" and "B". I was a good fielder, used to open the batting and occasionally even bowled. 1949 was a remarkable year. We Arabs won the "KJ cup" beating the giants Ithnasheries in the final. We were trailing by some 50 runs in the first innings but then we scored 252 runs in the 2nd innings with Maalim Juma Aley contributing 85 runs. Ithnasheris could not overcome our target of 202 and were bowled out for 150 with Abbas Mirza claiming 5 wickets.
Q: Can you recount some of your memorable performances?
A: Once against "Bohoras" in 1950's our bowling was not penetrating and their batsmen seemed adamant. I was brought in as change bowler and instantly struck the vital wicket of Mansoor, their star batsman. I went on to take 4 wickets and eventually we won that game.
Another performance worth mentioning is my innings of 28 against Ithnasheries in the KJ final of 1959. Agha Mohamed Jaffer and myself shared a partnership of more them 80 runs and we stayed till lunch. This was the game which had to be continued for several days and ended on one of the week days when Baslem was caught on the boundary line by Akku (Akber Dedhar) and lost narrowly.
Q: Till when did you play Cricket?
A: My last game was against "Aga Khan Sports Club" in Dar es Salaam in 1963 during the annual Sports visit. We won that game though our opponents were unbeatable in those days and contained players like Mamda Kassam, the Kalyan brothers, the Bhanji brothers etc. I remain in constant touch with cricket and even umpired few matches in Dar es Salaam. I even umpired Zanzibar v/s Uganda game in Zanzibar.
Q: Would you recollect some of the memorable matches you have witnessed?
A: The 1960 K.J finals in Zanzibar which Arabs lost to Ithnasheries by 3 runs. I can still visualize Agha Jawad being caught by Akku off Muslim. The A.G Tar Mohamed Tournament encounter between Union Sports Club and Universal of Zimbabwe which the later ultimately won in the last over was another thriller.
Q: Can you also recall some impressive individual performances?
A: Aga Jawad's six wickets against Hindus when they were bundled out for 52 from being 30 for no loss at one stage against our score 62 runs, Mohamed Nathoo and Bashir Tejani's invaluable partnership of 117 runs against Minor Counties, Shabbir Kaderbhai's haul of 7 wickets for Coast against Union and Sajjad Lakha's Hat-trick against Dar Cricketers.
Q: What makes you so much attached to Union?
A: Most of the Union lots are Zanzibaris with whom I am well acquainted and see quite in time. Also they are disciplined, play attractive cricket and exuberate immense team spirit. I became member of Union Sports Club in 1976 and even appointed to its cricket selection committee and "Disciplinary Committee".
Q: Who have been your favorite cricketers?
A: Several of them but the cricketer who impressed me the most was Juma Alley. He was such a well dressed, disciplined and fine player that he executed an everlasting impact upon the viewer. His cover drives were joy to watch. Later I used to admire a lot Agha Mohamed Jaffer's style of batting and wished I could beat the way he did. Currently my favorite is Bashir Tejani, he is a complete cricketer in every respect of the game.
Q: How do you compare the present "Union" team with the Ithnasheri Gymkhana of the past?
A: Ithnasheries of the past in Zanzibar were far superior than any of Union side. They were better balanced; more talented and very difficult to beat. Winning against Ithnasheries was considered a great achievement for any team.
Q: Who amongst the current crop of youngsters impress you and what do you advise them?
A: Murtaza Versi, Gulam Alloo, Jameel Kabana, Hozaif Bhalloo, Murtaza Virani and Ibrahim Datoo are good all rounder's and future prospects. They should constantly practice, avail as much coaching as possible and concentrate on physical training such as running and exercises.
Had I time I would have called all the youngsters to the ground in the early afternoon and make them practice. In Zanzibar I would close my fruit stall as early as 2 pm and gather Agha Mehdi, Ahmed Bachoo, Amir Yusuf and other youngsters at Mnazi Moja where I would install the net, place one stump and make them bowl. The seniors would come later and accommodate themselves. Sometimes over here a chaotic situation prevails during practice session when many players are to be seen. I will be the happiest person when Union can avail a ground of its own.
Article By: Alhaj Murtaza Jivraj (Kerbala)
AFRICA FEDERATION ARCHIVES SECTION
3rd February 2017 (5th Jamadi ul Awwal 1438 AH)
Reference: https://gallery.mailchimp.com/5496132269473a782cfb7b798/files/ba950ea1-654c-42b4-8f58-1dbf80bc1f63/AFED_Archives_Sports_Interview_of_Said_Nyanya_doc_2017.pdf