Razia Jan Muhammad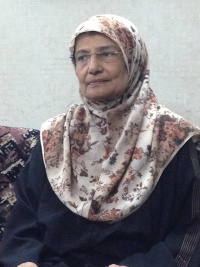 Birth
Birth Date: July 23, 1944
Brief Profile
Raziabai was born in Lamu,Kenya on 23rd July 1944. After A levels in secular studies, she pursued a course in teacher training. She never knew that this course is going to be of immense help in her later Madrasa teaching endeavours.
Madrasa Teaching
After her teacher training course, she had two offers to opt for. Director of school or a Madrasa teacher. Consulting Maulana Sayyed Saeed Akhtar Rizvi, she selected to spend her life for Madrasa where she then spent her precious life of 37 years. She started Madrasa with the motivation of Muhammadbhai Dhirani in 1976 and was busy teaching till 2012. Her passion of Madrasa still pulls her towards Madrasa for one class of Quranic reflection in Madrasa of Dar es Salaam. When she started the Madrasa there were 92 girls which have always kept increasing. Her students are now grandparents of many of her own students in the current Madrasa. She has taught Quran, Fiqh, History and Arabics in Madrasa.
Achievements
She was the first chairlady of the ladies Management Committee for six years. For this and other countless service to the community she was honoured by the "Fatima Madel" on 13th April 2013 by Mohammed Gulam Hussein Dhirani the former chairman of Afed. She was also honored by Mulla Asgher Memorial Award by WF.
Interview
In an interview by Kumail Rajani she quoted: "I am highly indebted to my husband". Both of them are currently running a book shop in Dar es Salaam.