Mohammed Jaffer Mulla Hassanali Khaki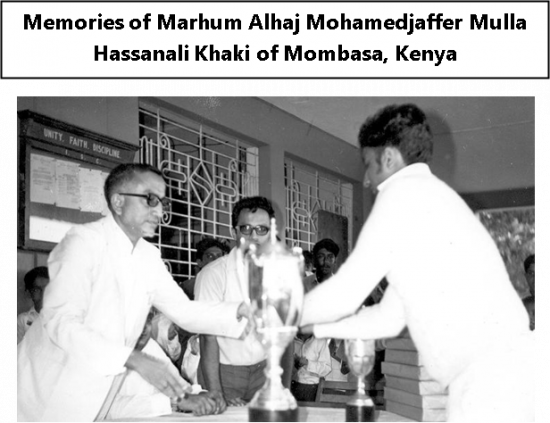 Above: Murrabi Alhaj Mohammedjaffer Mulla Hassanali Khaki presenting the trophy to Alhaj Mohamed Nathoo during the Annual tournament between Jaffery Sport Club Mombasa and Union Sport Club Dar es Salaam. Looking on is Abul Kassim - the Secretary of the Jaffery Club Mombasa. The tournament was held at Jaffery Sports Club in Mombasa Kenya in 1971.
Let us remember Marhum Mohamedjaffer Bhai Khaki and all Marhumeen with Sura-e-Fatiha for the maghferat of the departed souls.
Source: Alhaj Mohamed Nathoo, veteran sportsman of our community.
SECRETARIAT
AFRICA FEDERATION ARCHIVES SECTION
11th January 2019 (4th Jamadi ul Awwal 1440 AH)
Reference: https://gallery.mailchimp.com/5496132269473a782cfb7b798/files/a4bfafa5-56fe-4834-8abb-f8430ea45ac7/AFED_Archives_Memories_of_Alhaj_Murrabi_Mohammedjaffer_Mulla_Hassanali_Khaki.pdf