Mohammadali Ladha Damji
Birth & Death
Birth Date: In The Year 1915
Death Date: In The Year 1978
Brief Profile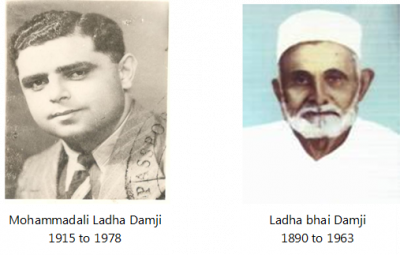 Mohammadali bhai was born in Ujiji-Kigoma in the year 1915. After his primary education he went to Zanzibar for his secondary education. In Zanzibar he stayed with his uncle Jaffer Ladak Mullani, he also learnt Quran and Dinyat from Maaalim Raza Rashid Nathani. Zanzibar was well known for its high standard in religious and secular education.
Business Journey
In 1930 he came back to Kigoma and joined his father's business. His father had a running business by the name Ladha Damji. He changed the name to Ladha Damji and Sons and his two brothers Hassanali and Gulamabbas joined the business. Business expanded with several branches all over the district of Kigoma and small retail business branches in the villages. Ladha Damji & Sons company dealt in agriculture produce, dry fish (dagaa), buying and selling to Dar es Salaam businesses J.R Jivraj and Molloo Brothers. Later Ladha Damji business expanded in transport, sundries, hardware, and motor spares business. At that time, Kigoma region was producing considerable quantity of rice paddy. Some of the paddy was being processed traditionally and the processed rice was being sold in Kigoma region and the rest was being exported to Dar es Salaam.
Mohammadali bhai decided to put up a rice mill in Ujiji. Ladha Damji & Sons was the first company to put a rice mill in late 1930's. Ladha Damji & Sons Company became the sole exporters of processed rice to other regions of Tanganyika. Rice mills, at that time were considered to be a very vital and big industry. Later on, Remtulla Alibhai Panju, G. R. Ladak, Hussein Dhalla and Company, also installed rice mills to cater for huge production of paddy in Kigoma region. Ujiji had become the main centre for milling paddy rice. Paddy export stopped and rice became the main export from Kigoma region.
Family
Mohammadali bhai married in the late 1930's to Mariambai, daughter of a prominent businessman from Ujiji called Hasham bhai Shivji. He was blessed with two sons, Akberali and Mukhtar. Akberali served Dar es Salaam Jamaat for a long time looking after the water supply system and Mukhtar who also served as head of distribution section of Federation Samachar under AFED and has now migrated to Canada
Community Service
Mohammadali bhai was a keen social worker and loved serving the community. He served as:
1. President of Khoja Shia Ithna Asheri Jamaat of Kigoma in late 1950's.
2. Chairman of Chamber of Commerce.
3. Councilor of Kigoma Jamaat in Africa Federation in 1950's.
4. Senior member of East African Muslim Welfare Society.
5. Founder and Trustee of Khoja Shia Ithna Asheri primary school of Kigoma Jamaat in 1950's.
6. Chairman of Suleiman Premji Sports Club.
7. In 1953, Mohamedali bhai was selected to represent Kigoma region in celebrating the Coronation Ceremony in Dar es Salaam.
8. Led the delegation for raising funds to build two houses for the Jamaat for income purpose. He led his delegation to different jamaats in Tanganyika. Mohammadali bhai's delegation was joined by Karimbhai Remtulla and Ladhubhai Jaffer.
9. Chairman of the organizing committee of celebration of India and Pakistan independence.
In 1954, when Mr. Julius Kambarage Nyerere visited Kigoma on his TANU campaign mission he did not have transport to go to the villages. Sheikh Musa Rehani and other supporters of TANU from Ujiji approached Mohemmadali bhai to provide transport. Mohamedali bhai volunteered to take Mwalimu Nyerere in his saloon car V8 Ford Registration No. DS 2533, on a campaign trail. He was warned by the authority and later on he was summoned and was verbally informed that his name was to be proposed for the honor of MBE title to be accorded in Southern Rhodesia (now Zimbabwe) but was withdrawn because of helping TANU in the campaign.
Mohammadali bhai was also keen in religious matters and fully participated in the religious ceremonies by reciting Duas, Marshias and was the main reciter of Maatam.
On 23rd July 1955, he organized a farewell party to Mr and Mrs W. B. Davis (District Commissioner) who were proceeding to UK on home leave. The farewell party was organized on behalf of Khoja Shia Ithna Asheri Jamaats of Kigoma and Ujiji. He was the main speaker in the party. (Copy of original speech and photo attached).
Document with Original Speech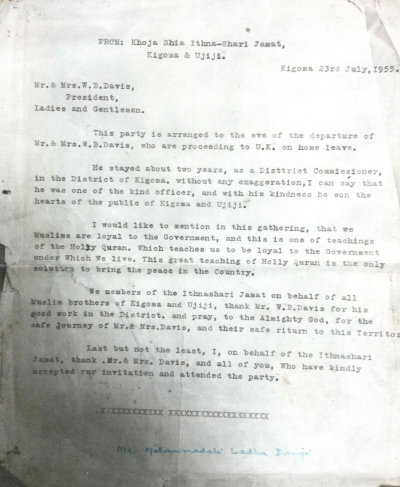 Photograph of the Party 23rd July 1955
Personal Life
Mohammadali bhai was also a very good sportsman. He was one of the best tennis players in Kigoma and the British Officers loved to play with him. Being a good mechanic in petrol and diesel engines, Mohamedali bhai used to repair himself the fleet of vehicles of his company and would also repair his rice mill machinery. After his second marriage to Khairunbai Noorali Rashid in 1970, Mohammadali bhai settled down in Bukoba. He served Bukoba Jamaat as advisor and committee member. He passed away in Bukoba in the year 1978 and was buried in Bukoba.
Below are some photographs of joint celebration of Independence of India and Pakistan in 1947.
The Asian community in Kigoma lived together as one single community without prejudice of any kind; their loyalty was to the British Government after World War II and to the Government of Tanganyika following independence from the British rule in December 1961.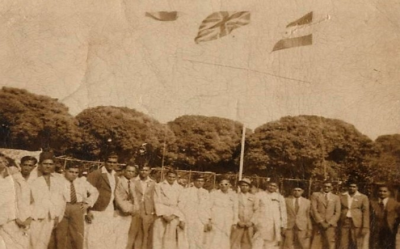 Joint celebration by Asian Community of the independence of India and Pakistan 1947 on Kigoma club ground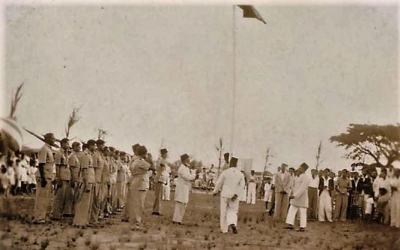 Guard of honor by scouts in year 1947 India/Pakistan independence on Kigoma club ground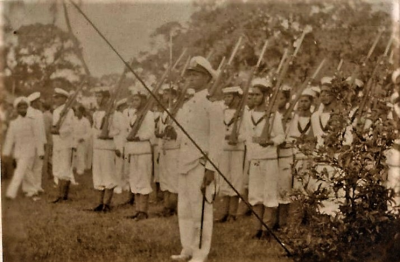 Guard of honor by police force in year 1947 India/ Pakistan independence on Kigoma club ground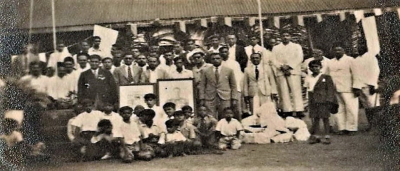 Group photograph of Asian community members 1947 occasion of India/Pakistan independence. Group photograph was taken after grand tea party in Sulemain Premji Sport club. Mohammadali bhai in suit standing in the middle as organizing committee Chairman.

Photographs/article courtesy: of Murtaza Jivraj (Kerbala), Sectional Secretary of Archives Section of the Federation of KSI Jamaats of Africa.
SECRETARIAT
AFRICA FEDERATION ARCHIVES SECTION
13th February 2018 (26th Jamadi ul Awwal 1439 AH)
Reference: https://gallery.mailchimp.com/5496132269473a782cfb7b798/files/6cd606d9-5e58-43bc-9e19-37e7b307b851/AFED_Archives_Bulletin_Mohammedalibhai_Ladha_Damji_Feb_2018_final.pdf