Mohamedraza Fazel Meghji – Mogadishu
Birth & Death
Birth Date: In The Year 1911
Death Date: April 4, 1966
Brief Profile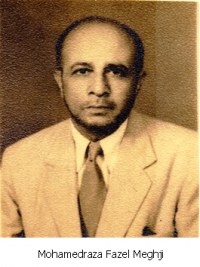 Br Mohamedraza Fazel Meghji was born in Pangani in 1911. There was German rule in Tanganyika at that time. His father had a shop at a place called Kihuhui, on the Moshi -Tanga road. Br Mohamedraza got his training in Religious Studies and Qur'an recitation in Pangani. In 1920, his father took him to Tanga for settlement. Unfortunately, certain circumstances arose which required the family to travel to India. Due to unavailability of regular ship services at the time, they had to charter a dhow to travel to their home town in India. Due to their stay taking four years, he took the advantage of his stay to enhance his education.
Life Journey
In December 1924, Mohamedraza travelled from India to Zanzibar by the ship "Karagola" and onwards to Tanga from Zanzibar by the ship "Damra". As part of business training by his father, Mohamedraza was given a small shop at Muheza, near Tanga. He sold salt, kerosene and other items at this shop for about two years. Due to heavy forestation and absence of local council services of any kind, there was heavy infestation of malaria. As a result of malaria prevalence in Muheza, Br Mohamedraza became ill and lost a lot of weight. He finally decided to close the shop in Muheza and instead opened one in Korogwe.
Business Skills
Mohamedraza was a minor when his father Fazel Meghji died suddenly on 24 January 1930. As a result, the Administrator General took possession of the business and considerable properties owned by his father in Tanga. In 1931, Mohamedraza married Aminabai, daughter of Br Mohamed Ladha of Tanga. Due to the death of his father and the subsequent control of all assets by Administrator General, Mohamedraza could not succeed in any business in the absence of capital. Despite his intense efforts he remained without work for four years. In 1934, he decided to sell off his properties and move to Mogadishu. Mohamedraza recalls that while saying goodbye to his mother in Tanga, she blessed him with prayers for success and asked him to go to Ziyarat of Imam Hussein (AS) once he is successful in his new venture.
After arriving in Mogadishu, Mohamedraza went into partnership with Br Ahmed Fazal Rashid. The business succeeded and within one year, he was able to earn enough money for making the Ziyarat trip. In accordance with his mother's wish, he went to Tanga to meet his mother with the money he had earned. After selling off their household items they all went to Mombasa and from there he sent his mother, his wife and 4 year old son and his brother to Ziyarat. He then returned to Mogadishu where he quit the partnership with Ahmed Fazal Rashid and started an independent business on a small scale. Due to Italian-Abyssinia war at the time, the cost of living had shot up tremendously and it was very difficult to manage the daily expenses. He was not easily despaired and he carried on with his business with patience and perseverance. As a result he was able to raise his liquid capital to 5000 within one year. His two brothers Abdulhusein and Rajabali were both born and brought up in Tanga. His brother Rajabali, together with his son Fazalhusein had gone to India with his (Mohamedraza's) mother Sugrabai, sadly she died there; he brought his brother Rajabali and son Fazalhusein back to Tanga.
Detention by Italian Officials
In 1937, he started as manufacturers' representative. As his business was growing up rapidly, he suddenly heard of the shocking news of the death of his beloved mother in India. Another shocking moment came as Br Mohamedraza and his brother were detained by the Italian officials just after the announcement that Italy had joined the side of Germany in the Second World War. They were told that their detention was for precautionary purposes and they had to stay 30 miles outside Mogadishu at a place called Hanana. As it was government detention centre, conditions were not particularly difficult. They however applied to the authorities that their families join them at the centre. Their application was approved and the family joined them and a hut was built for them so that the whole family could live together. In 1941, after further detention of two months, Somalia came under the British authorities and the two brothers were subsequently released with due respect.
After release, he joined in business partnership with Hussein Abdulla Hasham. They opened a branch in Mombasa and Br Mohamedraza travelled to Mombasa to manage the branch. After one year of stay in Mombasa, a compulsory education law was passed in Mogadishu and he had to return to Mogadishu as a result. As the implementation of the law became weaker in 1943, Br Mohameraza returned to Mombasa. In order to overcome shortages of goods in Somalia, a five-member government deputation came to Mombasa to discuss the situation. Br Mohamedraza was appointed as the fifth member of this non-European Chamber. Br Mohamedraza's wife Aminabai passed away in 1946 and was buried in Mombasa.
In 1947, he travelled for Hajj. In 1949, there was another shortage of goods in Somalia. The Government asked Br Mohamedraza to travel to Mumbai for the purchase of goods. He also took time to visit places in India and Pakistan and then returned to Somalia in 1950. In 1947, he married Gulbanubai, daughter of Rustamali Ladha of Dar es Salaam. In 1950, due to heart condition, he was advised to return to Mogadishu where retired from partnership and made the Ziyarat trip to Iraq and Iran. Upon his return, he started a business in Mombasa. In 1954, he went to Europe for the purpose of purchasing a steamer. Upon his return, he went to Ziyarat and settled in Mogadishu as his eldest son was now in a position to manage the business.
Companies Owned
He founded two companies:
(1) M R Fazel & Co Ltd in Mombasa Kenya. After recession in textile business, he changed the business venture to dealing in Tea. This company became well-known tea exporters.
(2) Mohamedraza F Meghji - Mogadishu, Somalia. This company was established in 1958 and became a leading manufacturers' representative company in Somalia.
Community Service
Br Mohamedraza has taken part in a lot of public service activities. He was Joint Secretary of Tanga Jamaat from 1931 to 1934. In 1941, he served the Mogadishu Indian Association as Hon Secretary. In 1946-47, he served as a committee member of the 'Faiz" section of Mombasa Jamaat. He was Vice-President of Pakistan Association at Mogadishu in 1951. He was a member of Tabligh Section of the Africa Federation in 1958. He was also member of the Kuwwatul Islam Jamaat Committee of Mombasa in 1958-59.
Alhaj Mohamedraza Fazel Meghji passed away during Ziyarat trip at Kadhmain on 4th April, 1966 and was buried in Wadi-us-Salaam, Najaf, Iraq.
Family
His children from first wife Marhuma Aminabai are Marhum Fazalhussein, Marhuma Zainab Mohamedhussein Jessa (who died in Dar es Salaam boat disaster), Sugra Jaffer Gulamhussein Nurmohamed (Nairobi), Hamida Rajabali Bandali (Mombasa) and Zulfikarali Fazel (London). His children from second wife Gulbanubai are Mahmood (London) and Abdul Lateef (Toronto).
Marhum had four siblings – Marhum Rajabali Fazel Meghji, Marhum AbdulHusein Fazal Meghji, Marhuma Kulsumbai Ahmed Fazal Hasham and Marhuma Shirinbai Mohamedhussein Hasham Jivraj.

Source: AF Trade Directory (1960) & Zulfikarali Fazel
Published in Africa Federation Archives Section
15th July 2016 (10th Shawwal 1437 AH)
Reference: https://gallery.mailchimp.com/5496132269473a782cfb7b798/files/AFED_Archives_Mohamedraza_Fazel_Meghji_of_Mogadishu_1911_1966_.pdf