Mohamedali Chagani
Birth & Death
Birth Date: June 07, 1935
Death Date: March 15, 1995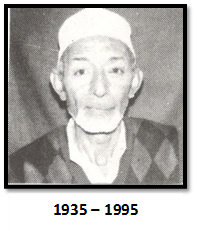 Brief Profile
Born on 7th June 1935 at Tabora Tanzania, Mohamedali Chagani was a social worker of long-standing. Starting as a volunteer in Tabora in 1950s he has served a number of community institutions in various capacities. He worked for National Bank of Commerce in Tabora holding senior position as financial manager in 1970s.
Community Service
In Dar es Salaam where he stayed for about 15 years, he served first as the Joint Secretary and later as the Hon. Secretary of the Jamaat. It was during the term he was the Hon. Secretary of Dar es Salaam Jamaat when Al Muntazir Islamic Seminary idea was embedded and he was actively involved during its formation stages, being a member of the first Board of Governors, amongst others who collectively strived hard towards the establishment of the Seminary which was to cater for the education needs of our community children.
Mohamedali bhai also served as a Councillor and was Hon. Secretary of the Africa Federation for a brief period until he decided to move to Arusha for permanent settlement in 1987. In 1980s Mohamedali bhai was editor of Federation Samachar. He has been actively involved in the Supreme Council Education Board based in Moshi, he was a member of the Board of Directors of National Investment Company comprised of community members and also held the Governor position of the then Golden Crescent Group.
Death
The sad death of the Editor of the Federation Samachar Alhaj Mohamedali Chagani (59) occurred on 15th March, 1995 in Arusha. Mohamedali bhai was great company and his touch of humour in meetings will be sadly missed. The Editorial Board too will miss his wise counselling and proficient writing. May Allah (SWT) rest his soul in eternal peace, Ameen
Let us remember Marhum Mohamedali Changani and all the Marhumeen with Sura-e-Fateha for their Maghferat, May Allah (SWT) grant him heavenly abode in the proximity of Aeema-e-Tahireen (AS).

Extracted from: Federation Samachar Vol. 28 No 4 of Zilqad 1415 AH/April 1995
SECRETARIAT
ARCHIVES SECTION OF THE AFRICA FEDERATION
25th October 2019 (26th Safar 1441 AH)
Resource: https://gallery.mailchimp.com/5496132269473a782cfb7b798/files/58596fe6-dd56-451c-87f0-0e99c9bdea48/Afed_Archives_News_Bulletin_Alhaj_Mohamedali_Chagani_remembered.pdf