Matam e Bahrani (Matemni - Zanzibar)
Brief History
Matam e Bahrani (Matemni, Zanzibar)

During the reign of Sultan Bargash and prior to the arrival of the Khojas, Shias of Zanzibar felt the necessity of having a place of worship, where they could perform the 'Azadari of Imam Hussein (a.s)'. The need for a place of worship became rather crucial as more and more Shias from Bahrain, Muscat and Iran decided to reside in Zanzibar permanently. This was also mainly due to the fact that after the dhow season, they could easily find jobs in the Sultan's private army or engage in small businesses.
Alhaj Ahmad bin Na'aman Al Kaabi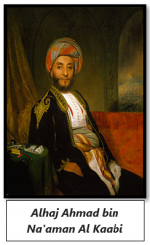 Alhaj Ahmad bin Na'aman Al Kaabi was a popular personality in the Sultan's retinue and Major Mohamed Ahmed Khan was an equally important person in the court of Sultan Bargash. These two gentlemen approached the Sultan with a request to provide them a suitable place to hold majalises and perform 'azadari'. The Sultan treated this humble request with utmost respect and allocated a big house just behind his Palace and the graveyard. Thus, this house on the road leading to Hurumzi Street became the first Matam-e-Bahrani where it remained for over a decade prior to being moved to Kiponda Street, the current Matam-e-Bahrani (Matemni) in Zanzibar. The old building has been turned Into a Girls' or a Boys' Primary School. All the non-Khoja Shias in Zanzibar during those days performed their religious ceremonies at the Matam-e-Bahrani. The majority of the Shias were in the Sultan's Private Army under the command of Major Mohamed Ahmed Khan. Because of the Shias' honesty and loyalty to the Sultanate of Zanzibar and the influence of Major Mohamed Ahmed Khan as well as Alhaj Ahmad bin Na'aman Al Kaabi, the Sultan of Zanzibar was inclined to accord great respect to the Shias, more so because all of them spoke fluent Arabic, the language of the Royal Court. Major Mohamed Ahmed Khan was often addressed by Sultan Bargash as 'Kalbe Ali Khan', meaning a muhib or devotee of Imam Ali (a.s). In recognition of his honesty and devotion to the religion, he enjoyed a special treatment at the Royal Court.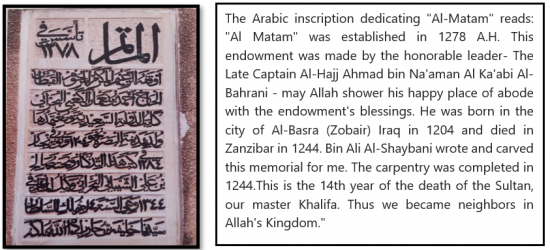 Matam-e-Bahrani, as it is called till today, was named by Major Mohamed Ahmed Khan who himself was a Bahrani. This place of worship moved to the present site in the early 1900 during the reign of the late Seyyid Khalifa bin Haroub. Sultan Seyyid Khalifa also had a special respect for the Shias of Zanzibar and Matam-e-Bahrani. In fact, the Sultan had made 'nazar' (pledge) during those days that if he was blessed with a boy he would fit Persian carpet in the entire Matam-e-Bahrani. His wish was fulfilled when his wife Bibi Matuka, gave birth to a baby boy who was given the name "Abdullah". As pledged, Sultan Seyyid Khalifa covered the entire Matam-e-Bahrani with a Persian carpet and held niyaz every year regularly. The son of the Sultan, Abdullah became the Sultan of Zanzibar in the 1960s.
Seyyid Kazim Abbas Al Musawi / Seyyid Abbas Seyyid Abdallah Al Musawi
The current Matam-e-Bahrani building was bought by a rich Arab from Muscat, Sheikh Saleh bin Ali. The building was divided into two portions. The ground floor was reserved for Matam-e-Bahrani while the upper floor was occupied by the donor and his family. There were then about 150 Shias in Zanzibar including women and children. The existing Shias of Matam-e-Bahrani are the original Shias from Bahrain, Muscat and Iran, who inter-married with the locals in Zanzibar.
After the death of Major Mohamed Ahmed Khan, the custody of Matam-e-Bahrani was entrusted to Seyyid Abbas Al Musawi. It was later passed on to his son Seyyid Kazim Abbas Al Musawi, who continues to preach during Muharram. Following the rich tradition inherited from his late father, Seyyid Kazim looks after Matam-e-Bahrani with equal zeal and devotion. The late Major Mohamed Ahmed Khan had also established a burial place for the Shias in Zanzibar, known as the Chunga Khan where the first Shias are buried; one portion of this Kabrastan is reserved for Sadaats only. Khoja Shia Ithna-Asheri of Zanzibar had very close relation with Matam-e-Bahrani also popularly known as Matemni. In fact, the Ashura and Arbaeen (Chehlum) Juloos taken out with great fervor and grandeur had its first stop at Mataam-e-Bahrani in Kiponda, the tradition which still continues. Khojas participated in the majalis in Matam-e-Bahrani and; Persians and Baharanis also participated in the azadari in Khoja Imambarghas and mehfils.
Seyyid Abbas Seyyid Abdallah Al Musawi used to recite Majlis in Matam-e-Bahrani and Mehfil-e-Abbas as he was famous for his Kiswahili idiolect which attracted a big crowd. In running Matam-e-Baharani, he was assisted by his son Seyyid Kazim Abbas Al Musawi. Matam-e-Baharani style of Azadari originates from Iran and Bahrain. Khojas emulated Persian (Farsi) way of doing matam. The tradition of Saf matam, eki, bishin, are attributable to the great Shushtari Family. Most of the Persian (Farsi) nawhas recited in Khojas originate from Matam-e-Bahrani.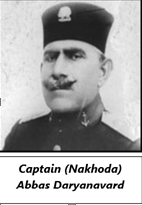 The most famous Persian (Farsi) nawha "Shia Ba'azastu gham, baa aaho 'alam, besaro sina barzan, ke zanav shud muharram" was in fact composed by Captain (Nakhoda) Abbas Daryanavard who came to Zanzibar in 1900's when the famous merchant of Zanzibar Dewji Jamal hired his dhow from Bombay to Lamu, Mombasa and Zanzibar. He introduced this nawha after the recording was done in the studio by the recitor Nizar Qatari. Nizar introduced the Busheri saf matam in Zanzibar in 1900's. The saf mataam was adopted by Khojas and spread to other Khoja Communities in East Africa, Congo, Rwanda, Burundi and Madagascar. In Zanzibar the eki Matam was recited in the Khoja Imambargha by an Iranian popularly known as Ustad. Saf Matam tradition is from Iran and is still done in cities like Busher, Bandar Abbas and Shiraz.
Click here to download the Farsi Nawha.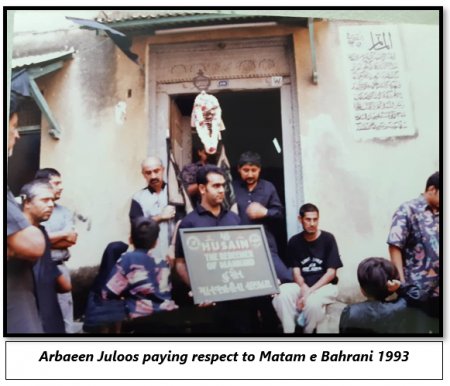 As narrated to Br. Bashir Peera by Alhaj Seyyid Kazim Seyyid Abbas Al Musawi, the current custodian of Matam-e-Bahrani.
Ref: AFED Silver Jubilee Souvenir – 1948 to 1971
Source: Safarnameh Daryayi (Page 25) Author Agha Ridha Shushtari Ex-Zanzibari now living in Tehran Iran.
Photographs Courtesy of: Murtaza Jivraj (Kerbala). Special Thanks to Mahmood Seyyid Kazim for the photographs of the Matam-e-Bahrani Building.
Article prepared by: Murtaza Jivraj (Kerbala)
SECRETARIAT
AFRICA FEDERATION ARCHIVES SECTION
22nd January 2021 (08thJamadi ul Aakhar 1442 AH)
Reference: https://mcusercontent.com/5496132269473a782cfb7b798/files/404d1c4f-312d-4215-a22d-64e01d91cf20/Archives_Bulletin_Matam_e_Bahrani_Zanzibar.pdf