Fazul Cassam Chenai
Birth & Death
Birthdate: July 15, 1877
Deathdate: August 16, 1956 / 9 Muharram 1376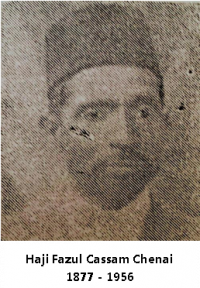 About
Haji Fazul Cassam Chenai was born in Surat, India on 15th July 1877. Since his father Cassam Hirdjee used to trade in Chinese goods the Nawab (Prince) of Surat used to address him with the nickname Chenai which soon became a family name. The family of Chenai is among the foremost and well-known families of our community which first settled in Madagascar. Fazulbhai had a close relationship with the Nawab of Surat and due to Fazulbhai's extrovert and amiable nature, their relationship developed resulting in joint holiday and hunting trips. Fazulbhai's father got concerned about this and told his story to Sheriffbhai Surti, a resident of Madagascar. Sheriffbhai advised Cassambhai to send his son to Madagascar.
Life Journey
In 1893, Fazulbhai travelled by ship to Madagascar and landed at Diego Suarez where he started working at Sheriff Jiwa's Company. In 1895, Madagascar came under French rule. Due to his sociable nature and good communication skills, Fazulbhai soon gained influence among French government authorities.
In 1900, he travelled from Diego Suarez to Tulear on the mission of his work. When the ship made a stop at Majunga port, Fazulbhai met Haji Ahmed Ibrahim Khoja. During their brief introduction they developed a friendship. Ahmedbhai raised a point about constructing an Imambara at Majunga. Fazulbhai immediately boarded the ship and raised a substantial sum for this project from fellow Ithna-Asheri travellers. He handed over the money to Ahmedbhai. This wonderful gesture very much impressed Ahmedbhai and convinced him to break his journey, to disembark from the ship and stay at his home in Majunga. When Fazulbhai's employer Sheriffbhai learnt of this news, he thought that Fazulbhai was probably not happy with his salary he was paying him and therefore he increased his salary and called him back to Diego Suarez.
In 1905, Fazulbhai went to India to get married and returned to Diego Suarez where he opened his own shop. After some time, his wife passed away. In 1908, he married the daughter of Sheriffbhai and thereafter, in 1909 he travelled to France. Unfortunately, In 1910, he incurred a huge loss in his business forcing him to closed the business and opened a new one in the name of his brother M Cassam Chenai. In 1916 he opened a branch in Majunga. He, along with one of the old resident of Majunga, Br. Shamji Kassam Kachera initiated negotiation with government on establishment of an Indian School, which they were successful. The first teacher employed at this school was Master Jagjivan Mahashanker. At this school, Gujarati was taught in the morning and French in the afternoon.
Lifestyle & Business
Fazulbhai liked to live in grandeur style; he had the biggest and impressive bungalow in Majunga at the time. There was no electricity in town but he had a generator for generating electricity, this provided him with an exclusive facility to show movies to friends and local officers. He also had a picnic spot on the outskirts of the town where he would invite fellow businessmen and government officials from time to time.
As our Khoja community began to grow, the Majunga Imambara needed to expand. In 1925, the kitchen area was used up to expand the Imambara. Due to growth in business, Fazulbhai was able to settle all his debts which arose from the huge loss he incurred in 1910. He was by nature an enterprising and bold person. This trait helped him to reestablish and expand his business successfully. In 1922, he constructed the first rice mill in Diego Suarez. In 1939, he separated from the partnership with his brother Mohamedali and got his children into his business as partners under a new name Societe Fazul Chenai Fils. In 1951 he constructed a paddy mill in Majunga. A strong cyclone devastated the factories and other properties causing Fazulbhai a great loss.
Achievements & Awards
After the First World War, Fazulbhai took upon himself the responsibility of collecting donations for the construction of our community's first mosque in Paris. In 1948, the Minister responsible for Islamic Affairs in the French government awarded him Etoile d' Anjouan medal in appreciation of his services in the religious field. In 1949, the Prince of Comoro Islands, Sultan bin Ali bin Sultan awarded him a medal Etoile Officielle de la Grande Comore.
The role played by Fazulbhai of creating congenial atmosphere and collecting funds on several occasions during the First World War (1914-18) was deeply appreciated by the government and for which he was awarded a Testimonial. Similar testimonials were awarded by the Arab, Somali and Comoro Chambers of Commerce and various other institutions.
In 1956, as the French Government was preparing to award the prestigious Légion d'Honneur Award to Fazulbhai, sadly he passed away on the 9th of Muharram. Marhum was known for his affable, adventurous and hardworking nature and above all, his esteemed trust. All those who came into contact with him had great praise for him.
Adventurous Journey
Fazulbhai Cassam Chenai has had several ups and downs in his life. Some of his trials in his life had been very severe. Before coming to Madagascar, he obtained employment in Rangoon (Myanmar) but due to unpleasant religious environment he left the job. He then got a job in Japan in a world famous company with a good remuneration. He took up the job due to his curious and adventurous nature and tried to settle in the new country. But a strange culture and absence of religion made him return to Surat, India. After returning to Surat, he joined in the employment of a Chinese artisan, His employer used to buy melted candy at throwaway price and convert them into good quality candy which he sold with good profit. The Chinese artisan also used to buy used tea leaves from hotels and re-manufacture them. Unfortunately, the business did not prosper.
Fazulbhai's courage and entrepreneurship were traits which resulted into him doing business with great acumen. He was the first person to introduce rickshaws in Diego Suarez, imported from Majunga. He also introduced the Kirmin brand of rice in Majunga as this was prevalent in Diego Suarez. He also introduced the Indian type carts throughout Madagascar and Diego Suarez. However local people in Diego Suarez did not find the carts suitable. During the war between Russia and Japan, he used to supply food to the military at Nosy-Be port. In order to oversee his business, he used to travel by submarine between Majunga and Nosy-Be. As a result, he was the only civilian who travelled by submarine.
Haji Fazul Cassam Chenai passed away in Majunga on 16th August, 1956 (9 Muharram 1376).
A memorable photograph taken in the early 1960s during the visit to Madagascar
by Alhaj Ebrahim Husein Sheriff Dewji, President of the Supreme Council (Africa Federation)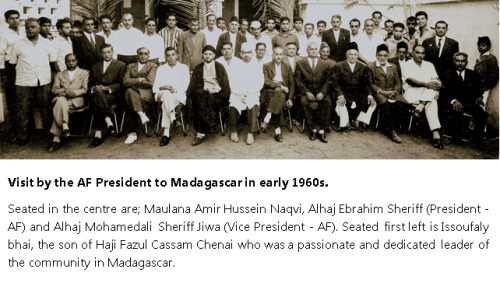 Let us remember Marhum Fazulbhai and all the Marhumeens who have served the community in various capacities at various times in Madagascar and in other countries with Sura-e-Fateha for their maghferat. May Allah (swt) shower His grace and mercy upon them and place their souls amongst His chosen ones, Ameen.
Source: AFED Trade Directory (1960)
SECRETARIAT
AFRICA FEDERATION ARCHIVES SECTION
11th August 2017 (18th Zilkaad 1438 AH)
Resource: http://africafederation.org/oldafrica/publications/archives/1683-africa-federation-archives-haji-fazul-cassam-chenai-the-early-settlers-of-khoja-shia-ithna-asheri-in-madagascar