Khoja Shia Ithna Asheri Community in Kindu - Democratic Republic of the Congo(DRC)
Brief History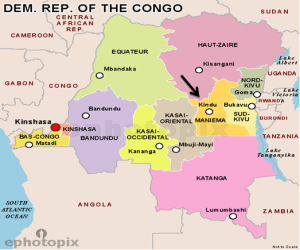 Kindu is a town in the Democratic Republic of the Congo. It was an important centre for ivory, gold and slave trade during the nineteenth century. Arab-Swahili slave traders were based here from about 1860 and sent caravans overland to Zanzibar. Henry Morton Stanley came upon "this remarkable town" on 5 Dec. 1876, describing it as "remarkably long" with a "broad street, thirty feet wide, and two miles in length" and "behind the village were the banana and the palm groves." (1) Kindu was a trading center as most nearby traders from small towns and villages used to come to purchase all their requirements from this place. There were lots of business transactions taking place at this town and it was thus an active place.
Br Akberali Kermali Pirbhai Thawer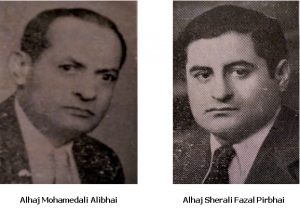 One of the residents of Kindu, Br Akberali Kermali Pirbhai Thawer relates his story as follows:
I was born in 1918 at Dar es Salaam. My parents lived at Tabora where they had a business. Our Head Office was in Dar es Salaam where the business was managed by my grandfather Pirbhai Thawer and Uncle Gulamhussein Pirbhai Thawer.At the age of 5, my father sent me from Tabora to Dar es Salaam for studies and I stayed with my grandparents. I joined Indian Central School where I completed Senior Cambridge (Form 4).
Our business in Tabora was mainly in produce and textiles. In 1928, due to declining business conditions in Tabora, my grandfather advised my father to move to Albertsville (now Kalemie), the town in Congo. Soon after completion of Senior Cambridge in 1938, i.e. on the 15th December of the same year, I travelled to Albertsville to join my father and helping him in his business. Since then I have been running this business and have been living in the Congo. I got married in 1941 at Dar es Salaam. My father passed away on 27 April 1956 and since then I have taken control of the business.
I have opened our branch at Kindu. In 1950 due to changes in the administrative status of the district there have been much improvement. New houses and roads were built and new aerodrome was built too. All this added to the good business environment. In the beginning there was scarcity of water and poor water facilities. Now we have running water.
The population of Kindu is about 24,000 with about 900 Portuguese nationals and our community of 5 families consisting 28 people. The first traders to arrive here from our community were Juma Haji. During the months of Muharram, our community members travel to Kasongo, a nearby town where there is an Imambara and where we commemorate with Majalis and pay tribute to the Martyrs of Karbala. On the whole the economic condition of our community members is very good.
Source: 1960 Trade Directory; (1) Wikipedia
AFED Conferance
The first preparatory meeting for the formation of Africa Federation was held in Dar es Salaam in 1945 where 33 Jamaats were represented, Congo and Kindu were represented by Alhaj Gulamhussein Pirbhai Thawer. The first Conference of the Africa Federation was held in Mombasa in 1946, the year Africa Federation was formed.
Below photographs of the first AFED Conference.
We request our readers to recite Sura-e-Fateha for our past leaders, pioneers and all Marhumeen for benefit of the departed souls. May Allah (SWT) grant them all heavenly abode and place them in the proximity of our Masumeen (A.S.) – Sura-e-Fateha.

Secretariat
Archives Section of the Africa Federation
17th May 2019 (11th Mahe Ramadhan 1440 AH)
Reference: https://gallery.mailchimp.com/5496132269473a782cfb7b798/files/25f70b26-6c50-49d4-9d8a-522dfb21cc3a/AFED_Archives_News_Bulleting_Our_Community_in_Kindu_Congo.pdf