Kassamally Esmael Ebrahim Dossa
Birth
Birth Date: In the Year 1890
Brief Profile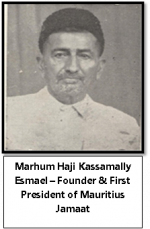 The Khoja Shia establishment in Mauritius began in the last century following the migration of Shias (mostly Khoja Shias) from India and Iran who came to Mauritius with a view to uplift their economic situation. They were mostly involved in trade and closely related to each other. Late Haji Kassamally Esmael Dossa was one of the migrants who arrived in Mauritius. He established the movement of religious functions for the Community there and continued holding all the religious functions at his residence for nearly 40 years.
Marhum Haji Kassamally Esmael Ebrahim Dossa was born in 1890 in Mumbai. He studied at Khan Habib School for 7 years in Gujarat. At the time, religious teaching such as Qur'an was being undertaken by Mulla Qader Hussayn Saheb. The sessions also included Urdu classes.
Life Journey
The first stone of Ithna Ashary Masjid was laid around 1901 in Mumbai. In order to accomplish this noble task, the Ithna Ashary brothers went through a tough time where some lost their lives. At that time Marhum Haji Kassamally Esmael was a resident of Mumbai. He left by Moghul line "Hussayni" steamer in 1907 and reached Mauritius after several days of sea journey. He worked for 2 years for a Memon businessman and then worked as a broker/agent of "Kariyana" (Foodstuff).
In 1910 he visited Mumbai again and returned to Mauritius in 1911. He married and continued to work as a broker till 1930. In 1931 he decided to establish his own business of Kariyana Food Stuff which he had been managing well for quite a long time. In 1920 Marhum Haji Kassamally Esmael visited Mumbai with his wife, son, and daughter. While there, his wife delivered a baby girl but unfortunately, the baby passed away during infancy at the age of 8 months. In 1921 Marhum Haji Kassamally Esmael together with his wife and both children returned to Mauritius. By the grace of Almighty (SWT), he was blessed with 4 more daughters and 5 more sons whilst residing in Mauritius.
Community Services
He sincerely and diligently served the community for many years and his residence was used to hold all religious activities. When members increased, a Jamaat was constituted in 1960 and in the elections, Marhum Haji Kassamally Esmael was elected as the first president of Mauritius Jamaat. Furthermore, with the co-operation and assistance of the then Chairman and Vice Chairman of the Africa Federation, Marhum Haji Ebrahim Hussein Sheriff and Marhum Mohammedali Sheriff respectively together with the dedication and financial commitment of Momineens, the present main structure of our Imambara was built in 1963.
Memories of the Inauguration Ceremony in Mauritius on Sunday 19th May 1963 – 24th Zilhajj 1382 (Eid-e-Mubahela)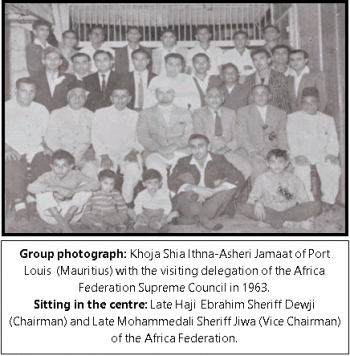 May Allah (SWT) grant Marhum Haji Kassamally Esmael a high station in the proximity of Ahlulbayt (AS) where he continuously receives Allah's (SWT) bountiful mercy and grace, Ameen. Many of the personalities seen in the photographs are no more in this transient world; they served the community in different capacities dedicating their valuable time, efforts and resources for the pleasure of Allah (SWT) and provided services to the community at large. It is therefore incumbent upon us to remember them in our duas.
Let us remember them and all other Marhumeen with Sura-e-Fateha.

SECRETARIAT
ARCHIVES SECTION OF THE AFRICA FEDERATION
Article Source: Khoja Shia Ithna Ashary Jamaat - Mauritius
Date: 10th December 2021 / 5th Jamadiul Awwal 1443 AH
Resource: https://mcusercontent.com/5496132269473a782cfb7b798/files/14d16188-6d07-d86b-0cac-6158fd2bbb81/Archives_Bulletin_Marhum_Haji_Kassamally_Esmael_Ebrahim_Dossa_Mauritius.pdf