Ja'far A. Tijani
Death
Death Date: April 16, 2014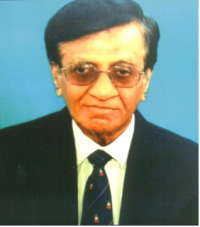 Brief Profile
Alhaj Dr Ja'far A. Tijani a soft spoken personality, well known for his fluency in English, Swahili, Persian and Arabic passed away in Dar-es-Salaam on Wednesday 16th April 2014. Born in Zanzibar, Marhum Ja'far obtained his higher Education in the United Kingdom. He also obtained his Ph.D from the Columbia Pacific University (CPU).
Life Journey
On completion of his education in the U.K., he returned to Zanzibar and served in various positions from July 1961 to June 1965. These included being an Interpreter and Translator at the High Court of Zanzibar, Head of Language Department, King George VI Grammar School, Head of English Department at Sayyid Abdullah Grammar School in Pemba. He was also a member of the Examination Board and Advisory Education Committee in Zanzibar. In July 1965 Marhum Jafar was seconded to the University of Dar-es-Salaam as a Research Fellow for Gulbenkian Foundation in Lexicography. He also served as Director of the Institute of Swahili Research from July 1967 to June 1970. He was a member of various faculties at the University and had the privilege to give a talk on the BBC in October 1965 on Lexicography.
Marhum Jafar moved to Nairobi in 1970 where he was the Lecturer and Acting Head of Department of Literature, Languages and Linguistics at the Kenyatta University until 1974 when he was appointed the Senior Lecturer and Head of Department for this faculty. He held several positions in different sections during his tenure at the Kenyatta University until 1981. Marhum Jafar moved to Muscat, Oman in 1981 where he was appointed as the Head of English Department at the Islamic Institute by the Ministry of Education and later as a Curriculum Office in English Language at the Curriculum Development Department of the Ministry of Education till 1998 when he retired and moved back to Dar-es-Salaam.
Retirement Life
On his return to Dar-es-Salaam, he joined the Al-Muntazir Islamic Seminary and taught Islamic Studies to students of Form IV to Form VI. He edited the Islamic Studies and Workbooks for the Primary Schools too. Marhum Jafar joined the Bilal Muslim Mission of Tanzania head office in Dar-es-Salaam in 2002 and translated various books from Arabic to English and Swahili to English and vice e versa. He contributed articles regularly for the Light Magazine, the official Magazine of Bilal Muslim Mission of Tanzania, introduced by the late Chief Missionary of Bilal Muslim Mission of Tanzania, Alamah Syed Saeed Akhtar Rizvi Saheb in 1975. He also helped edit the syllabus of the Bilal Comprehensive School. His wisdom and scholastic contributions will be greatly missed by many and Bilal Muslim Mission of Tanzania in particular. Marhum Jafar also taught Arabic at the Madrasatul Zahra, translated different books for different institutes amongst which include the Sahifatus Sajjadiyat-ul-Kamilah in Swahili for the Cultural Centre of Iran. He edited and corrected two volumes of the Nahjul-Balagha for Al Itrah Foundation. He also gave lectures at the Iranian Cultural Centre whenever called upon and taught English at the Al Mustafa International University in Dar-es-Salaam. Marhum Jafar's contribution as the Editor to the AL MUNTAKHAB FII TAFSIRIL QUR'AN in Swahili, has been generously acknowledged by the Translator himself Sheikh Ali Muhsin al - Barwani.
Great Community Loss
The passing away of Marhum Dr Jafar Tijani has not only left a big vacuum in the family but also in our Religious Institutions, in Academics and in Institutions of Higher Learning. He was an amiable personality of great intellect and possessed a deep love and affection towards the community and its academic development. He was a dedicated, helpful and hospitable personality; the affection and compassion was ingrained in him from his young age, and shall be missed by many.
Family
Marhum Jafar leaves behind a widow, she was of tremendous support to him throughout their life together. A daughter who could not have wished for a better father and two grandsons who absolutely adored their "Babu". The family lives in Dar es Salaam, Tanzania.
We pray to Allah (SWT) for his maghferat and for acceptance of all his noble deeds and services to humanity, and May He grant the departed soul a lofty place amongst His chosen ones – Ameen.
Please remember Marhum Ja'far and all Marhumeens with Sura-e-Fateha.
Secretariat
The Archives Section of the Africa Federation
30th January, 2015 (9th Rabi ul Aakhir 1436 AH)
Resource: http://africafederation.org/oldafrica/publications/archives/1099-africa-federation-archives-tribute-in-memorial-marhum-dr-jafar-a-tijani