Ibrahim Husseinali Nathoo
Birth
Birth Date: November 23, 1942
Brief Profile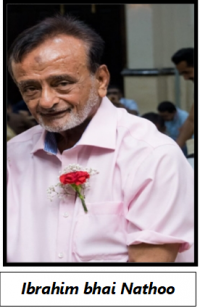 Ibrahim bhai Nathoo was born in Zanzibar on the 23rd of November 1942 to Hussein Ali Nathoo and Rukiabai Hussein Ali Nathoo. He is the eighth of nine siblings namely Hassanali, Raza, Yusuf and Mohammad and his sisters were Sughra, Marziya, Khatija and Amina.
Academic Education
Ibrahim bhai completed his primary education in Haile Selassie Primary School. He did three years of his secondary education at the Ithna Asheri Secondary School and completed his final year at Hindu Union Secondary School. After completing his secondary education, he learnt typing, which was the trendiest art at that time, and he became really good at it.
His typing speed was 120 words per minute and for that reason, the Ithna Asheri School of Zanzibar appointed him to be in charge of typing all their exam papers. Additionally, Ibrahim bhai wanted to spread the skill he learned so he also taught typing to those who were interested in learning.
Islamic Education
He got his education in Qur'an from Mulla Bibi Zahra who also taught him duas from Mafatihul Jinan. He learnt Farsi from her too. The elders of the community at the time like Maalim Ahmad and Maalim Baqar Tejani would keep an eye for youths who showed great passion and were keen to learn more about the religion; they would personally select them for further training; Ibrahim bhai was one of the handpicked students who received practical guidance of different teachings about religion and its practices from them. His other teachers included Maalim Najaf Tejani, Maalim Mia and Maalim Abbas Tejani.
Community Services
He was very enthusiastic and passionate as far as serving the community was concerned. He served as the secretary of Zanzibar Jamaat and later on took up the position of a treasurer. His well-wishers encouraged him to pursue further education and he chose to undertake ACCA. After completing his ACCA, he got a job at the Ithna Asheri Secondary School in Kiponda to teach English and Accounts.
Taking keen interest in religious education, Ibrahim bhai dedicated his time to the Madrasah to groom young children to be practicing Muslims. Additionally, he was a regular volunteer at the mosque and different mehfils in Zanzibar. Furthermore, he was actively involved in making the Taabut in Mehfil Abbas as well as in Mehfil-e-Bibi Sakina together with his friends Yusuf Mulla Raza (Mulla Hashnu), Jaffer Mulla Raza (Mulla Hashnu), Teacher Kermali, Akber Peera, Mohammed Walji (Biremi) and Ibrahim Abdulhussein (Ilo). He served Zanzibar Jamaat for almost 15 years.
Family & Life Journey
He got married to Marziya bai Akberali Visram on 13th September 1968 in Zanzibar. He has two children namely Sukaina and Rukaiya. Three years later, Ibrahim bhai decided to migrate with his family to Dar es Salaam where he worked for Yuasa Battery (now known as Chemipak) for three years. He also used to give tuitions in book-keeping for secondary school children. Thereafter he worked at Jamana Printers as an accountant for ten years before joining his father-in-law, Akberali Visram to help him run his shop, Jitegemee Stores. Six years later the shop was sold and Ibrahim bhai was employed at Jacksi Furniture for seven years which was followed by a short tenure of three years at Mapacha Stores. Finally, he moved to Impex Insurance Brokers where he worked until retirement in 2021.
Service to Madrassah
Ibrahim bhai served as a nyaz volunteer for many years in Dar es Salaam Jamaat. He also used to teach religious education once a week at Shabaan Robert Secondary School after which he was encouraged to join the Husayni Madrasah. He started as a Qur'an teacher for the younger classes. As an encouragement to his students, he would give gifts on Khushali days and at the end of the academic year.
During the month of Ramadhan, Ibrahim bhai would always be found at Mehfil Abbas teaching darsa to the young kids and he wouldn't leave the premises until every child was picked up by their parents. The same was his practice at the Tabligh Building - he would be the last one to leave the premise after ensuring that every child was picked up. During a few instances, he would even walk the students home if they were going on their own. His students remember him as a "very simple, kind and humble teacher. He was very unassuming and quietly gave his best at all times. We have often walked back with him from the mosque" . Another student of his said, "I used to go to Madressa with him on Saturdays in a taxi; and he would never let me pay for it".
Ibrahim bhai served the Husayni Madrasah under the headship of Shakil bhai Dharamsi and Shabbir bhai Manekia. Later on, upon the change of management, he served as a discipline master for an additional six years. He would be at the Tabligh building every Monday and Wednesday to supervise the prayers and to ensure discipline was maintained throughout Salaah. After that, he would go on rounds to every class to ensure that the students had settled down.
Ibrahim bhai served the Husayni Madrasah for almost twenty years which is a testament to his love for the Qur'an and the Ahlulbayt (AS). His devoted service to the Madrasah has helped groom some of the finest individuals and shaped the future of generations of our community and his reward lies solely with the Almighty (SWT).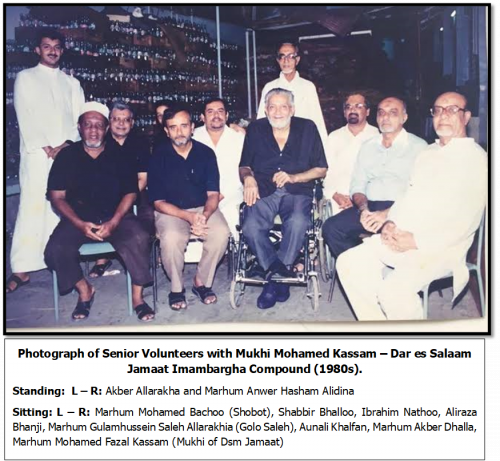 May Allah (SWT) in His Mercy and Grace bless Ibrahim bhai with longevity and good health. Ameen.

SECRETARIAT
ARCHIVES SECTION OF THE AFRICA FEDERATION
Article by: Sukaina bai Habib - Daughter of Marhum Murtaza Jivraj (Kerbala)
Date: 14th May 2022 / 12th Shawwal 1443 A.H
Resource: https://mcusercontent.com/5496132269473a782cfb7b798/files/6f555583-16a7-bbe1-0a64-d80933655600/AFED_Archives_Bulletin_Ibrahim_Nathoo.pdf