Hassanali Gulamhusein Sabur
Birth & Death
Birth Date: September 4, 1923
Death Date: February 17, 1988
Brief Profile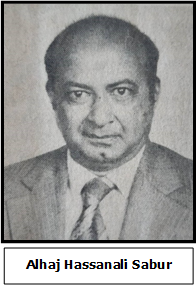 Marhum Hassanali bhai Sabur was originally a resident of Uganda. He was born at Mbale, Uganda on 4th September 1923. Hassanali bhai had been very active in community affairs for a long time.
Community Services
He served as the Secretary, Treasurer, Vice-President, President, Trustee and Committee Member at Mbale Jamaat during the period from 1951 to 1972. In 1972, when Idi Amin Dada expelled Asians from Uganda, Hassanali bhai migrated to the United Kingdom and settled in Leicester. There, he served as a Managing Committee Member of the Jamaat from 1976 till 1978. He later became the President of the Jamaat and held the post till his death which occurred on Wednesday, 17th February, 1988.
Marhum Hassanalibhai was an active leader whose attendance in majalis and other Jamaat activities was very regular. Members of the Jamaat, particularly those who have worked with him will always remember him for his tireless efforts and services to the Community.
We pray to Allah (SWT) to grant the Marhum maghferat, and place him amongst the blessed ones in the vicinity of Chahardah Ma'sumeen (A.S.) where he continuously receives mercy and grace of Almighty, The Exalted, Ameen. Sura-Al-Fateha is requested for him and all the Marhumeen.

Source: Federation Samachar Vol. 23/No. 4, August, 1988 / Muharram 1409 A.H
Article prepared by: Murtaza Jivraj (Kerbala)
SECRETARIAT
AFRICA FEDERATION ARCHIVES SECTION
15th February 2021 / 2nd Rajab 1442 A.H
Reference: https://mcusercontent.com/5496132269473a782cfb7b798/files/84784b89-c3d7-4fbf-b325-b1b9ace9ab09/AFED_Archives_Bulletin_Alhaj_Hassanali_Sabur_of_Uganda_Feb_2021_1_.pdf