Hashambhai Dewji

Hasham Bhai Dewji
Brief Profile
Murabbi Hashambhai Dewji was very hard working since his childhood and had maintained his health by actively participating in different activities.
Life Journey
At the age of 18 in 1902, he travelled by sea voyage from India to Zanzibar. He worked for three and a half years for Ismailbhai Sumar and two and a half years with Hasham Hirji in Zanzibar. In 1907 he migrated to Pangani and worked for Ahmedbhai Shermohammed for one year. He then joined into a partnership for 2 years with him. In order to verify the accounts of upcountry branches, Hashambhai used to travel by foot quite often to the interior. It was very normal for him to walk a distance of up to 50 miles a day.
In 1909 he travelled by dhow from Pangani to Dar es Salaam, boarded a train to Morogoro then to Kilosa and would take care of all the branches of that area. In 1910 he left the partnership of Ahmed Shermohammed in Kilosa and opened his own shop in "Kitete" and let his brother run the shop. In 1911 he went to Pangani got married and left for Dodoma to establish a business. He stayed in Dodoma up to 1918. Later he went to Dar es Salaam and used to deal with retail sales of different goods for three years. In 1922 he moved to Zanzibar and continued with the similar business. In 1925 he shifted to "Machoni", established a shop and took two of his brothers in partnership namely, Br. Fazal and Br. Gulamhussein. After about three years, he left the partnership in 1930 and started a shop of food crops in Singida. There were only 2 families of our community residing in Singida during that time. The religious sermons were held at Hashambhai's residence. After the demise of his mother, Hashambhai together with his two brothers decided to build an imambargha from their late mother's fund. Thus in 1935, the Imambargha was constructed. Due to an increase of our community population space was not enough hence a new imambargha was built in 1950 for which Shillings 10,000/= were contributed each from Mombasa and Dar es Salaam community members, some funds were from the Singida Jamaat and the deficit was raised by the Singida Jamaat members. The new Imambargha was sufficient to meet the needs for many years thereafter.
Later in 1940, all the residing Indians united to establish a school which benefitted many, later the Ismaili community opened their own school in 1945. In 1944 Hashambhai was blessed to perform the Holy Pilgrimage and later in 1958 he got an opportunity to perform the "Ziyaarat" (pilgrimage of the holy shrines)
Please remember Marhum Hasham bhai Dewji and all Marhumeens with Sura-e-Fateha for their Maghferat.
Translated by F. Ali.
Extracted from Community Directory 1960
Resource: http://africafederation.org/oldafrica/publications/archives/456-africa-federation-archives-murabbi-hashambhai-dewji-of-singida
Marhum Hussein Hasham Dewji
Birth & Death
Birth Date: December 18, 1917
Death Date: April 26, 1964
Brief Profile
Husseinbhai was born in Dodoma, Tanzania on 18th December 1917. His late father Haji Hasham Dewji was a proficient businessman. Husseinbhai took over his father's business at the tender age of 16 and operated it wholeheartedly – as "Hasham Dewji & Sons".
Marhum Husseinbhai was a humble and social worker, he served Singida Jamaat with great zeal and dedication. He was also the President of Singida Jamaat for many years. Those who had a chance of meeting him would surely know how he cared for the Jamaat and would be everready to assist to solve every problem. Anyone visiting Singida for business or any other purpose would always be warmly welcomed and served by him. The Late Husseinbhai was courteous and philanthropic by nature and an outstanding figure in the general public. He served as a trustee of Muslim School and Manager as well as Trustee of Indian Public School up to the time of his death. Moreover, he served as the Chairman of Indian Association up to his last breath.
Death
Marhum was suffering from Angina – a symptom of coronary artery disease for some time. Sadly, on 26th April 1964 whilst performing his dawn prayers in the second unit's ruku position, he collapsed and left this world to meet his Lord. This was the day when Union Day was being celebrated in Tanzania when all businesses were closed and all the communities were participating in religious functions. The Area Commissioner of Singida at that time whilst delivering a speech in public, mentioned the death of Husseinbhai and conveyed heartfelt condolences to the family and the Community. He even announced to the public that although the day was a happy occasion for the country, they were saddened with the news of the passing away of a person like Husseinbhai. A big loss to the community, family and many people of a humble and devoted personality.
His funeral was attended by a large number of people from different communities, and also "Fateha Khwani" was conducted for his "Isaale Thawab" which was well attended.
May Allah (SWT) by His infinite grace and mercy grant Marhum Hasham and Marhum Hussein Hasham Dewji a lofty status in the mercy of the 14 Infallibles, Ameen. Let us remember them and all the Marhumeen with Sura-al-Fateha.
Source: Federation Samachar – July 1966 Volume 6 No 3
Alhaj Zulfikar Hussein Dewji
Birth
Birth Date: July 26, 1951
Brief Profile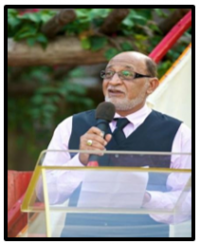 Zulfikarbhai was born in Singida on 26th July 1951. He acquired his primary education at Aga Khan Primary School from 1957 to 1964. He was 13 years when his father died in 1964 at the age of 46 leaving behind 4 brothers and 4 sisters. The eldest brother was only 19 years. His mother and brother became the bread earners of the family. In 1965 he was selected by the government to go to Iyunga Secondary School in Mbeya where he completed his O' Levels in 1969. At Iyunga Secondary he was in the school team playing Soccer, Volleyball and Rugby.
Life Journey
He then went to Pune, India and joined Wadia College to pursue a profession in Architect Engineering. He returned in 1973 and joined his elder brother in the family business in Singida. In 1977 he shifted to Dar es Salaam and embarked in transport business. He got married to Farhana Muhamed Taki Dhala of Bukoba and they have 3 children - Sayyeda, Ábbas and Sajjeda.
Community Services
Like his Marhum father, Zulfikar bhai also was a keen social worker, he was the Vice President of Dar es Salaam Jamaat from 1994 to 2000. He was also Africa Federation councilor from Dar es Salaam Jamaat for several years. He was instrumental in the formation of Central Bilal Board of Africa Federation. In 2004 he was appointed as Chairman of Central Bilal Board of Africa Federation and in 2007 he was elected as Vice Chairman of Africa Federation under the chairmanship of Ramzanbhai Nanji. He was a nominated councilor of Africa Federation from 2010 to 2016 during the tenure of Alhaj Anwarali Dharamsi.
During the tenure of Alhaj Asgharbhai Bharwani, who was the President of KSI Jamaat of Dar es Salaam from the year 1994 to 2000, Zulfikarbhai was then the Vice President of the Jamaat, both played major roles in a number of projects of Dar es Salaam Jamaat, they are:
• Development and expansion of Boys Primary School - (Opposite Aga Khan Hospital)
• Purchase of Korean Embassy Complex on United Nations Road.
• Purchase of Korean Complex on Morogoro Road.
• Construction of Girls' Primary and Secondary Schools at Ex-Korean Complex, on United Nations Road.
• Purchase of property on Charambee Road adjacent to Al-Muntazir School to expand school facilities and create a parking area.
• Purchase of property of the U.S Embassy, next door to Al-Muntazir School for expansion of facilities. The building was later converted for use as CBE office.
• Reclaiming of some of the land near Boarding House to expand the playing field for sports activities.
• Shifting of Union Nursery School from Boarding House Complex to Ashrafbai Memorial Building donated by Alhaj Mustafabhai Kassamali Nasser.
• Purchase of property with a large land area next to the Union Nursery School from one of the Missions.
• Construction of new Union Nursery School on the above two properties with all the facilities.
• Assisted in construction of Bilal Mosque on Udoe street which was donated by Asgharbhai and Mrs. Gulbanubai Asghar Bharwani to Africa Federation for use by Bilal Muslim Mission of Tanzania.
• Construction of Tabligh Building on Daya Walji Madressah property. The 5 storeys to be for Madressah and Tabligh purposes, ground floor for commercial letting.
• Extension of the Dar es Salaam KSIJ mosque with construction of the upper floor.
We pray to Almighty Allah (S.W.T) to grant good health and long life to Zulfikarbhai to continue serving the community and humanity at large, Ameen.
This article was compiled by Murtaza Bhai Jivraj (Kerbala) for publication before he passed away in Dar es Salaam in April 2021. Let us remember Marhum Murtaza bhai Jivraj, Marhum Asgharbhai Bharwani and all the Marhumeen with Sura-e-Fateha.

Source of information: Alhaj Zulfikar Dewji
Article prepared by: Marhum Murtaza Jivraj (Kerbala)
SECRETARIAT
ARCHIVES SECTION OF THE AFRICA FEDERATION
7th May 2021 / 24th Ramadhan 1442 A.H
Resource: https://mcusercontent.com/5496132269473a782cfb7b798/files/a166e5cf-52e7-bba7-80f4-7724e07ecfac/AFED_Archives_Bulletin_Alhaj_Zulfikar_Hussein_Dewji_May_2021_.pdf