Haiderali Mohammedali Kassam Chinai - Reunion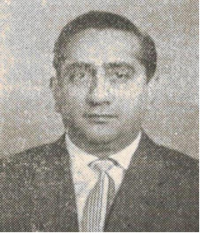 Birth & Death
Birth Date: March 20, 1918
Death Date: In The Year 2005
Brief Profile
Haideralibhai was born on 20th March 1918 in Diego Suarez, Madagascar. He studied till class six in French and Gujrati School. Side by side he studied Qur'an and Urdu language from Sunni Jamaat and Dawoodi Bohora Muallims. In 1935 he joined his father and uncle's business till the year 1940 when his father started new business and took him as a partner. This company had a branch in Tananarive where Haideralibhai managed the business for one year it was in the year 1956. In 1958 he moved to Mauritius and Reunion to open new branches. Finally he decided to settle in Reunion in year 1958.
Family
In 1940 he married the daughter of Kassamali bhai Hasham Rajpar of Anchui Madagascar. He was blessed with five sons and one daughter.
Passion for Travel
Haideralibhai's affable nature won him many friends. He was a man who was ambitious in travelling around the world and learning about different cultures. In 1951, together with his mother, he went on a long tour to France, Egypt, Madinah and for Ziyarat. In 1955 along with his wife he went on a long tour to France, Italy, Spain, Germany, Austria, Switzerland and Egypt. Again in 1960 he went on a tour to India, Pakistan, Singapore, Bangalore, Saigon, Hong Kong, Japan and Germany. Haideralibhai liked guests and was famous for his hospitality.
Death
He passed away in 2005 and is buried in Reunion.

Source: AF Trade Directory 1960
Published in Africa Federation Archives Section
8th April 2016 (29th Jamadil Aakhir 1437)
Reference: https://gallery.mailchimp.com/5496132269473a782cfb7b798/files/LATE_HAIDERALI_MOHAMMEDALI_KASSAM_CHINAI.pdf