Habib Gulamali Damji
Death
Death Date: October 8, 2012
Brief Profile
Habib bhai Gulamali Damji, another son of Marhum Gulamali Damji was a qualified accountant and a retired Chief Accountant in the Ministry of Natural Resources & Tourism. During his tenure as Chief Accountant in the Ministry of Health, he used to travel to regions to audit accounts.
Community Services
He was an ardent social worker having served Ithna-Asheri Union for more than seven years as a Treasurer as well as Employment Section Secretary. After the Zanzibar Revolution in 1964, many Community members migrated to the mainland and Habib bhai assisted many of them in securing job placements. He was a soft-spoken and affable personality always seen prominently in many social events organized by Ithna-Asheri Union, Union Sports Club and the Jamaat.
Achievements
He was nominated by Dar es Salaam Jamaat as member of the Medical Board in order to establish Ebrahim Haji Medical Health Centre from a Dispensary. He worked for five years in the Board until the centre was properly established. His services were appreciated by many members of our Community. Habib bhai passed away in Dar es Salaam on 8th October 2012.
May we request all our readers to remember Marhum Gulamali Bhai, Marhum Akber Bhai, Marhum Habib Bhai and all the Marhumeen who have served our community in various capacities in various sectors at different times with Sura-e-Fateha for maghferat of the departed souls, May Allah (SWT) grant them all Jaza-e-Kheir, Insha'allah.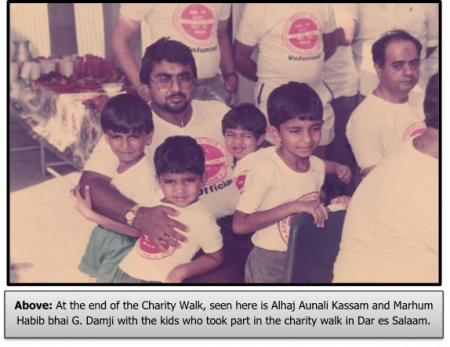 Article Prepared by: Murtaza Jivraj (Kerbala)
Photographs Courtesy: Murtaza Jivraj (Kerbala)
SECRETARIAT
AFRICA FEDERATION ARCHIVES SECTION
20th November 2020 (4th Rabiul Aakhar 1442 AH)
Reference: https://mcusercontent.com/5496132269473a782cfb7b798/files/3317bfc6-a5e6-4672-a0dc-7e6acc3d49c7/AFED_Archives_Bulletin_Marhum_Gulamalibhai_Damji_sons.01.pdf