Habib Abdulla Janmohamed
Birth & Death
Birth Date: In The Year 1896
Death Date: In The Year 1974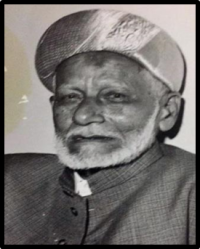 Brief Profile
The family of Janmohamed Hemani originated from Jamnagar in India. Janmohamed was born in 1840 and migrated to Zanzibar. The place in Zanzibar where the family resided was famously known as Kwa Hemani. Janmohamed died in 1869 in Zanzibar. After his death, the family migrated to Lamu and Mombasa in Kenya.
Life Journey
Haji Janmohamed's grandson Habib bhai was born in Lamu in 1896 and later migrated to Mombasa. He married Sherbanu daughter of Gulamhussein Daya. He worked as a Law Clerk at the High Court of Mombasa for nearly 40 years. On retiring he worked with a Law firm Byson Inamdar and Bowyer he retired permanently at the age of 65. Habib bhai also served as a Chairman of KSI Bustani Jamaat and other institutions of the Jamaat for nearly four decades. Marhum Habibbhai together with three other elders of the community, united the youths of the Jamaat under one banner, the Ithna-Asheri Sports Club which he and other elders of Mombasa founded around 1921.
Family
Habib bhai passed away in 1974 at Mombasa. He left behind four sons Hussein, Ahmed, Mohamedjaffer and Gulamabbas (Tommy); and four daughters Kulsum, Khatija, Fatma and Rubab.
Source: Mohamedraza Janmohamed (Orlando), Shams Janmohamed (London) and Mohamed Khaku (Allentown). Mogadishu School photographs and captioning courtesy of Murtaza Jivraj (Kerbala)
Prepared by Mustafa Pirmohamed (Orlando)
SECRETARIAT
AFRICA FEDERATION ARCHIVES SECTION
14th February 2020 (19th Jamadiul Akhar 1441 AH)
Resource:https://mcusercontent.com/5496132269473a782cfb7b798/files/87991ef8-bb32-49ca-a38a-2ef2fce0c55c/Archives_Serving_the_Community_Janmohamed_Family_of_Mombasa_edited_Final.pdf