Gulamabbas (Tommy) Habib A Janmohamed
Birth & Death
Birth Date: In The Year 1937
Death Date: In The Year 2020
Brief Profile
Gulamabbas, being the youngest son, perhaps had more latitude for he was a very active sportsman and also served the Mombasa Jamaat in various capacities such as the welfare branch of the Jamaat and the managing committee. Gulamabbas was born in Mombasa in 1937 and attended Technical High School where he is still remembered by many. He grew up to be a great athlete within the community, winning his first championship as Uganda's Open Champion for tennis in 1951. For years, he was the opening batsman for the Coast team and also Jaffery's where he was the captain with an incredible record and reputation in the sport of cricket. In 1972, he won the MacMillan Cup with such honour as well.
Sportsmanship Skills
Gulamabbas is more popularly known as "Tommy", participated in all sports being played at the Jaffery club in Mombasa but his passion was cricket. He represented the club for many years and captained the club's team as well as the Coast Cricket Association team for a number of years. As a player, he was ever ready to share his knowledge of the game with younger players.
Tennis was another sport which he represented the club in. A fine player, he partnered with Late Yusuf Karim for a number of years to win the Coast doubles title. He was also a member of the club's squad which won the Macmillan Cup Kenya inter-club tournament in the early seventies.
Football was another sporting activity Tommy took interest in. Playing in the wings, he was well known for his corner kicks. He even played in the MDFA league for some years.
His activities on the field of play aside, Tommy also sat on the Managing Committee of the club for a number of years and represented the club on the Coast Cricket Association Council.
Life Journey
In 1990, he migrated to England with his family. In London, he began to develop a strong relationship with the youth of the community and was always looked up to as a great role model. He strongly believed in the power of knowledge and education. Therefore, he continued to encourage the youth to use the opportunities they had to seek education and use that for the benefit of the greater good and to be able to give back to their community. Not only did he encourage the youth around him in London to develop themselves as such, but he continued to have a strong affinity with those youth in Africa and was always keen to help international students coming to pursue their further education abroad. He genuinely believed that the affairs and future of our community could be changed through the power of further education.
Community Service
As he reached old age, he continued to serve his community by becoming the President of the Seniors Group in London. According to him, as we age we shouldn't lose our pursuit for a happy and fulfilling life and should continue to remain active within our families and communities. This is why, as President of the Seniors group he was always happy to organize day trips to encourage other seniors to also continue doing the things they loved to do. In his tenure there, he managed to organize 3 trips to Paris, 1 to Tunisia, and 1 to Kenya. Today, many people have great memories of those trips as well as of him because of the motivation he brought to his own life and that of others. Tommy was passionate man, especially when it came to his faith, his community, and his family.
Family
In London, he lent his efforts to worthy causes and also became a Trustee of Stanmore Jamaat. He leaves behind wife Zehrabanu, two sons and two daughters: Shams, Mohamed, Fatima Arif Hassan and Mansura Somji and 10 grandchildren.
Obituary & Tribute
Tribute by Br Mohamed Khaku of Allentown, USA
Community is in mourning for this great servant (Tommy Uncle) of Ahlulbayt (A.S.) and we pray that Allah (SWT) grant him the best of blessings and grace, Ameen. Indeed, the legendary servant of our community is no more with us. By far he will remain in the chronicles of our community forever and ever. Our deepest sympathy and condolences to the family and friends at this difficult time. Tommy will dearly be missed. On behalf of our brothers and sisters of Allentown, I wish to offer condolences to the family and the community of Mombasa and Hujjat Jamaat (Stanmore, UK). We are still trying to cope with his absence and realize that we will never be able to fill the vacuum he has left behind. I am filled with a deep sense of sorrow and grief. Alhaj Tommy Uncle was a valuable community worker and a great soccer and cricket player.
Tommy Uncle was a devoted, selfless and sincere social worker for the community in Mombasa and London. But, alas, reposing our faith in Allah (SWT) we remind ourselves of the injunction in the Holy Qur'an: Inna Lillahi Wa Iinna Ilayhi Raji'un. "From Him, we come and to Him, we return." This should be a reminder to us that every day we are walking towards our death. Marhum's memory will echo for years to come in the minds of many who knew him, it is a moment of great sadness and shock across the Shia Ithna-Asheri community in London and Mombasa and beyond its borders in Africa and North America. Tommy Uncle left magnificent and indelible footprints on the path of the history of our community. He always left a favourable and lasting impression over those with whom he came across in contact. Only a few are blessed with the opportunity to leave such an imprint in life. It is with great emotion and deep sadness that I pin this obituary, which is incredibly difficult for me to find the exact words to describe Tommy Uncle. It is a deeply distressing and painful loss. Tommy Uncle was a kind man and a true gentleman; he always put others before himself. He will undoubtedly be missed. Tommy Uncle was great tennis, cricket, volleyball and soccer player. He did well in all the sports, but cricket was his game. He was the pillar of our community in Mombasa and Stanmore. He was a fantastic man who loved everyone and brought joy to many with his humour. When someone you love becomes a memory, that memory becomes a treasure. May you treasure all your memories of your Dad.
The sixties and seventies saw a series of very interesting and exciting cricket tournaments played at the Coast with great competition between clubs such as Mombasa Sports, Coast Gymkhana, Hatim Karimjees Sports club, Goan Institute, Eaglets Aga Khan Sports Club and of course the Jaffery Sports Club. I remember many good cricketers during this era with the likes of Yusuf Karim, Tommy Gulamabbas, Gulam Khaku, Sultan, Sikandar and Jawad Nurmohammed, Pyarali Merali, Chandrakant Patel, Kishore Lakhani, Mehdi Karachiwalla, John Dsouza, Hussein Story, Mahmood Khaki and many others. I still have fond memories and the joy those cricketers brought to my heart. Mombasa produced some of the finest tennis and cricketers during this era but unfortunately due to the sudden migration of many Asians from Kenya the game of cricket and Tennis went down. Speaking of sports in Mombasa, Tommy Uncle occupies a special place in history. Tommy Uncle was a role model for many youths like me, who made our community proud in the sports arena for many decades. Tommy Uncle contributed a lot to cricket in Mombasa and everybody looked up to him for direction in matters pertaining to cricket. I was privileged to play cricket and soccer with Tommy Uncle where during the cricket practice we were required to pick balls and never got the opportunity to ball or bat and if ever got one would be just about getting dark. But I loved to play with the adults. It would be a befitting tribute if an award is created in his honour by Jaffery Sports Club to commemorate his contribution to sports in Mombasa. I was fortunate and privileged to work closely with Tommy during my fund-raising trip to London for Al Ahad Islamic Center and playing soccer in Mombasa. I started my contact with him playing soccer for Jaffery Sports Club, where I was the youngest and privileged to play with the elders such as Kasaruyo, Aloo, Pawni (Moh'd Taki), Mohammedali Rashid, Gulubha, Shauki AP and many others. And how can I forget the rivalry between the Eaglets and the Jaffery Sports Club?
Our thoughts are with his family. We mourn with them; united in grief at our common loss and grateful to Allah for the time he gave this servant of His to uplift our community's aspiration. We thank Allah for his life of inspirational service to our community. May Allah rest his soul amongst the 14 Masumeen (a.s.) and to give us tawfeeq to serve in His cause. Amen

Below are some pictures of the opening ceremony of our Khoja Shia Ithnasheri School in Mogadishu, Somalia in the year 1985. Gulamabbas Habib A Janmohamed led the delegation from Mombasa Kenya to grace the opening Ceremony.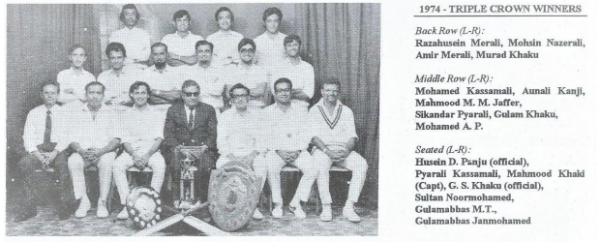 Source: Mohamedraza Janmohamed (Orlando), Shams Janmohamed (London) and Mohamed Khaku (Allentown). Mogadishu School photographs and captioning courtesy of Murtaza Jivraj (Kerbala)
Prepared by Mustafa Pirmohamed (Orlando)
SECRETARIAT
AFRICA FEDERATION ARCHIVES SECTION
14th February 2020 (19th Jamadiul Akhar 1441 AH)
Resource: https://mcusercontent.com/5496132269473a782cfb7b798/files/87991ef8-bb32-49ca-a38a-2ef2fce0c55c/Archives_Serving_the_Community_Janmohamed_Family_of_Mombasa_edited_Final.pdf