Chirag Virji Walji
Birth & Death
Birth Date: October 23, 1936
Brief Profile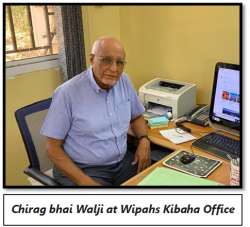 Hard work and commitment are the cornerstones that mark the personalities of some individuals. Through the years, their abilities and efforts have helped the success of organizations that they work for. One such individual is Chirag bhai Virji Walji whose experience and commitment is remarkable.
Chirag bhai was born in Ndanda Mission Hospital, Masasi District on 23rd October 1936. His parents were Sakina and Virji Walji Padhani who hailed from Malia, Gujarat, India. He started schooling at Mingoyo and Lindi. He was among the first batch of Std 12 students who sat for the University of Cambridge Overseas Certificate Examinations in 1956 in Lindi.
Life Journey
After completing school, he joined a Dutch Trading company Twentsche Overseas Trading Co. Ltd (TOM) in Songea. Upon being offered a job at Standard Bank of South Africa Ltd, he left TOM and joined the Bank on 1st December 1957. During his service in Songea he went to Nairobi several times for further courses in banking leading to his promotion as Supervisor. In 1961 the Bank's name was changed to The Standard Bank Ltd. Around 1961 he was transferred to Lindi branch. At the time there were two other foreign banks in Lindi; Barclays Bank and National & Grindlays Bank. On 6th July 1967 all banks in Tanzania were nationalized forming a new National Bank of Commerce Tanzania Ltd (NBC). He was therefore transferred to NBC. Between 1968 to 1971 he also worked at NBC Singida and Dodoma. In 1972 he requested for transfer to Lindi to attend to his sick father. He was transferred and promoted as Manager in 1972. In 1974 he was transferred to Market Street Branch in Dar es Salaam and in 1976 upon getting an offer by BCCI (Bank of Credit and Commerce International) a foreign bank in Middle East, he joined BCCI in Abu Dhabi and Dubai. In 1977 he was transferred to Sana Yemen as assistant Manager to Regional Manager of BCCI in Yemen. He worked there till 1981 and came back to Dar es Salaam. His service in the banking sector was a total of 25 years.
Family
Chiragbhai married Kulsum bai daughter of Rajabali Rajpar of Lindi in 1962. He has three children: Abbas, Dilshad Amirali Mawji and Husna Arif Premdjee. His wife Kulsumbai passed away in Dar es Salaam on 26th August 2001.
Community Services
In Dar es Salaam, Chiragbhai worked for Herald Printing from 1981 until September 2010, a period of 30 Years. He then decided to retire and joined WIPAHS in December 2010. For the last 12 years and at the ripe age of 85, Chirag bhai continues to provide dedicated volunteering and humanitarian services at WIPAHS, located at Kibaha, 30 kilometres from Dar es Salaam.
He is also actively involved and a regular volunteer at the free eye camps organized by Bilal Muslim Mission in various parts of the country, the last being held during Christmas holidays of 2021 at Wete, Pemba.
We pray for his long, healthy life to continue serving the community and may the Almighty (SWT) reward him amply for his efforts and voluntary services, Ameen.

SECRETARIAT
ARCHIVES SECTION OF THE AFRICA FEDERATION
Article by: Mustafa Pirmohamed of AFED Archives Section.
Resource: https://mcusercontent.com/5496132269473a782cfb7b798/files/6ffafbc7-02c4-b573-aadc-6bef8fbe1279/Chirag_Walji_Archives.pdf