Ayatollah Sheikh Lotfollah Saafi Golpaygani
Birth & Death
Birth Date: February 20, 1919
Death Date: February 1, 2022 (29th Jamadi-ul-Aakhar 1443 A.H)
Obituaries & Tributes
Obituary by Africa Federation Secretariat
The Africa Federation Secretariat received with deep sadness the news of the demise of Ayatollah Sheikh Lotfollah Saafi Golpaygani who passed away from sudden cardiac arrest in Qum on Tuesday 1st February 2022 (29th Jamadi-ul-Aakhar 1443 A.H). His funeral took place on Wednesday 2nd February 2022 in Qum and as per his will, his body was then transferred to Karbala and buried in the shrine of Imam Hussain ('A) on Thursday 3rd February 2022.
Brief Profile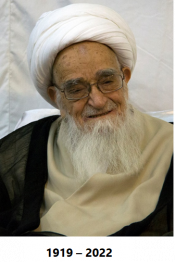 Ayatollah Lotfollah Saafi Golpaygani was born on 20th February 1919 in Golpayegan in the Islamic Republic of Iran and began his education in Arabic Literature as a child and continued his Islamic studies under the guidance of his father Agha Mohammad Javad Safi Golpaygani who taught him Islamic Theology (Aqidah), Interpretation of the Holy Qur'an (Tafsir), Hadith, Islamic Jurisprudence (Fiqh), Principles of Islamic jurisprudence (Usool Fiqh) amongst other subjects.
His Islamic Studies & Works
He moved to Qum in 1941 to further his Islamic Studies at the Qum Seminary and later spent a year at a Hawza in Najaf after which he returned to Qum and partook in advanced Islamic Studies (Darse Kharej) where he spent 15 years learning and attending lessons under many high-ranking Shia scholars, as well as debating Islamic Mysticism.
On the political front, he was elected by the Markazi province to represent them in the Assembly for the Final Review of the Constitution of the Islamic Republic of Iran and was appointed by Ayatollah al-Sayyid Ruhollah Khomeini as the Secretary in the Guardian Council which is a 12-member council that wields considerable power and influence in the Islamic Republic of Iran.
During his lifetime, he published over 100 works in both Persian and Arabic, below are names of a few of the books that he authored:
• Al-Taazil: Anvah va Molhaghate (Taazil: it's types and its accessories) -
• The Way of Reforming or Enjoining in Good, and Forbidding Evil
• Prayers in Arafat
• An Attitude Towards Mysticism and Philosophy
• A Ray of Greatness of Imam Hussein (as)
• Diwan (poetry)
• Weeping for Imam Hussein
• Aware Martyr
• Ramadan in the History of Historical Events
• Theology in Nahj Al-Balagha
• Events Around the Day of Ghadir
• Judgment Between Sheikh Saduq and Sheikh Mofid
• Biography of Mullah Mohammad Javad Safi
Special Affection for Students
Ayatollah Lotfollah Saafi Golpaygani had a deep passion for knowledge, spirituality, love for poetry and the wilayah of Ahlulbayt ('A). He was a great Scholar and well known for his simplicity, humility and care; especially towards the students from overseas who pursued their higher Islamic education in Iran, he had a special affection for the students from the local African Community which he did not shy from displaying. He was recognized for his exemplary services towards the religion of Islam and the Madh'ab of Ahlulbayt ('A).
His Funeral
The Funeral of Ayatollah Lotfollah Saafi Golpaygani was attended by a huge number of people both in Qum and in Najaf and Karbala. Above – Namaz e Mayyit was led by his son in law Agha Ali Karimi Jahromi. Link of the funeral procession: https://youtu.be/HgE6vjWT1DY
The death of an eminent Ayatollah of such a high calibre is a big loss to the Shia Community around the globe.
We pray to Allah (SWT) to raise his rank and place him in the closest proximity of Ahlulbayt ('A) where he continuously receives the mercy and grace of Allah (SWT).
On this sad occasion, we extend our heartfelt condolences to our Living Imam, Al-Mahdi (ATFS), the Marja-e-Taqleed, Ulema-e-Deen, his family and the Shia Community globally on this huge and irreplaceable loss of an eminent Aalim.
We request for a Sura-Al-Fateha for Ayatollah Sheikh Lotfollah Saafi Golpaygani and all the Marhumeen.

AFRICA FEDERATION
SECRETARIAT
Resource: https://mcusercontent.com/5496132269473a782cfb7b798/files/ddf27609-f568-3824-3b16-7a2442888d9d/Obituary_Ayatullah_Lotfollah_Saafi_Golpaygani_2_Feb_2022_Version_1_.pdf