Asgharali Karim Rehmtullah
Birth & Death
Birth Date: September 14, 1942
Death Date: December 13, 2000
Brief Profile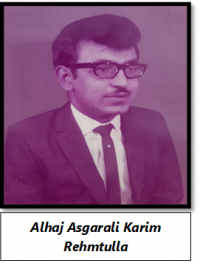 Murabbi Karimbhai Rehmtullah (Asgarali's father) served as President of Khoja Shia Ithna'asheri Jamaat of Kigoma in 1950's. His mother Fatemabai was the daughter of Alhaj Suleman Ramji who was one of the first Khoja to settle in Arusha in the late 1890's. Karimbhai and Fatemabai had ten children - seven sons named Rafiq, Asgarali, Hassan, Hussein, Haider, Mohammed, Salim and three daughters Zainab, Marzia and Tahera.
Asgarali was born on 14th September 1942 in Ujiji, Kigoma. He completed his primary education in Agakhan Primary School and Khoja Shia Ithna'asheri Primary School in Kigoma. In the year 1958, he came to Dar es Salaam for his secondary education which he undertook at Azania Secondary School. During this time, he stayed in Haji Mohamedjaffer Khoja Shia Ithna-asheri Boarding House along United Nations Road. After completing his O' Levels in 1964, he returned to Kigoma and joined his father's business. In 1970, he married Mumtazbai Dewji and was blessed with three daughters Kulsum, Akila and Sayeeda.
Business Skills
Karimbhai had two businesses: One was a wholesale shop and the other business was of exporting dry fish (dagaa) to Northern Rhodesia (now Zambia). Back then transport was easy and cheap by a ship named S.S. Liemba in Lake Tanganyika. Asgarali was more involved in the export business with his father. The Wholesale shop was managed by his elder brother Rafiq.
When his father passed away in April 1968 in Dar es Salaam, his younger brother Hassan who was studying in Pakistan returned back to join the business, thus the company expanded. Later on, when the government put a ban on the export business, they started fishing business in Lake Tanganyika with the use of a new technology called Purse Sein Fishing with fishing trawlers. It was a huge success because they were doing bulk fishing. This business went on for 10 years. After this, Asgarali in partnership with his brother-in-law started a new venture of exporting live aquarium fish to European countries. This company was run under the name of Aqua Products and also had a tourist hotel at the shores of Lake Tanganyika. They were the sole service providers to take the tourists to Gombe Chimpanzee Park by boat. Asgarali had another fishing company under the name of Hassani Fisheries which later was changed to Silverline Lake Fish Products. This was a family business with his brother Hassan.
Community Services
Asgarali served Kigoma Jamaat and government institutions from a young age. He served as President of Kigoma Jamaat from 1995 to 1996. During his term he organized seminars and Juloos in the villages jointly with Bilal Muslim Mission of Tanzania in the month of Muharram. Asgarali was an ardent supporter of Bilal Muslim Mission and its various activities in Kigoma. His pleasant and welcoming nature gave him a special place in doing Tabligh among the indigenous people.

On Wednesday, 13th December 2000, Asgarali succumbed to the Will of Allah (s.w.t) in Dar es Salaam. His sudden death came as a deep shock to the community.
Please remember Marhum Asgharali and all the Marhumeen with Sura-e-Fateha for their Maghferat.
Source: Mrs. Mumtaz Asgarali Karim of Dar es Salaam and Hassan Karim Rehmtullah of Birmingham, UK.
Photographs: Courtesy of Murtaza Jivraj (Kerbala)
Article prepared by: Murtaza Jivraj (Kerbala)
SECRETARIAT
AFRICA FEDERATION ARCHIVES SECTION
29th January 2021 (15th Jamadi ul Aakhar 1442 AH)
Reference: https://mcusercontent.com/5496132269473a782cfb7b798/files/2cc52107-aac0-4b8e-a697-66d983d9a2a8/AFED_Archives_Bulletin_Alhaj_Asgharali_Karim_Rehmtulla_of_Kigoma_Jan_2021.pdf