Anwar H K Jaffer
Birth & Death
Birth Date: In April 1930
Death Date: In February 2007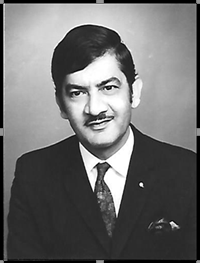 Brief Profile
Marhum Anwar HK Jaffer was born in Mombasa, Kenya in April 1930. He was the younger son of Habib Kassamali Jaffer (HK) and Rukiya Molu Dharamshi. His father H.K. Jaffer was a well-known pioneer of the KSI community in East Africa, who co-founded our community's mosque on Iganga Road, Jinja, Uganda
Life Journey
Soon after his fifth birthday Anwarbhai and his family moved from Mombasa to settle in Kampala and then in Jinja, where his father had established a successful insurance agency. Anwarbhai spent most of his formative years in Jinja, completing his primary and secondary education there. He was a regular attendee at the KSI mosque there.
In 1948 Anwarbhai was sent to London and later Cambridge UK for further studies. When he returned to Uganda, he began working for his family's business in the Jinja branch office, and through hard work and diligence added to the success of that enterprise.
Family
In June 1956 he married Nargisbai Fazal, a grand-daughter of Mohamedalibhai Fazal of Dar es Salaam, Tanzania. They lived and raised two sons (Shabbir and Sajjad) in Jinja until the Ugandan Asian exodus of 1972 when our entire community in Uganda was displaced.
Community Serivce
During his time in Jinja, Anwarbhai contributed to the KSI community in several ways:
1. He recited marsiyas, nauhas and mauloods at the mosque on Wiladat & Wafaat nights and most memorably during the first 10 nights of Muharram and on Ashura day. He was also invited to recite at the Kampala mosque on several occasions.
2. He coached many youngsters of the community on how to recite marsiyas and nauhas.
3. He led the Juloos procession annually as it wound its way through the streets of Jinja from his uncle's house in the suburbs to the mosque. His voice was heard clearly as he recited marsiyas at the head of the procession, before culminating in a nauha as it entered the Imambargah and matam began.
4. As an educated man he gladly helped his fellow community members whenever they asked him to solve problems, draft letters or deal with official correspondence.
5. Although he did not have an official title, he consistently acted on behalf of the Jinja Jamaat in all matters relating to the local and national government.
6. Unbeknown to his family at the time, he provided financial assistance to widows in the Community, as well as families who had fallen upon hard times. This help was not limited to members of the KSI community but also others who lived in Jinja and were in need. He did so discreetly and out of his own pocket.
7. When a group of young men from our community wanted to start a volleyball team but did not have sufficient funds for equipment, they approached him for help. The following day a brand new net, posts and balls were delivered to them, for which at least one of them is still grateful and remembers Anwarbhai's kindness even today.
In addition to the efforts he put in for our community, Anwarbhai was an active member of the local Lions Club, raising funds for various projects including an eye clinic to help combat Trachoma, which was a common eye disease amongst locals.
Personal Life
He was a devoted husband and father who carried himself with dignity and humility. For relaxation he played cricket and hockey and later tennis and squash, winning several trophies. After moving to the UK in 1974 he and his family lived in Northwood, Middlesex. They attended the KSI mosque in Stanmore and Mehfil Ali in North Harrow where he occasionally recited marsiyas. He resumed his career in the insurance business working for Sedgwick Forbes Marine Insurance in the City until he retired in 1988. In February 2007, Anwarbhai succumbed to serious illness and passed away.
May Allah SWT grant Habib Bhai and Anwar Bhai Kassamali Jaffer maghferat and reward them amply for their efforts towards the KSI community of Uganda

Article Source: Br. Shabbir Anwarali H.K Jaffer - Director of MARC (Mulla Asghar Resource Centre), Toronto Canada
Article prepared by: Murtaza Jivraj (Kerbala)
SECRETARIAT
ARCHIVES SECTION OF THE AFRICA FEDERATION
7th February 2020 (12th Jamadi ul Aakhar 1441 AH)
Resource:https://mcusercontent.com/5496132269473a782cfb7b798/files/4e1a5514-e09f-44f3-aa49-924ecb2371ac/Alhaj_Habib_and_Alhaj_Anwar_Kassamali_Jaffer_new.pdf