Ali Ebrahim
Death
Death Date: In The Year 1962
Life Journey
Alibhai Ebrahim sailed from India at the age of 13 in 1902 for Dar es Salaam. He then went to Lindi and joined in the shop of his brother. In 1904 he returned to Dar es Salaam. At that time the country was under the German rule. In Dar es Salaam he started the business of hiring hand-carts and rickshaws. There were no motor vehicles at that time so hand-carts were used to move merchandise from the port. Most of the businessmen were in Bagamoyo and Dar es Salaam was a very small town.
The Ithna-Asheri community in Dar es Salaam was about 200. The Imambara was made up of corrugated iron sheets and namaz was also conducted at the same place. With the cooperation of community members the mosque was built in 1907. The main mode of transport was by foot, except for the wealthy, old and the sick who used machera (litter - carried by porters). The railway was introduced in 1905. Most of the houses in Dar es Salaam were made up of mud with the exception of those belonging to German officers and some among the wealthy. Dar started booming after the construction of the railway.
Community Services
The Musafarkhana was built in 1912 with some trust money held by Nasser Virji. A new Imambara was built in 1941 entirely from the contribution by members. Mr Gulamhussein Virji had put a lot of effort towards the construction of the Imambara.Alibhai Ebrahim was famously known as Ali Toto and also as Ali Maziwa. He had dairy business selling milk as he had many cows in the farm area beyond Ilala.
He was allowed by the Dar es Salaam Jamaat to build a Bewakhana (home for widows) above Ebrahim Haji Ithna-Asheri Dispensary in memory of his wife and he named it as Jenabai Alibhai Ebrahim Ithna-Asheri Bewakhana. He also donated to the Jamat a three storey building on Uhuru Street.He had a bungalow in the lane off Jamhuri Street in Dar. At present a high rise building named Shreejee has been constructed in its place.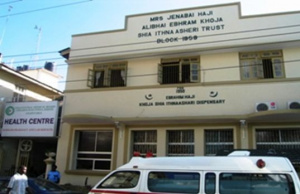 Family Life
He had four daughters from his first wife Jenabai. One of them was the first wife of Alhaj Mohamedali Hasham Dewji and who lived at Uhuru Street in the building donated by her father Alibhai Ebrahim.The second daughter was married to Mr. Rashid Fazal Jivraj of Kampala, who later moved to Dar es Salaam, he had a shop named Uganda Variety Store in the Jiwan Hirji Building, presently known as Geo-Micro and Photo Equipment ltd. He used to stay in the building (next to DTV) which also belonged to Alibhai Ebrahim. The third daughter is Banubai who owned Shaan Photo Studio on Jamhuri Street. The fourth daughter is Fatubai Ali Toto who spent her whole life serving the ladies in Lindi Jamaat. Her husband Akberali Hemraj gave voluntary services in nyaz and took care of the kitchen of Lindi Jamaat for many years.
Death
After the death of his first wife, Alibhai married Sherbanu, daughter of Sajan Dhirani of Bukoba and he was blessed with three sons and a daughter. The sons are Mohamed, Hassan, Hussein and daughter Azra Champsi. Murabbi Alibhai Ebrahim passed away in 1962 and is buried in Dar es Salaam.
It is our duty and moral obligation to remember the Philanthropists and Elders of our Community whose farsightedness, compassion and contributions towards the well-being and the future of our Community were ingrained in their hearts and souls – May Allah (swt) raise their status and grant them maghferat – Ameen.
Let us remember Marhum Murrabi Alibhai Ebrahim, his late family members and all the Marhumeens with Sura-e-Fateha.

Source: AF Trade Directory and Alhaj Mohamed Dhirani
Published in Africa Federation Archives Section
20th May 2016 (13th Shabaan 1437 AH)
Reference: https://gallery.mailchimp.com/5496132269473a782cfb7b798/files/Africa_Federation_Archives_Marhum_Haji_Alibhai_Ebrahim.pdf