Al Buquire Cricket Tournament- Zanzibar
AL- BUQUIRE CRICKET TOURNAMENT AT VICTORIA GARDEN ZANZIBAR – 1928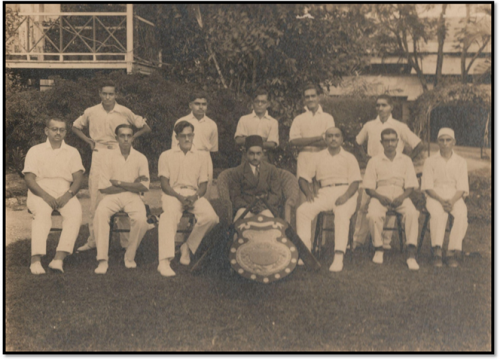 The Zanzibar Ithna-Asheri Team
Sitting Left to right: Maalim Mohamedjaffer Rashid Nathani (Maalim Mia), Golo Mgongoni, Sherali Meghji (Sherali Ndege), M. D. Kermali, Maalim Raza Rashid Nathani, Ali Daud, Agha Abdulhussein Shushtari
Standing left to right: G. Kermali (Kabana), Gulamhussein Rehmtulla (Chacha Gulu), Hashnu Dawood, Habib Bachoo Ismail, Bachulo Dawood. Al Buquire Cup was donated by a gentleman from Goan Community in Zanzibar.
Anecdote
Alhaj Mohammed Jaffer Rashid Nathani, became popular by his nickname - Maalim Mia when he scored a century in one of the Cricket matches in Zanzibar. Mia in Kiswahili meaning Hundred. Maalim Mia was a good cricketer and also a dedicated teacher at School Faize (Madressah) of Zanzibar. A number of students from School Faize still remember Maalim for his deep knowledge in religious studies, i.e. Aqaid, Fiqh, Akhlaq and the Holy Qur'an and, he also had good understanding of languages including Urdu, Farsi and Arabic.
History Record
In 1926 British Navy H.M.S. Pegasus anchored at Zanzibar Port. Cricket Match was played between H.M.S. Pegasus Navy personnel and Zanzibar Government National team – The Zanzibar Eleven. Three players who played in the team were from our Community, Sherali Meghji, A. G. Versi and Y. G. Versi. This was recorded in official Government Gazette of Zanzibar.
None of the above people in the photographs are alive, they have transcended from this temporary world to a permanent abode. Let us remember them with Sura-e-Fateha for the maghferat of their souls.
Photograph courtesy of Br. Murtaza Jivraj (Kerbala)

SECRETARIAT
ARCHIVES SECTION OF THE AFRICA FEDERATION
21st October 2016 (19th Muharram 1438 AH)
Resource: http://africafederation.org/oldafrica/publications/archives/1517--africa-federation-archives-al-buquire-cricket-tournament-zanzibar