Ahmed Mohamedhussein Dungersi
Birth & Death
Birth Date: September 23, 1938
Death Date: April 18, 2023 (27th Ramadhan 1444 A.H.)
Obituary & Tributes
The Africa Federation Secretariat received with deep sadness the news of the demise of Alhaj Ahmed Mohamedhussein Dungersi which occurred in London on Tuesday 18th April 2023 (27th Mahe Ramadhan 1444 A.H.).
Brief Profile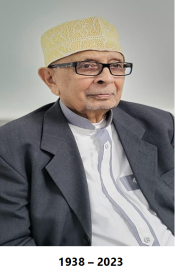 Born in Zanzibar on 23rd September 1938 he was amongst the seven children blessed to his parents Mohamedhussein Ali Dungersi and Fatma Ali Gulamhusein. Ahmed bhai completed his O Levels education at the island's famous Government Boys Secondary School in 1957. He was keen in sports and excelled in athletics and broke records for the 100m and 200m tracks whilst representing his school in the inter-school tournaments in Zanzibar. He had a varied and accomplished working life, which started off as a Health Worker with the World Health Organization, moving on to a position of Chief Cashier for the Zanzibar Electricity Board.
Life Journey
In the aftermath of Zanzibar revolution in 1964, he migrated to Dar-es-Salaam, where he worked as an Accountant for Kearsley's Travel Agents for seven years, before he was posted to London in 1971 to manage their UK branch. After many years as an employee, Ahmed bhai went into business, first owning a chain of bakeries in London, thereafter he started in wholesale trading of second-hand clothing in Leicester until his retirement in in 2003.
A Visionary with unparalleled loyalty to community service
He served in various capacities, starting as an Honorary Secretary of the Hujjat Jamaat in Zanzibar from 1961 to 1964, when he also represented the Jamaat as a Councilor to Africa Federation. During this time, he also took additional positions as the Honorary Secretary and Trustee of the community institutions of Datu Hemani Girl's primary school, Haji Nasser Nurmohamed's Dispensary and Datu Hemani Maternity Clinic.
In 1983, he was the Honorary Secretary of the Interim Committee of the then London Jamaat, with a combined constitutional membership from both North and South London, when the community used to meet in Hammersmith (London, UK). It was the era of monumental, and everlasting changes to come. Ahmed bhai played a pivotal role together with Mustafa bhai Chandoo in the purchase and refurbishment of the Stanmore Centre into what it is today. Ahmed bhai remained the Honorary Secretary of London Jamaat for six years. Ahmed bhai was also one of the founding members of The Council of European Jamaats (CoEJ),and served as its President for two terms. He will forever be remembered by the nearly 2500 Hujjajs who travelled under his guidance to perform Hajj under the European Hajj Mission (EHM) whose Chairman he was for 26 years.
We convey our sympathies and heartfelt condolences to his wife Fatma bai, daughter Femina bai, son Akber bhai, his grandchildren, siblings and all members of the family.
We pray to Allah (SWT) to grant Marhum maghferat and place his soul amongst the blessed ones in the vicinity of Chaharada Masumeen (A.S.), and who continuously receive mercy and grace of Allah (SWT).
We request for a Surah-Al-Fateha for Marhum Ahmed bhai Dungersi and all the Marhumeen.

Secretariat
ARCHIVE SECTION OF AFRICA FEDERATION
CIRCULAR NO: JMT/057/23
Date: April 27, 2023
Resource: https://mcusercontent.com/5496132269473a782cfb7b798/files/98a34b8a-72ea-ec77-180a-16260c2eca9d/Obituary_Ahmed_M_Dungersi.pdf